This post may contain affiliate links. Please read our disclosure policy.
This Baked Zucchini Parmesan recipe is a great way to use up zucchini when the garden is going strong. One of our favorite summertime dinners!
There's a time in the summer season when the garden just comes alive. I'll look out the window one morning, and BAM. Veggies on the vines. Veggies on the ground. Veggies popping up in patches right left and center. After months of TLC and patience, it's the best feeling.
Lately, my zucchini patch has been going particularly strong. I've been making the most of this year's harvest (zucchini blossoms and all) with recipes like my zucchini tart. And today I'm sharing one of our family's favorite summertime meals: homemade zucchini parmesan, with fresh zucchini and other ingredients from our own garden.
This homestyle zucchini parmesan is like summer sunshine in casserole form. Tender pasta gets layered with melted cheese and crispy breadcrumb-coated zucchini, then folded up in homemade pasta sauce made from sun-ripened tomatoes. We love this dish and I'm sure your family will too.
What You'll Need
Pasta sauce – Thanks to my Italian husband, we take our homemade pasta sauce very seriously in this house. If your family is a little more lenient, go ahead and use your preferred store-bought sauce.
Zucchini – You'll need two large zucchini, or three medium zucchini, sliced into rounds.
Eggs – This recipe uses four eggs. The fresher, the better.
Bread crumbs – For the breading, I prefer to use plain panko breadcrumbs and season them myself. You can also use seasoned breadcrumbs, but you may want to omit or adjust the seasoning that comes next in that case.
Seasoning – This recipe uses a blend of dried oregano, dried basil, salt & pepper for seasoning the breadcrumb coating.
Cheese – Zucchini parmesan calls for grated parmesan cheese (of course) and shredded mozzarella. I recommend grating your cheeses fresh!
Spaghetti – Standard boxed spaghetti works fine. You'll need to cook the pasta al dente per the instructions on the package.
Unsalted butter
Do You Peel Zucchini Before Baking?
Unless your zucchini are particularly large or have tougher skins, there's no need to peel them before you bake them. In fact, it's even better if you don't! Veggie skins are a great source of nutrients, so I always leave them on whenever possible.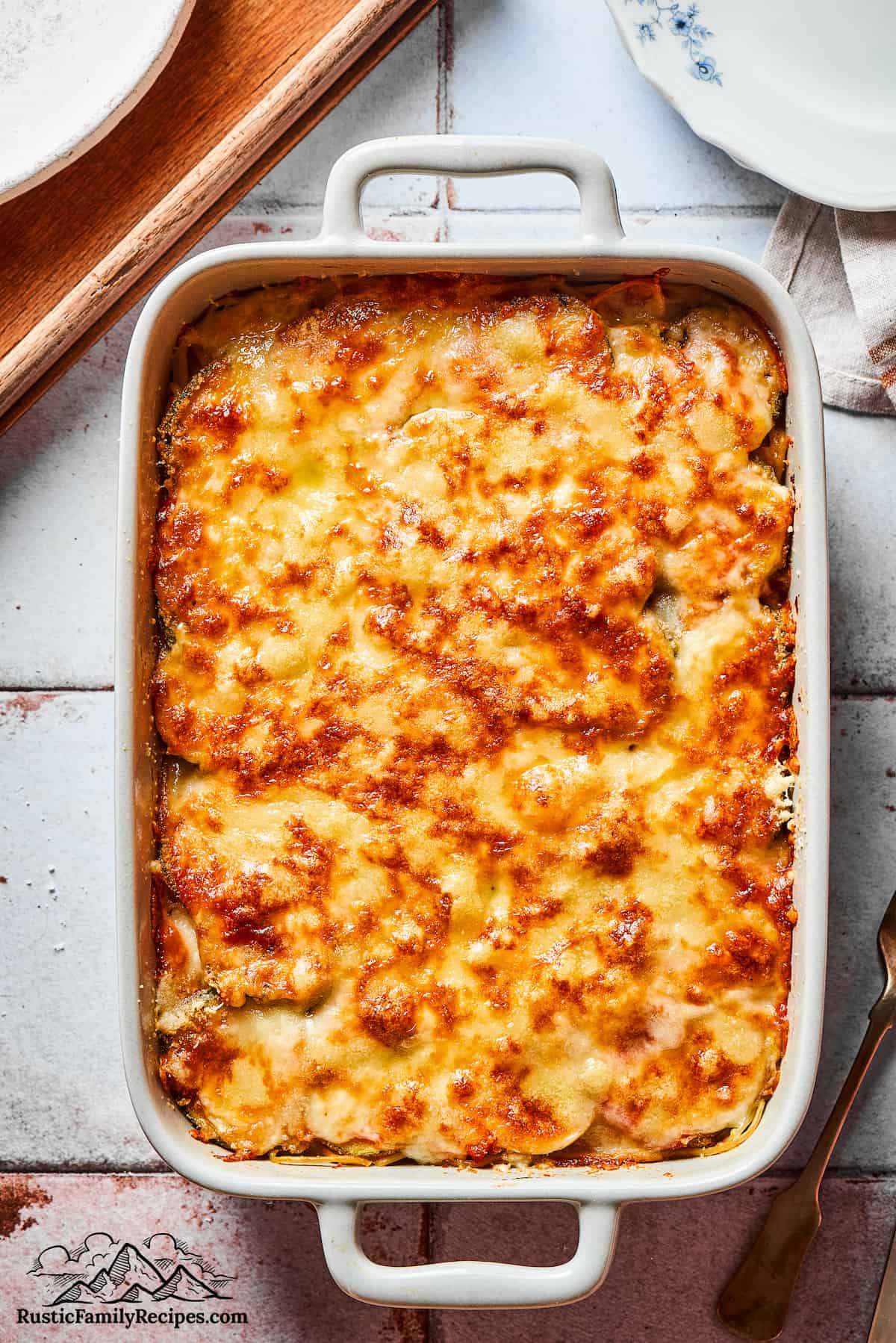 How to Make Zucchini Parmesan
While the oven is set to preheat to 420ºF, you'll first need to cut the ends off of your zucchini and slice it into rounds. Next, lay some parchment paper over a baking sheet, and set this aside while you assemble the ingredients:
Make the panko mix and egg coating. In one bowl, whisk together the breadcrumbs and seasonings, along with one cup of the grated parmesan. In second bowl, beat the eggs for the egg wash.
Prep the zucchini. Working one at a time, dip the zucchini slices first into the eggs, then into the seasoned panko crumbs. Make sure to coat both sides with a nice, even layer. Lay your breaded zucchini pieces flat on the lined baking sheet. It's OK if your baking sheet gets a little crowded – a little overlapping never hurt these zucchinis.
Bake the zucchini. Pop the baking sheet into the oven and let the zucchinis bake up nice and crisp. It should take about a half hour for the breading to get lightly golden, which is what we're after.
Cook the pasta. While my zucchini is baking, I like to use the time to prepare the spaghetti. Boil the pasta al dente in generously salted water, then drain the noodles and toss them in a bit of pasta sauce to coat. Meanwhile, lower the oven temperature to about 350ºF.
Assemble the zucchini parm. Before you assemble the zucchini parm, get a casserole dish decently coating with butter. Transfer half the spaghetti to the baking dish, sprinkle this first layer with mozzarella, then top with the remaining noodles. Place the baked zucchini rounds over top, followed by a thin coating of pasta sauce and more shredded cheese. Finally, finish off the casserole with a sprinkle of grated parmesan cheese.
Bake. Bake the zucchini parmesan uncovered at 350ºF for about 30 minutes, until the cheese is melted and bubbly.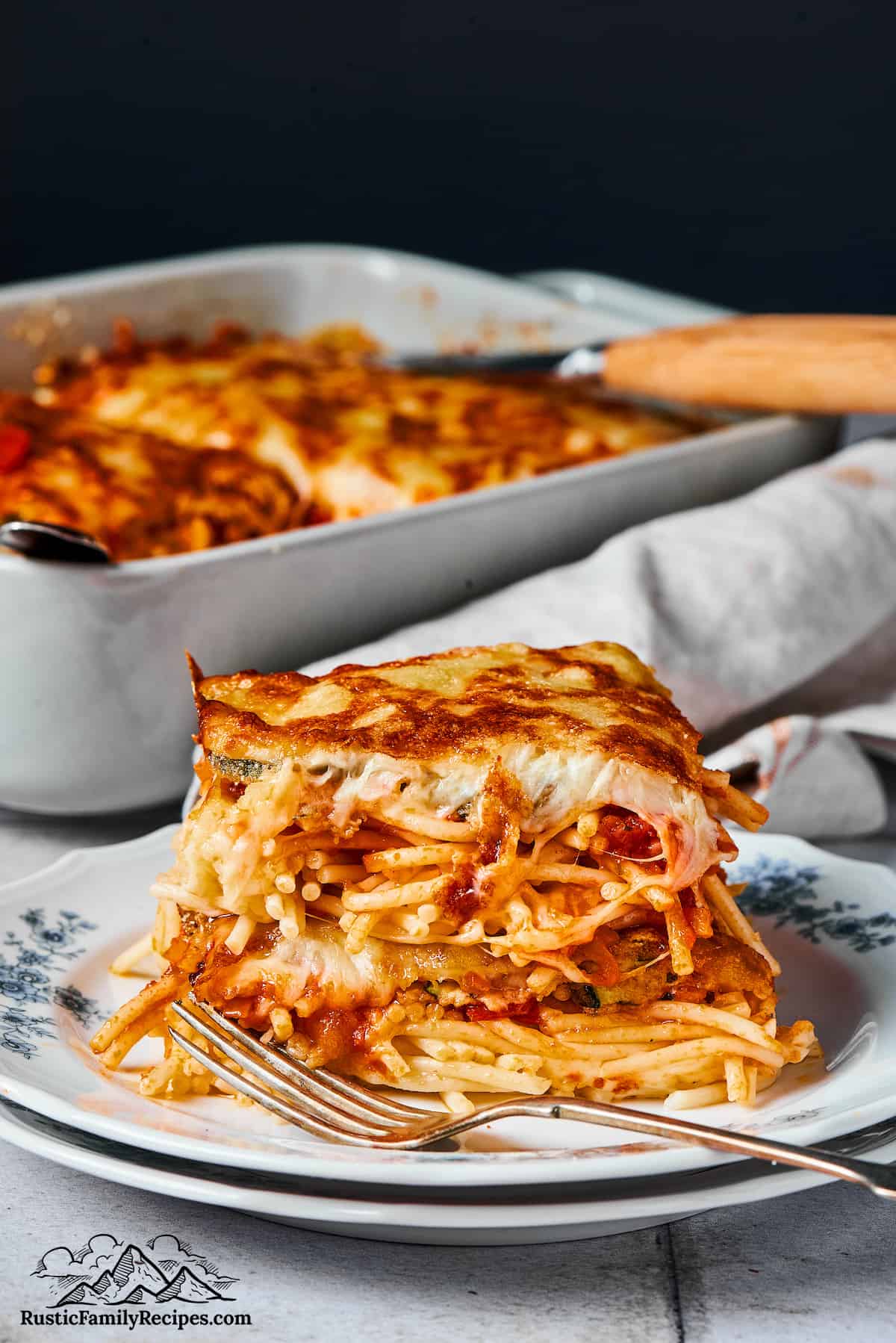 Tips for Success
Here are my tips for acing this zucchini parmesan:
Don't forget to salt the pasta water. The water you use to boil pasta should be salty like the Mediterranean, to paraphrase every Italian ever. This is the key to perfectly seasoned pasta. It does make a difference!
Don't leave the breaded zucchini sitting for too long. Moisture will start to creep in. If your zucchini wheels do sit for a while, it's a good idea to give them another pass through the panko mixture before assembling the parm (minus the egg this time).
Keep the baked zucchini crispy. To help keep the baked zucchini from becoming soggy, you can transfer them from the baking sheet to a wire rack.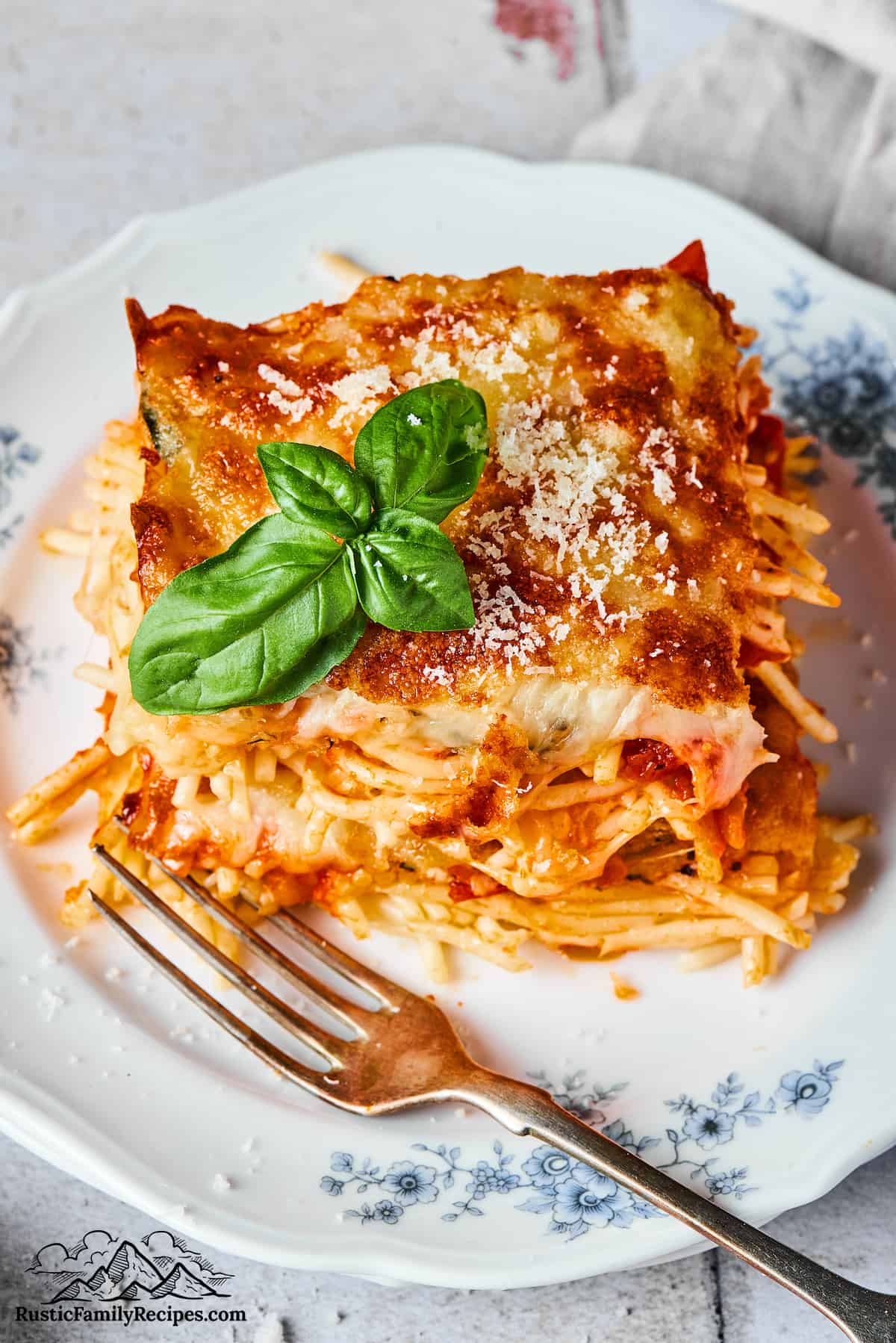 Frequently Asked Questions
How do you keep zucchini from getting soggy?
Aside from the tips above to keep your zucchini crispy before you assemble and bake the casserole, this recipe is great because baking itself also minimizes the likelihood of the zucchini getting soggy. Baked zucchini helps keep the moisture at bay.
Should you salt zucchini before cooking?
Some cooks will insist that zucchini be salted and laid out on paper towels before cooking, to help extract any excess moisture. I've found that this isn't necessary for this recipe. As mentioned, the heat from the oven takes care of that. Save that salt for the pasta water!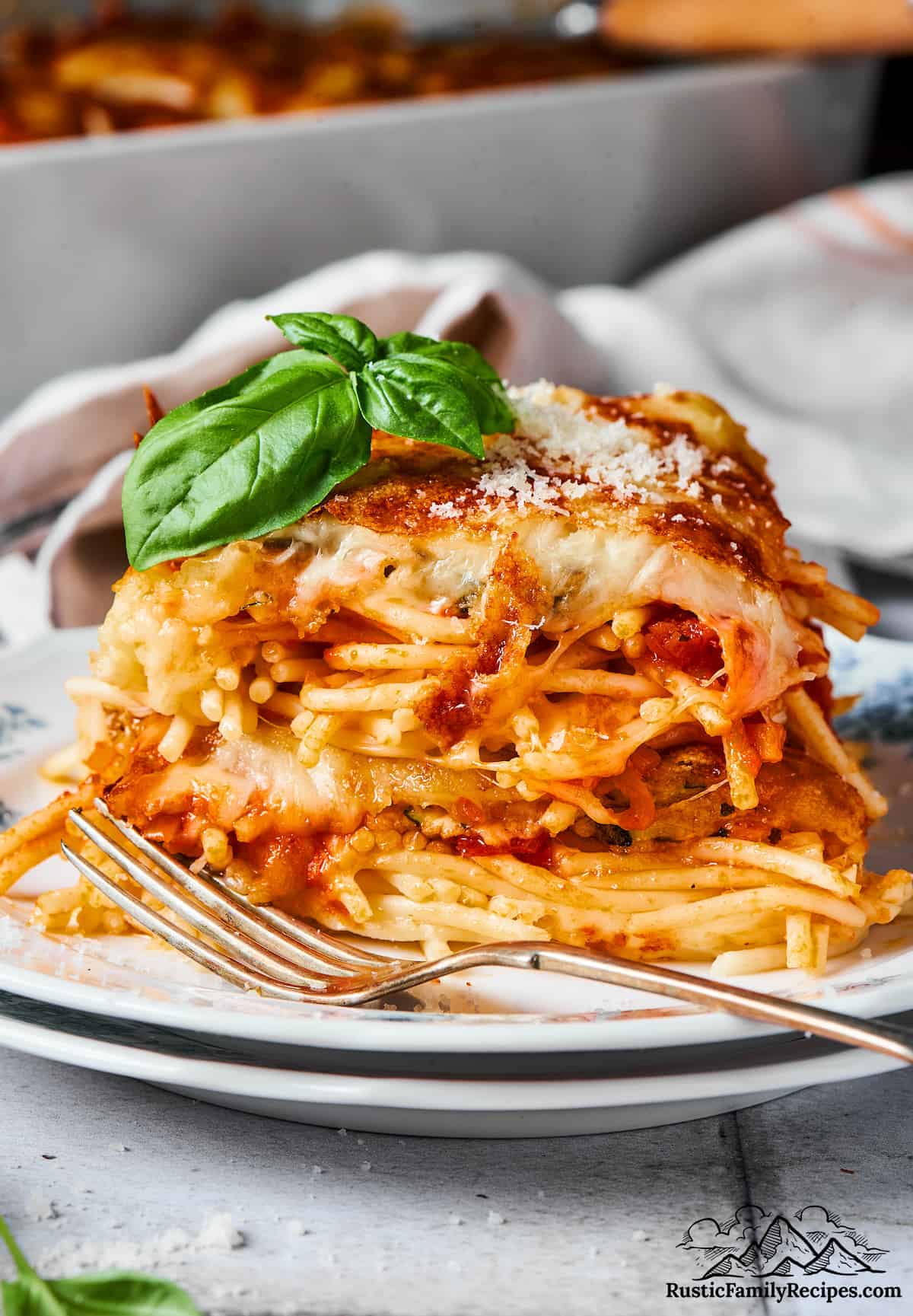 Serving Suggestions
This baked zucchini parmesan is a meal in itself, or you can round out a summer dinner with some easy side dish ideas.
Some of our favorite ways to bulk up a family serving of this cheesy casserole are with bread sides like cornbread with cheddar cheese, popovers, or sourdough focaccia. Or lead into a leisurely meal with an appetizer of antipasto like cured meats and cheese, paired with a classic negroni (and lemonade for the kids).
During peak garden season, we also love to enjoy this zucchini parmesan alongside fried green tomatoes and a fresh green salad made from homegrown leaves and herbs. There's truly nothing better! If you can't grow it yourself, your next best bet for the freshest produce is your local farmer's market.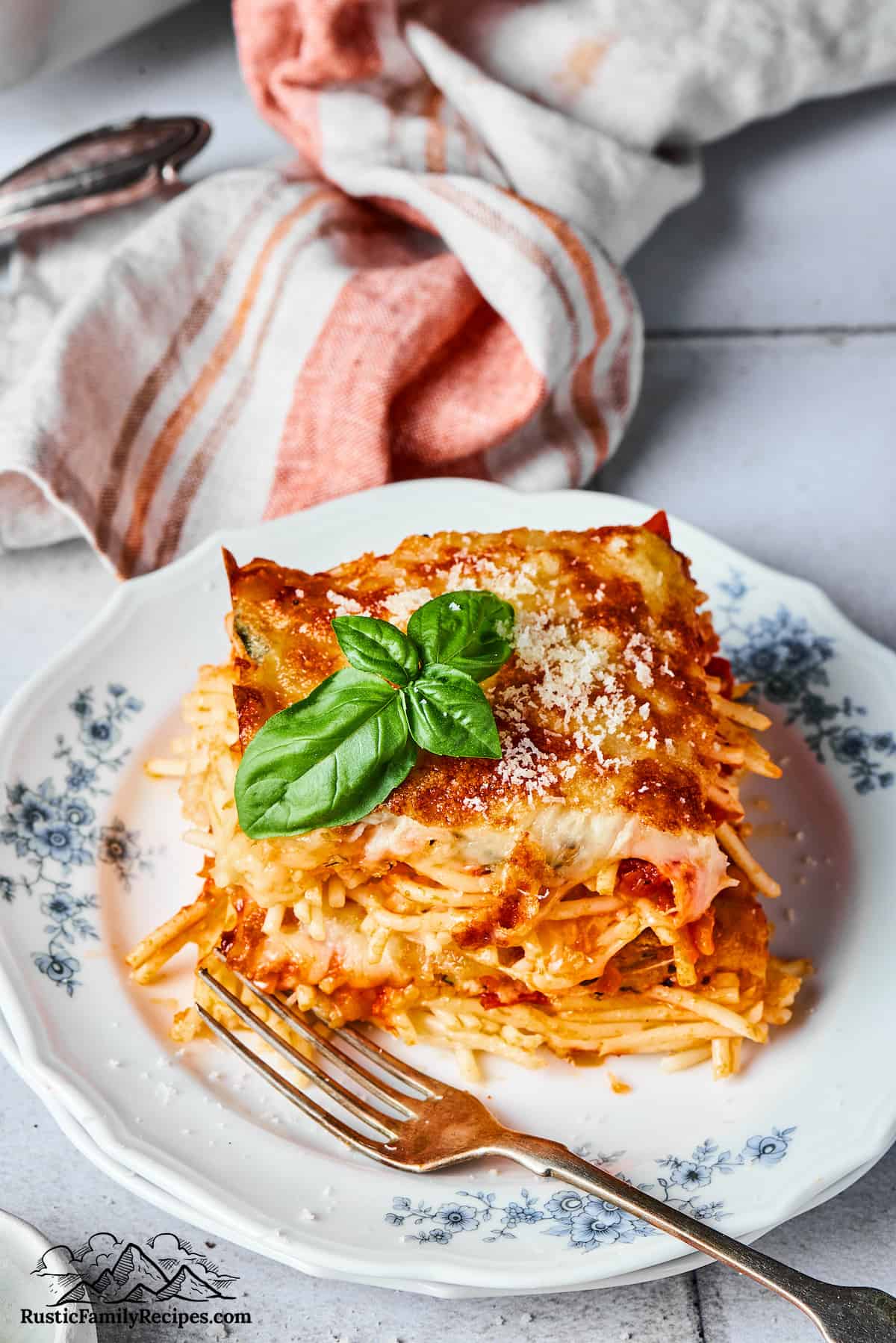 How to Store and Reheat Extras
Leftover zucchini parmesan can be kept airtight in the fridge for up to 3 days. To reheat, place individual servings or the casserole itself back into the oven at 350ºF until warmed through.
Does This Freeze Well?
Freezing zucchini parmesan comes with a caveat: as zucchini holds a lot of water, it doesn't keep its texture well and can become mushy when thawed. For this reason, I wouldn't recommend freezing as a first choice for storage. It's much better to make easy meals out of the leftovers while they're fresh!
Print
Baked Zucchini Parmesan
This baked zucchini parmesan recipe is a great way to use up zucchini when the garden is going strong. One of our favorite summertime dinners!
Author: Rustic Family Recipes
Prep Time:

25 minutes

Cook Time:

1 hour

Total Time:

1 hour 25 minutes

Yield:

6 servings

Category:

Dinner

Method:

Oven

Cuisine:

American
1

batch homemade pasta sauce

2

large zucchini or

3

medium zucchini, ends cut off and sliced into rounds

4

eggs

2 cups

plain panko bread crumbs

2 teaspoon

dried oregano

2 teaspoons

dried basil

1 teaspoon

kosher salt

1/2 teaspoon

ground black pepper

1 cup

+

2 tablespoons

grated parmesan cheese, divided use

2 1/2 cups

shredded mozzarella cheese

1

16-oz box spaghetti, cooked according to package instructions

1 tablespoon

unsalted butter
Instructions
Prep your tools. Preheat the oven to 425F and line a baking sheet with parchment paper.
Make the Panko mix. In a medium bowl combine the Panko, oregano, basil, salt and pepper. Add 1 cup of the parmesan. Mix well and set aside.
Whisk the eggs. In another medium bowl, whisk the eggs. Set aside.
Prep the zucchini. Dip each slice of zucchini into the eggs, then dip into the Panko mixture making sure to coat both sides well. Place on the prepared baking sheet. Lay them flat if possible. If you have a lot of slices, it is ok for the bottom/top of each slice of overlap slightly.
Bake the zucchini. Place the coated zucchini rounds into your oven and bake for 25-30 minutes, until the zucchini is lightly golden.
Cook the pasta. While the zucchini is cooking, bring a large pot of salted water to boil. Cook the spaghetti according to package instructions. Drain the pasta and return it to the post, then toss with about 2 cups of the pasta sauce, just enough for the noodles to be coated as if you were going to serve them solo.
Prepare to bake. Coat a 9×13 baking dish or deep casserole dish, with the butter and set aside. Lower oven temperature to 350F.
Assemble the zucchini parm. Layer half of the noodles into your baking dish, then sprinkle 1 cup of mozzarella over the noodles. Layer the rest of the noodles on top.
Layer the baked zucchini rounds on top of the noodles and top with 1 1/2 to 2 cups of sauce, enough so that all of the zucchini has a thin coat. Sprinkle the remaining mozzarella and the last 2 tablespoons of parmesan on top.
Bake. Place in the oven and bake uncovered at 350F for 30 minutes, until the cheese has melted and the sauce is bubbly.
Keywords: baked zucchini with parmesan, baked zucchini recipes, zucchini with pasta
More Family Dinner Ideas