This warm, gooey baked Camembert recipe is the most luxurious 20-minute recipe that I know. It's one of my go-to appetizers. (Especially when I want to impress people without putting in much effort!)
I don't know about you, but I never get tired of eating cheese. Whether it is in things, on things, or eaten straight, cheese is a nearly perfect food in any form. And this baked Camembert cheese is an elegant appetizer that can be served with many different accompaniments. It always impresses too, even though it's very easy to make.
This is a great recipe to serve when hosting friends or family. It's quick, easy, stress-free and effortless fancies up any appetizer spread. And while it works wonderfully as a midday snack, I prefer it as an appetizer paired with a classy cocktail, such as a negroni or an apple margarita.
Why Bake Cheese?
Cheese is pretty perfect as is. However, baking it can add a new dimension. When you bake Camembert, the inside begins to melt, creating an ooey, gooey cheese sauce. This warm, melted cheese is perfect for dipping crackers, bread, or fruit into. It also takes on a richer, more complex flavor in the oven.
What is Camembert?
Camembert is a kind of soft, creamy, surface-ripened cheese that originated in Camembert, Normandy in the late 18th century. It is made with cow's milk and is sometimes compared to Brie. The rind is edible and considered to be a delicacy. Camembert tastes like nutty, milky cheese with garlicky or sometimes fruity undertones.
What's the difference between brie and Camembert? Brie is milder in flavor, while Camembert has rich earthy notes. Brie is also runnier than Camembert.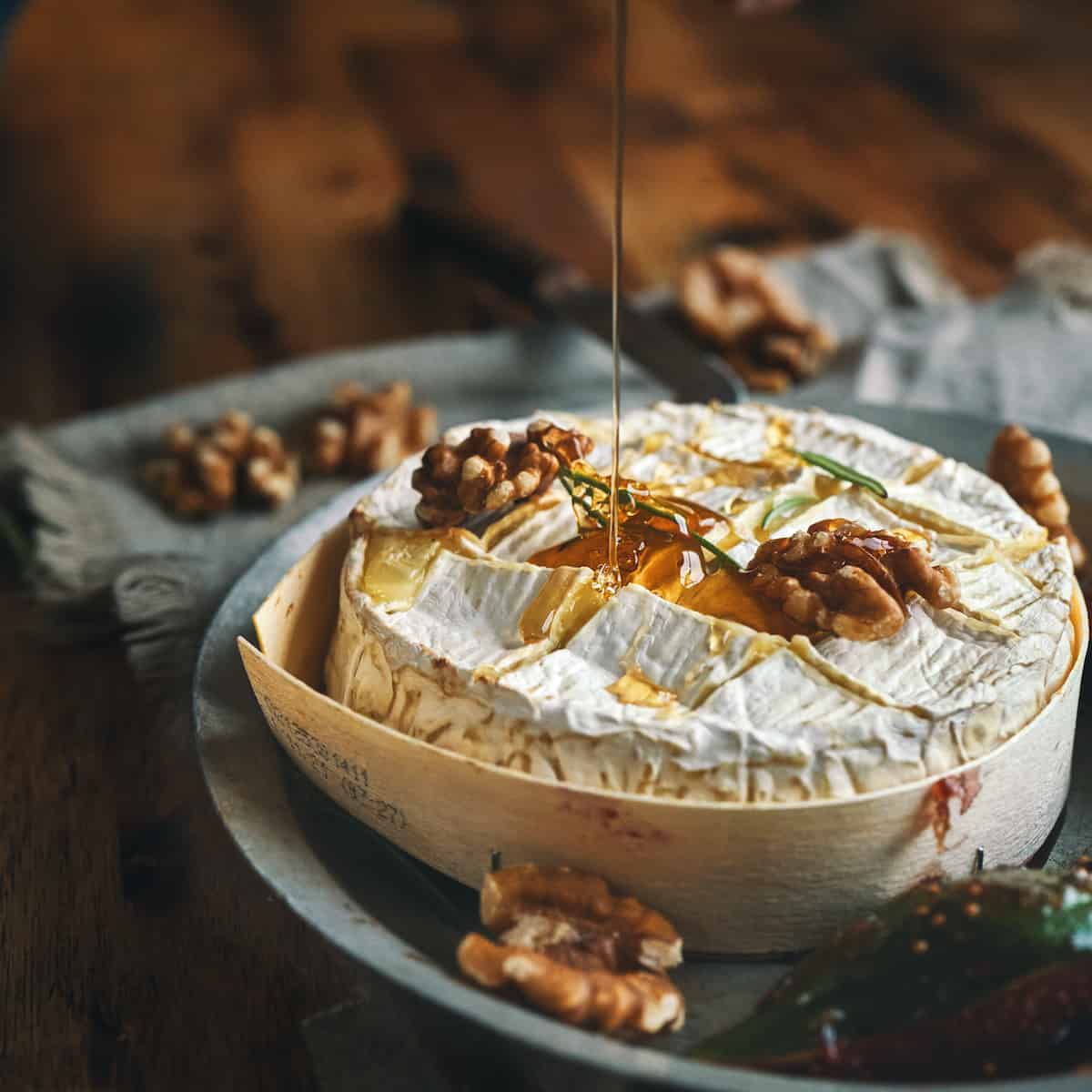 Recipe Ingredients
Here are all the ingredients you'll need for this show-stopper of an appetizer. Scroll down to the recipe card for exact amounts.
Camembert cheese – You need an entire round of Camembert cheese, rather than just a chunk of it. This will keep the cheese from drying out in the oven.
Kosher salt
Honey
Walnuts – If you're allergic to walnuts, or if you just don't like them, you can substitute them with other types of nuts. Chopped pecans, slivered almonds, or shelled and chopped pistachios all work.
Fresh figs – If fresh figs aren't in season, you can also use dried figs. Or you can use other fruit like dried apricots, fresh apples, and fresh peaches.
French bread or a baguette – Sliced. This is for serving with the cheese, but you can also use crackers if you prefer.
Can You Use Other Cheeses?
The key to this recipe is that Camembert has a hard outer shell, but a soft interior. That allows the cheese to melt into a sauce, rather than dry out.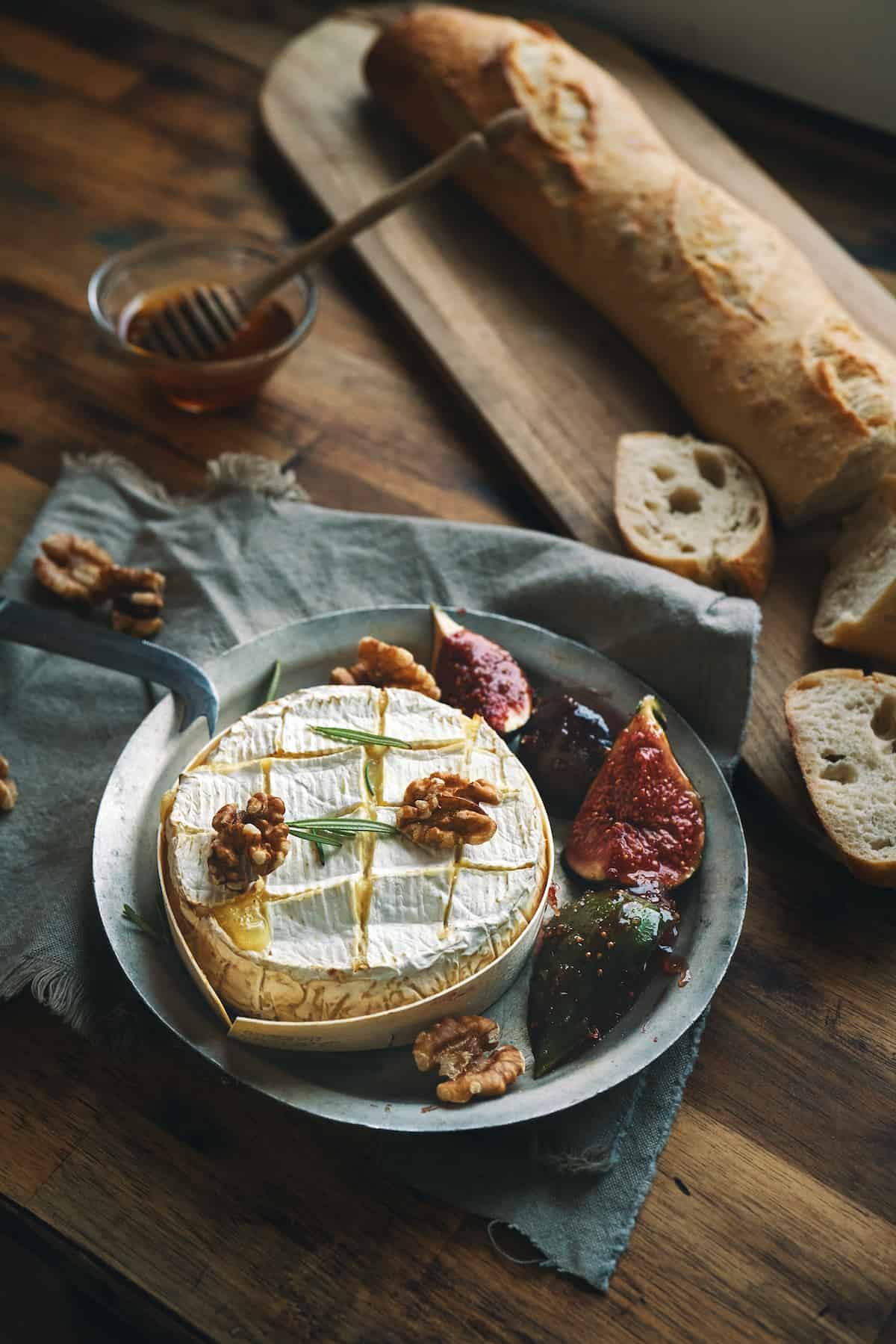 How to Make Baked Camembert Cheese
The complex flavors, but simple preparation, are what make this the best baked Camembert recipe that I know. Here's how to make it:
Prep your station. Preheat the oven to 350F, and get all of your ingredients together. Cover a baking sheet with a piece of parchment paper or a silpat.
Prep the cheese. Camembert comes wrapped in plastic, in a box. Remove the plastic from the cheese, then put the cheese back in the box, or in a similarly-sized ramekin. If using the box, line the bottom with aluminum foil. Then place the cheese on the lined baking sheet.
Season the cheese. Use a sharp knife to score the cheese, cutting a crosshatch pattern all over the top. Season with salt and a drizzle of honey.
Bake the cheese. Place the baking sheet with the cheese on it in the oven and cook for 12-15 minutes. The inside should be gooey and melty.
Serve the cheese. Remove it from the box or ramekin, and place it on a serving tray. Surround it with the nuts and figs, then top with honey and serve with bread.
Some Fun Variations
If you're anything like me, you'll make this baked camembert cheese recipe regularly, so you might want to mix it up every now and again. You can do that by changing the nuts, fruits, and kinds of bread that you serve it with, or by adding some different touches of flavor.
Fruity cheese. In addition to serving the cheese with fruit, you can put one of your favorite jams or preserves on top, such as apricot, cherry, or blueberry, for a sweeter flavor.
Spicy cheese. If you want to spice up your cheese, add a pinch of pepper or chili flakes before baking.
Herby cheese. Cheese goes really well with herbs. You can add a teaspoon of dried rosemary or thyme on top of the cheese before baking for a complex flavor.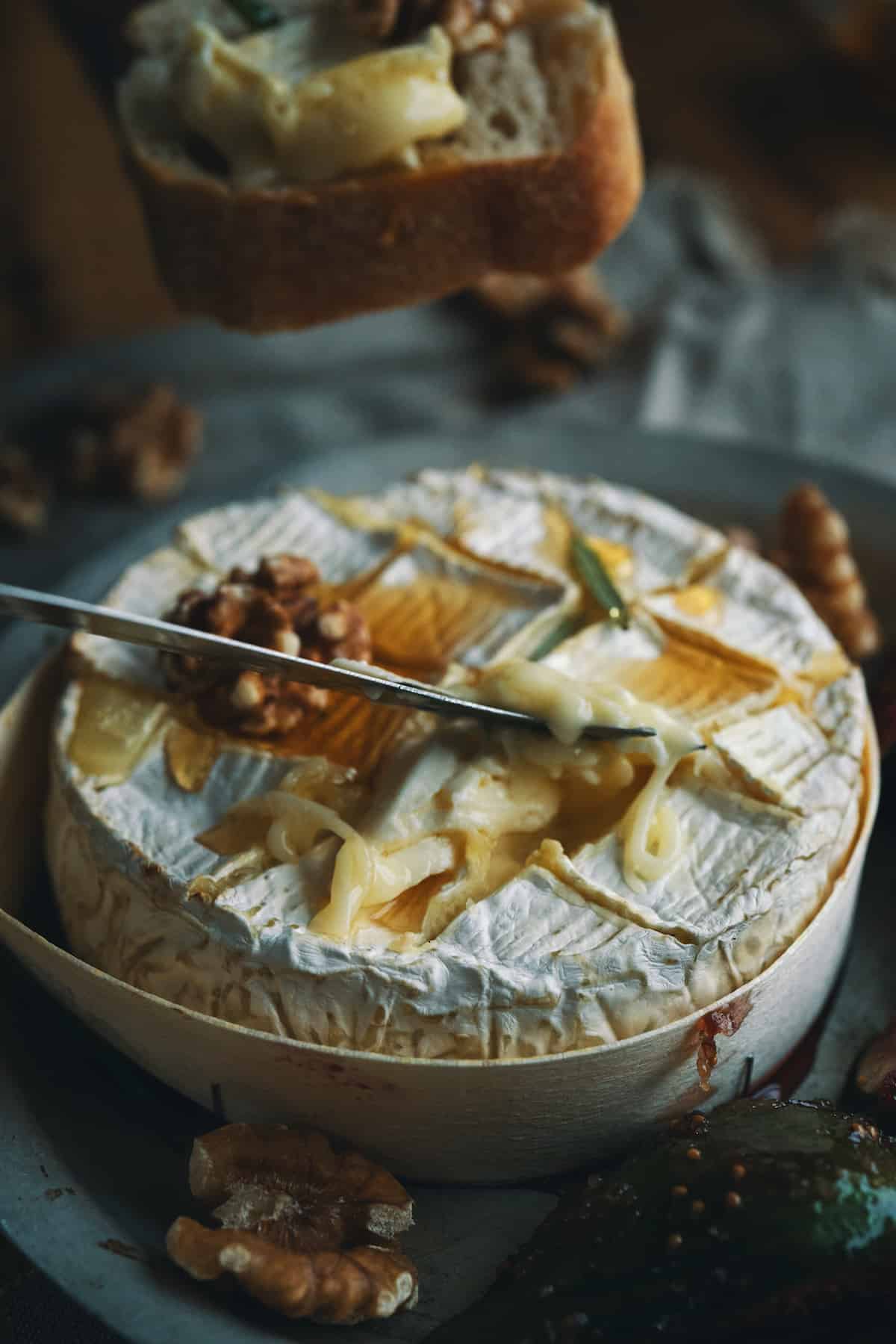 Tips for Making the Best Baked Camembert
This creamy, gooey baked cheese recipe is remarkably easy, but here are some tips to make sure it comes out perfect every time you make it.
Use the box. Camembert comes in an oven-safe wooden box. After unwrapping the cheese from the plastic covering, place it back in the box. This will hold the cheese in place while it bakes, and make it easier to transfer the baked Camembert to a serving platter.
Place the cheese in the middle. When serving the baked Camembert, make sure it's in the middle of the serving platter, with the fruit, nuts, and bread around the cheese. That's the prettiest presentation and also makes it easier for everyone to get to the gooey cheese.
How to Store Baked Camembert
There's a good chance you'll never have to store this cheese, because it will get eaten up within minutes of coming out of the oven. But if you do have leftovers, store it the way you would any other cheese: in an airtight container in the fridge. It will keep for 2-3 days.
However, you don't want to reheat the baked Camembert. Reheating will simply dry out the cheese. Once you've stored it in the fridge, treat it like you would any other piece of cheese, and eat it cold or at room temperature.
Print
Baked Camembert Cheese
This ooey, gooey baked camembert cheese will be a hit at any party, or before any meal.
Author: Rustic Family Recipes
Prep Time:

5 minutes

Cook Time:

12 minutes

Total Time:

17 minutes

Yield:

6 servings

Category:

Appetizers

Method:

Oven

Cuisine:

French
1

Camembert cheese wheel
Pinch of kosher salt

2

–

3

tablespoons honey, divided use

1/2 cup

walnuts, chopped, for serving

8

–

10

fresh figs, sliced, for serving
French bread or baguette, sliced, for serving
Instructions
Prep your tools. Preheat the oven to 350°F. Line a baking sheet with parchment paper. Set side.
Prep the cheese. Remove the plastic wrapping from the cheese and place it back in its wooden box. Wrap the bottom of the box with tin foil. If you prefer, you can transfer it to an appropriately sized small ramekin if you prefer. Put the cheese on the prepared baking sheet.
Score the cheese, add salt and honey. With a sharp knife, cut a crosshatch pattern on the top of the cheese rind. Sprinkle a generous pinch of kosher salt on top and add a drizzle of honey (about 1 tablespoon).
Bake. Place the baking sheet in the oven and bake the cheese for 12-15 minutes, until it is melty. Do not over bake.
Serve. Remove from the oven, take off the foil, and transfer the cheese to a serving platter. Arrange the walnuts and fig slices around the cheese. Drizzle more honey on top and serve immediately with the bread slices and a knife to scoop out the cheese.
Notes
Do not try to bake the cheese without the wooden box or some kind of container, otherwise the cheese will spread everywhere.
Last Step:
Please
share a rating and comment
if you enjoyed this recipe! Your feedback helps this little blog thrive and continue providing free, high-quality recipes for you.
Keywords: Best baked camembert recipe, baked camembert cheese, easy cheese appetizers
Filed Under:
This post may contain affiliate links. Please read our disclosure policy.