These Avocado Enchiladas are made with my chipotle enchilada sauce and are so seriously good. Mashed ripe avocados are tucked into lightly fried corn tortillas with Monterey Jack cheese, plus more melty cheese on top.
Looking for more Mexican dinner ideas? Try my Quesabirria Tacos or these Black Bean Chilaquiles!
Growing up, enchiladas were a staple in our house. My mother was always prepping dinner in advance and would often assemble her enchilada casseroles the night before, then pop them in the oven for a satisfying homemade meal the next day. I didn't appreciate it as a child, but looking back I realize just how hard she worked to make sure we had nutritious meals on the table and a cozy home. Sometimes she would stay up late into the night making breakfasts, lunches, and dinner for the next day – and then on top of all that she'd do the dishes and tidy the house. Now as a working mom with my own family, I understand just how much she did.
This avocado enchiladas recipe is not something my mom would have made because you can't really make it the night before. The avocado filling will start to brown a bit if these sit overnight, which doesn't impact the flavor at all but is something to keep in mind. I do think she would have enjoyed this recipe though. The creamy avocado filling is mixed with melty cheese, then wrapped in lightly fried tortillas that are smothered in homemade enchilada sauce. With even more melted cheese on top, each bite of these enchiladas is supremely satisfying. This recipe is one of my husband's favorites.
I usually make these enchiladas when we are having people over so that I know every last bite will be gobbled up the same day. I have even made these enchiladas as a vegetarian option at Thanksgiving or other holiday dinners!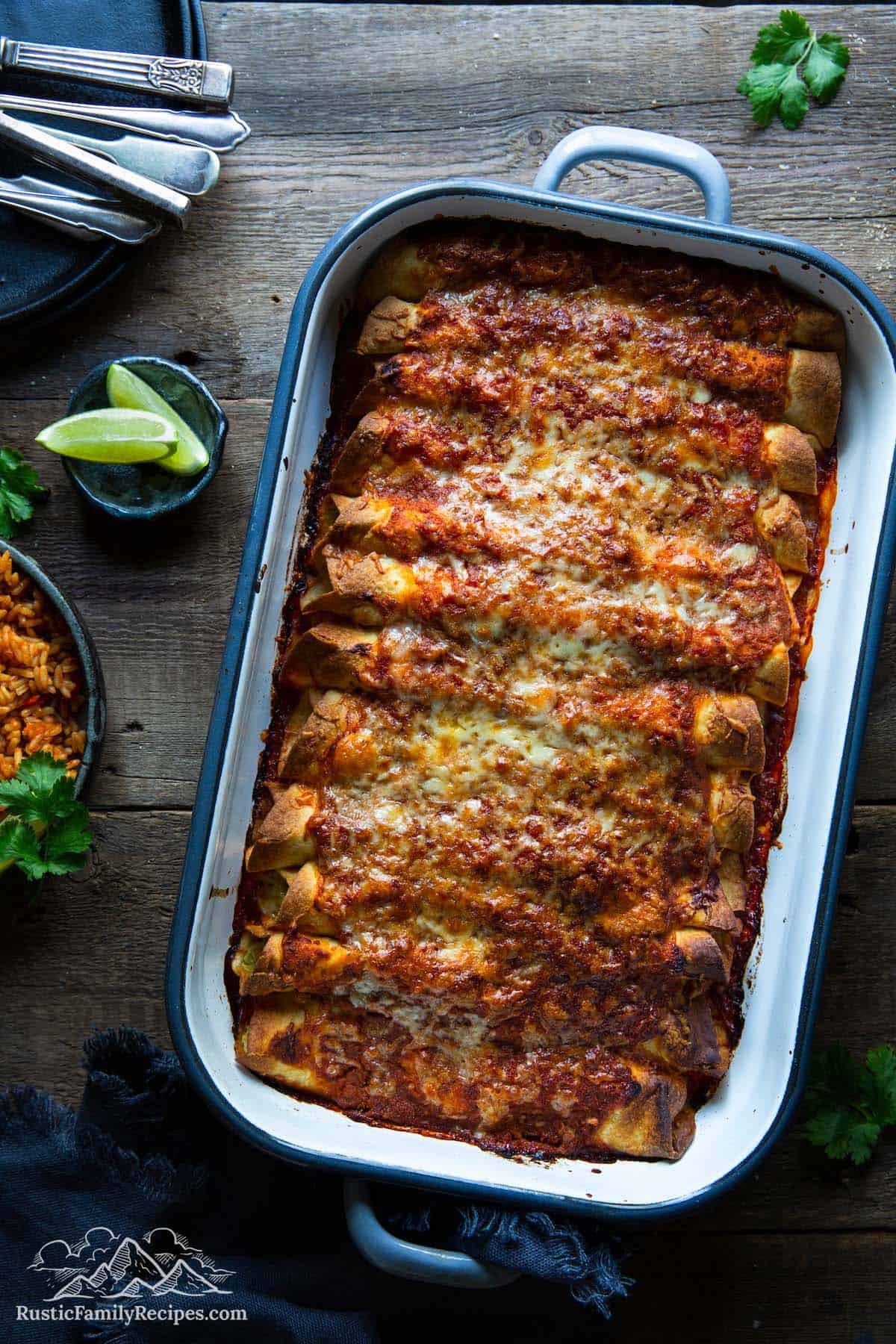 Ingredient Notes
Smoky chipotle enchilada sauce – You can make this the same day you are making the enchiladas, or make it in advance.
Olive oil – You can also use vegetable oil or peanut oil.
Corn tortillas – Try to get good quality tortillas, not the ones that fall apart easily.
Avocados – The trick here is making the enchiladas when the avocados are perfectly ripe! I usually buy a couple extra avocados to up my chances.
Dried cilantro – If you are not a cilantro fan you can also use oregano.
Lime juice – Fresh is best but from a bottle works too. This is help prevent the filling from browning too much.
Kosher salt
Ground black pepper
Monterey Jack cheese – You could also use cheddar cheese.
Why Do You Fry Tortillas for Enchiladas?
Lightly frying corn tortillas to make enchiladas does two things: First, it softens the tortillas and helps them hold their shape when you are rolling them around your enchilada filling. Second, the oil prevents the tortillas from soaking up too much of your enchilada sauce during baking.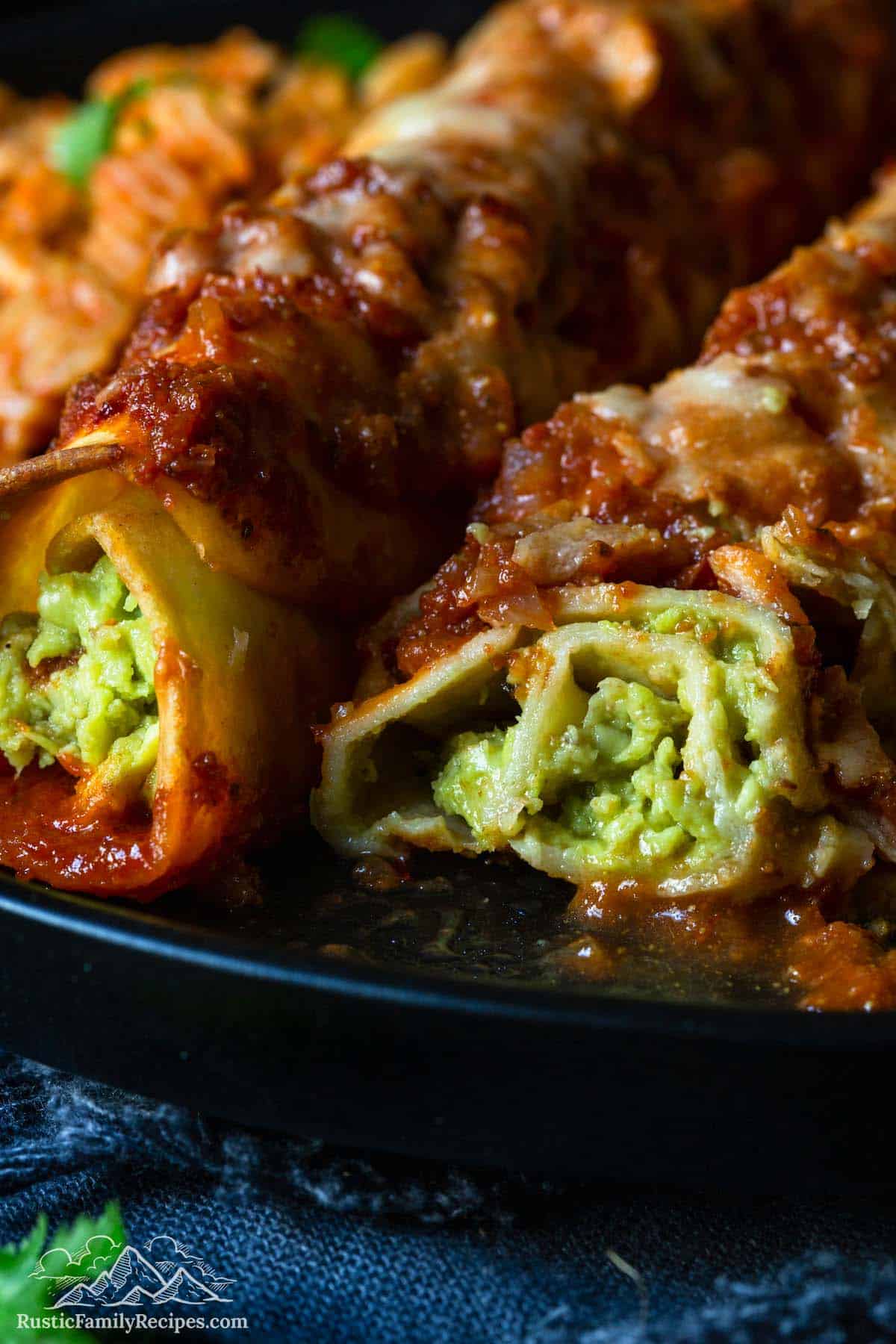 Tips for Success
Don't skip frying the tortillas. It is tempting to skip this step, especially if you are in a hurry or want to cut down on calories. However, as mentioned above, it is important to fry your corn tortillas when making enchiladas.
Work quickly. Even though we are adding lime juice to the avocado filling it will brown if you let it sit for too long. Therefore get everything prepped before you make the filling, then promptly spoon the filling and cheese into each tortilla and roll it up. This will minimize the amount of time the filling is fully exposed to the air and will cut down on any browning.
Use fresh lime juice if possible. You can use bottled lime juice in a pinch, but I find that fresh lime juice has better flavor.
Serving Suggestions
Homemade enchiladas go perfectly with this Instant Pot Mexican Rice. Just place all the ingredients in your instant pot and get it going right after you place the enchiladas in the oven to bake. Fluff the rice a bit before serving, then serve with the enchiladas and any extra lime wedges. I like to squeeze fresh lime juice over my rice.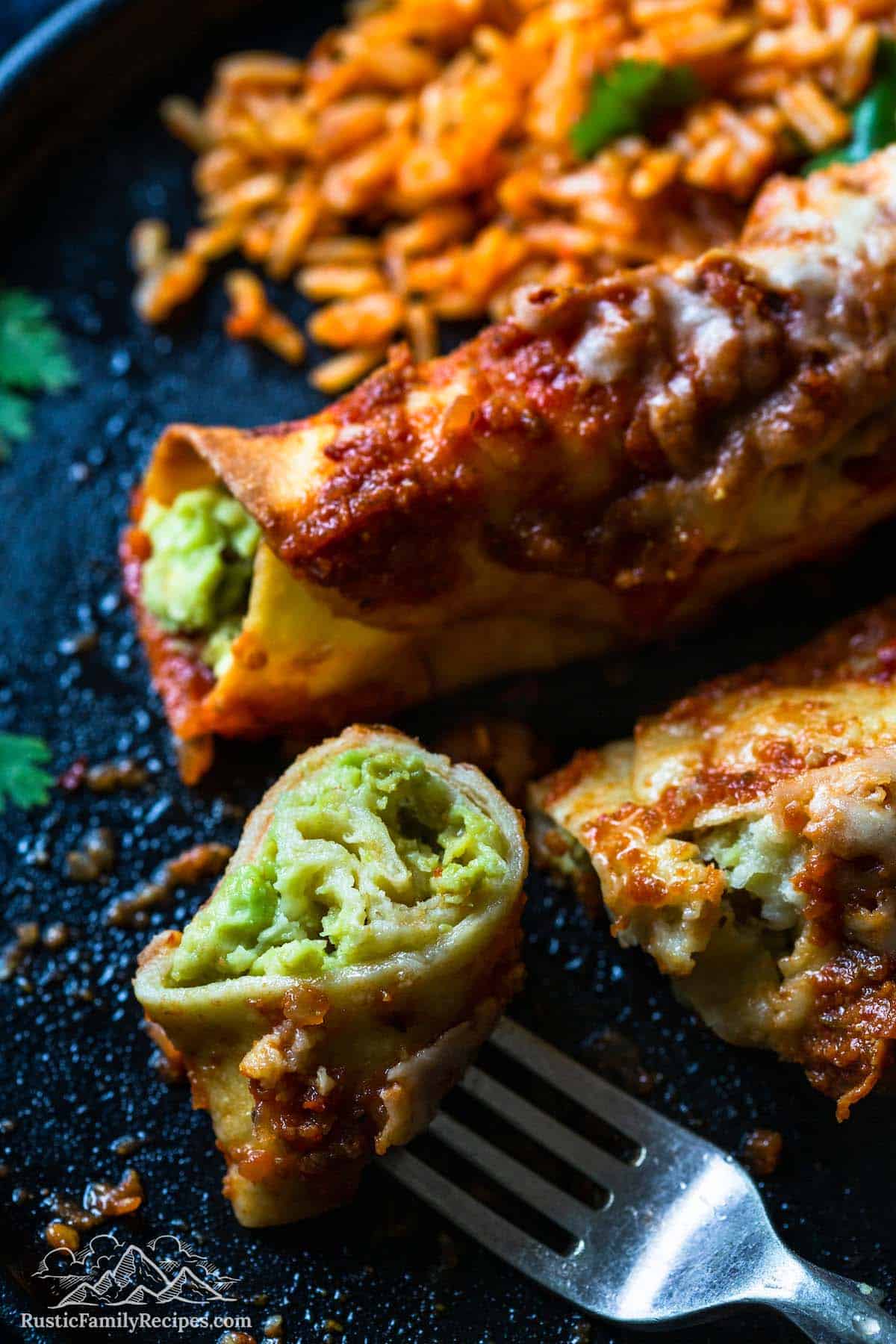 How to Store and Reheat Leftovers
These enchiladas are best eaten the day they are made, but if you really must store leftovers you can do so by placing cooled enchiladas in an airtight container and storing them in the fridge. They will keep for 1-2 days, but the sooner you eat them the less browning you will have on the avocado filling. The browning does not impact the flavor and the enchiladas are safe to eat, but just visually I prefer eating these enchiladas while the avocado filling is still bright green.
The easiest way to reheat extra enchiladas is in the microwave. Just place the desired amount on a plate and heat for 2-3 minutes, depending on how much food you are warming up.
Print
Avocado Enchiladas with Smokey Chipotle Sauce
These Avocado Enchiladas are made with my smoky homemade enchilada sauce and are seriously good! Mashed ripe avocados are tucked into lightly fried corn tortillas with Monterey Jack cheese, plus more melty cheese on top.
Author: Rustic Family Recipes
Prep Time:

15 minutes

Cook Time:

35 minutes

Total Time:

50 minutes

Yield:

12 enchiladas

Category:

Dinner

Method:

Oven

Cuisine:

Mexican
1

batch of smoky chipotle enchilada sauce
1/2 cup olive oil

12

corn tortillas

4

Hass avocados

1 tablespoon

dried cilantro or oregano

2 tablespoons

fresh lime juice (

1

–

2

limes)

1/2 teaspoon

salt

1/8 teaspoon

ground black pepper

8 oz

. Monterey Jack cheese, grated
Instructions
Heat oven to 400 degrees F. Take out a 9×13 baking dish and set aside.
Fry the tortillas. Put 1/2 cup olive oil in a heavy saucepan over medium heat until very hot but not smoking, about 4 to 5 minutes. Using tongs, fry the tortillas, one at a time, for 2 to 3 seconds on each side. Drain on paper towel-lined sheet to get rid of excess oil.
Prep the avocado filling. Peel and pit the avocados. Immediately toss with the lime juice (prevents browning too quickly), cilantro, salt and pepper. Mash well.
Assemble enchiladas. Spread 1/2 of the sauce into a 9×13 baking dish. Spoon 2 tablespoons of avocado filling into each tortilla, sprinkle some Monterrey jack cheese on top, then roll the tortilla. Put them seam side down in your baking dish, tucking them snuggly against each other. Once all the tortillas have been filled and placed in the baking dish, ladle the rest of the sauce over the rolled tortillas. Top with remaining cheese.
Bake. Spray a sheet of aluminum foil lightly with PAM or olive oil, then loosely cover the enchiladas sprayed side down. Bake for 25-30 minutes, until the sauce, is bubbly and the enchiladas are heated through. Remove the foil and bake another 5 minutes or until the cheese is melted. Serve immediately.
Keywords: homemade enchiladas, vegetarian enchiladas, cheese enchiladas
This post may contain Amazon affiliate links to products that I use, which can earn a small commission on qualifying purchases.