This avgolemono soup recipe features tender chicken and rice cooked in a flavorful broth. Tempered egg yolks add a silky texture to this light chicken soup that's finished with a squeeze of fresh lemon juice.
I love it when a big pot of soup is simmering on the stove. It just feels so old-fashioned and cozy! And during the spring, this avgolemono soup is one of my favorite recipes to make.
This easy recipe combines tender shredded chicken and rice with a flavorful broth that has an irresistibly silky texture. Digging into a steaming bowl of this chicken lemon rice soup is pretty near perfection, especially if you have some thick slices of crusty bread to with your soup.
Watch How to Make Chicken Lemon Rice Soup
Want to see how to make Avgolemono soup from scratch? Check out my step-by-step video:
Why You'll Love This Avgolemono Recipe
Delicious: Avgolemono soup has a creamy and tangy flavor that's pretty hard to resist. Plus, the hearty chicken and tender rice make for a satisfying meal that fills hungry bellies.
Easy to make. With just a few basic ingredients and some simple steps, you can make this chicken and lemon rice soup in no time.
Healthy. Avgolemono soup is packed with protein, vitamins, and minerals. The chicken broth provides a good source of protein, while the rice adds complex carbohydrates. The eggs also provide protein and healthy fats, while the lemon juice adds a dose of vitamin C.
Flexible. You can customize your avgolemono soup to suit your preferences. If you prefer a vegetarian version, you can use vegetable broth instead of chicken broth, and omit the chicken. You can also add other ingredients, such as different vegetables or herbs, to give the soup your own unique twist.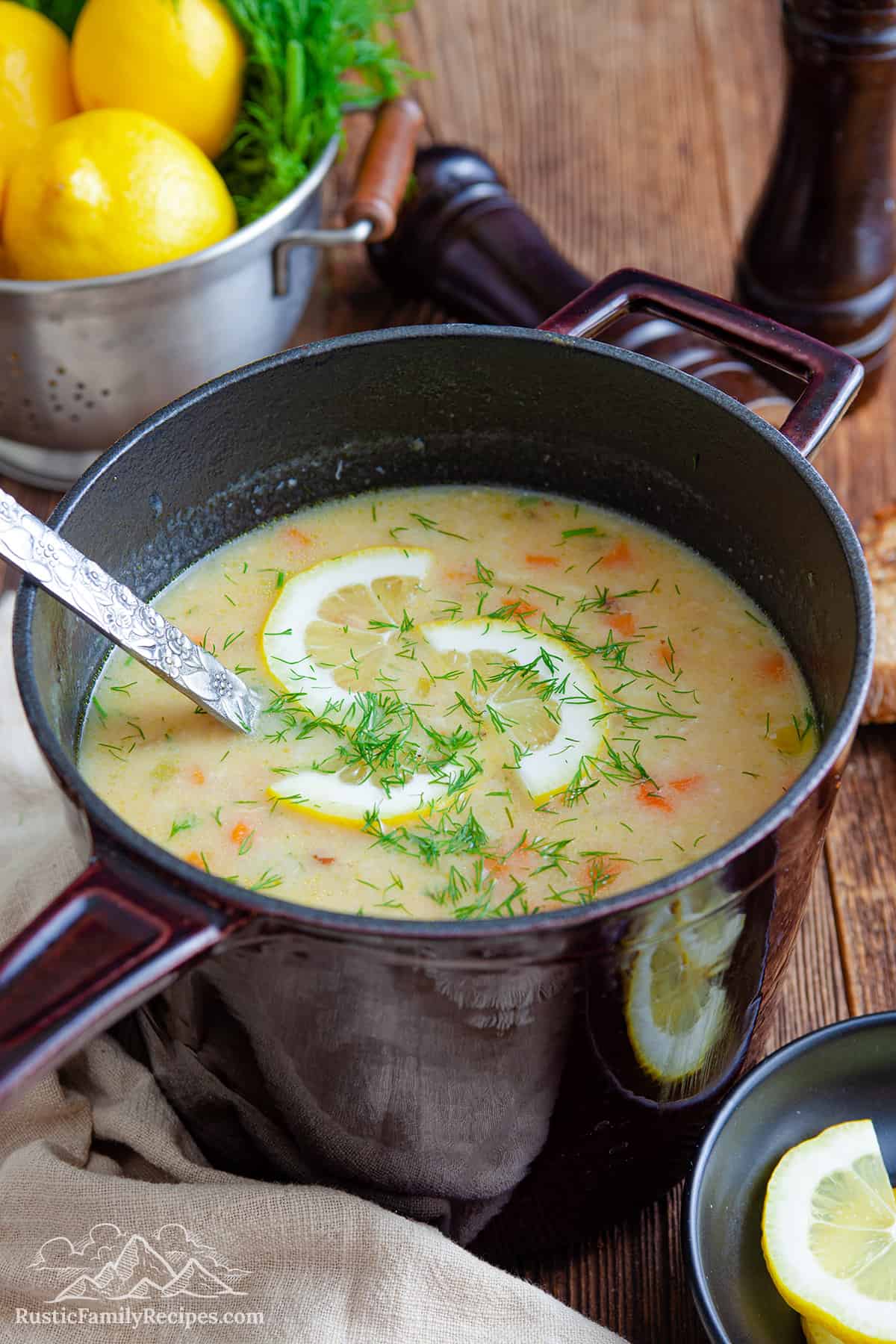 What is Avgolemono Soup?
Avgolemono soup is a traditional Greek soup that's made with chicken broth, rice or orzo, eggs, and lemon juice. The broth is typically seasoned with salt and pepper, and sometimes with additional herbs such as dill. The rice is cooked in the broth until tender, and then tempered eggs and lemon juice are gradually added to the soup, creating a creamy and tangy meal.
The name "avgolemono" is derived from two Greek words: "avgo," which means egg, and "lemono," which means lemon. It is a popular comfort food in Greece and is often served as a starter or a light meal. It's also a popular remedy for colds, as it's believed to be both nourishing and soothing. (Similar to my Instant Pot healing chicken soup.)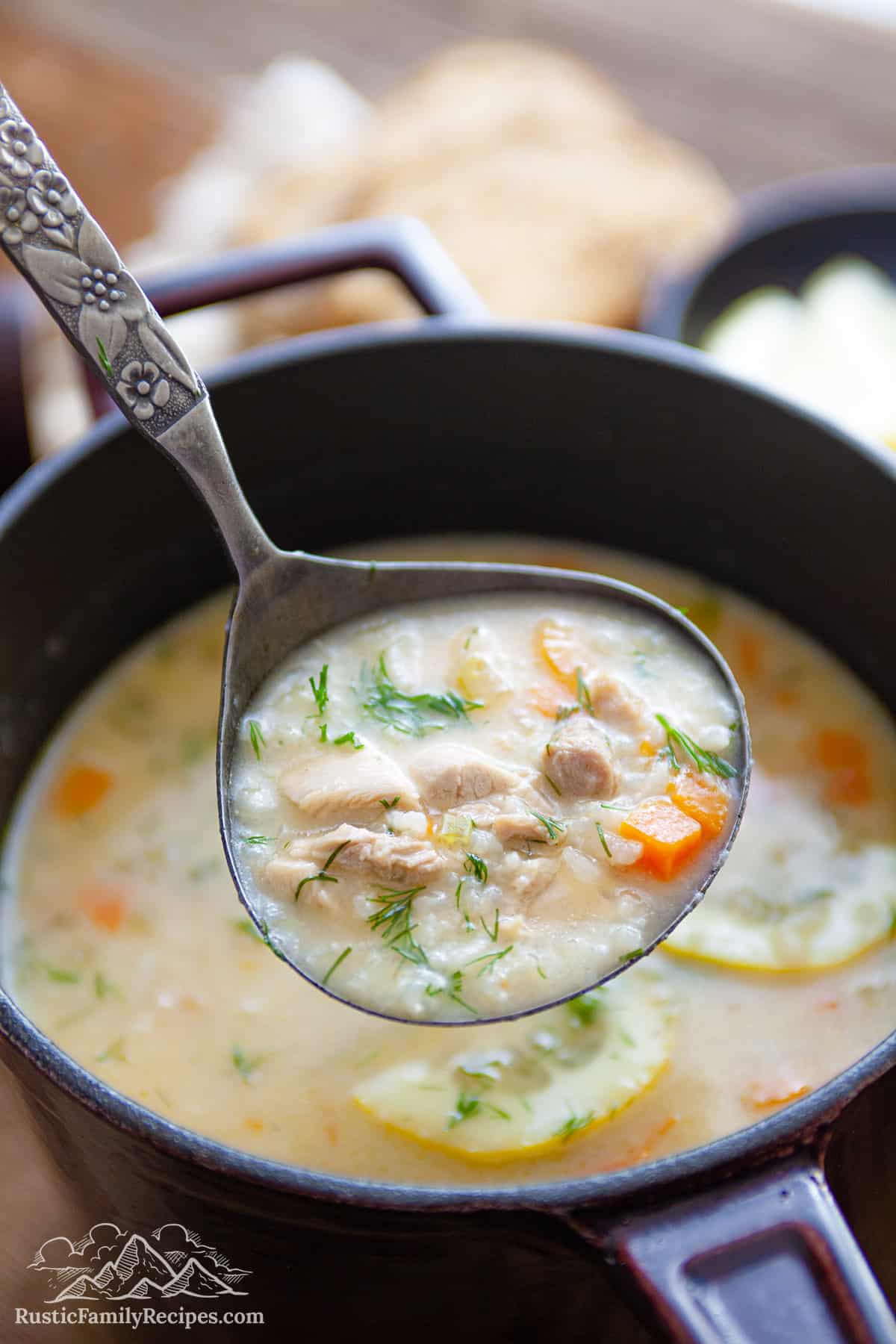 What Does It Mean to "Temper" The Eggs?
Tempering eggs is a cooking technique that involves slowly and gradually adding a hot liquid (such as milk, cream, or broth) to beaten eggs while constantly whisking. This gently raises the temperature of the eggs without cooking them too quickly or causing them to curdle.
Tempering is often used when making custards, sauces, and other dishes that require eggs to be cooked and thickened without turning them into scrambled eggs. By gradually adding the hot liquid, the eggs become gently cooked and thicken the mixture evenly, resulting in a smooth and creamy texture. This technique is also used in my rice pudding recipe.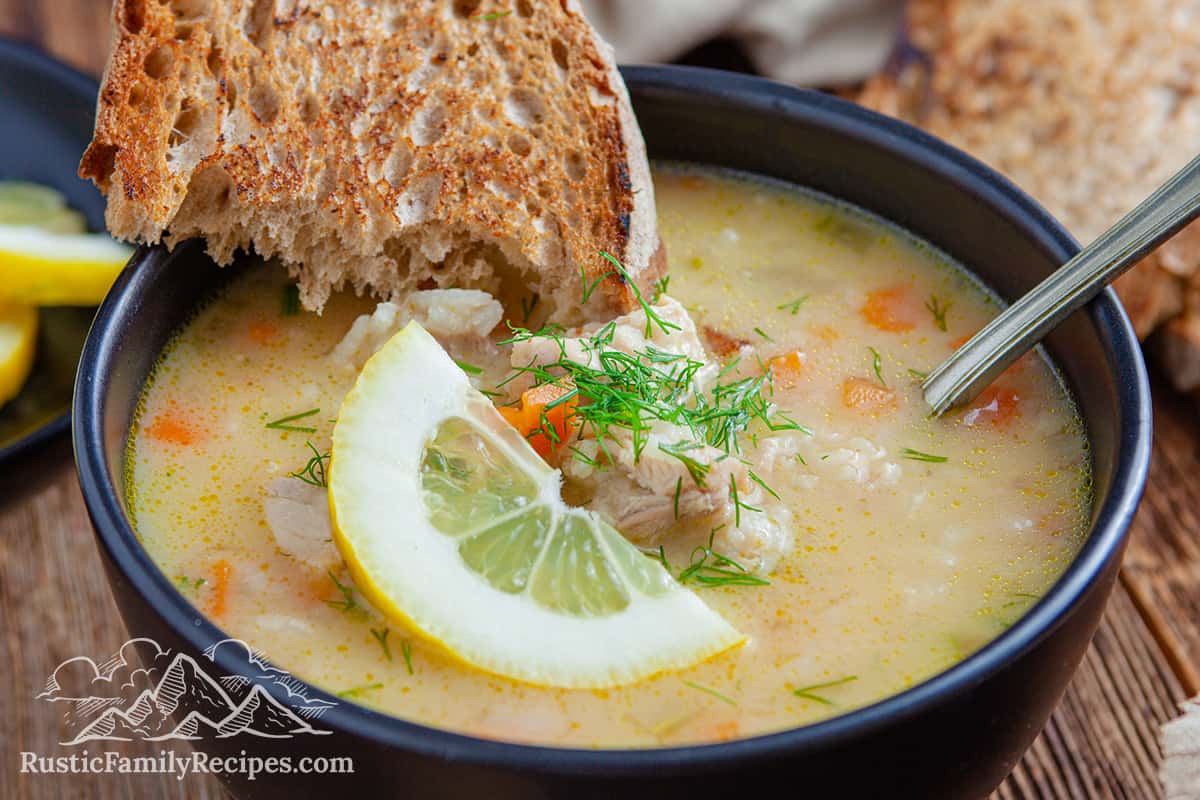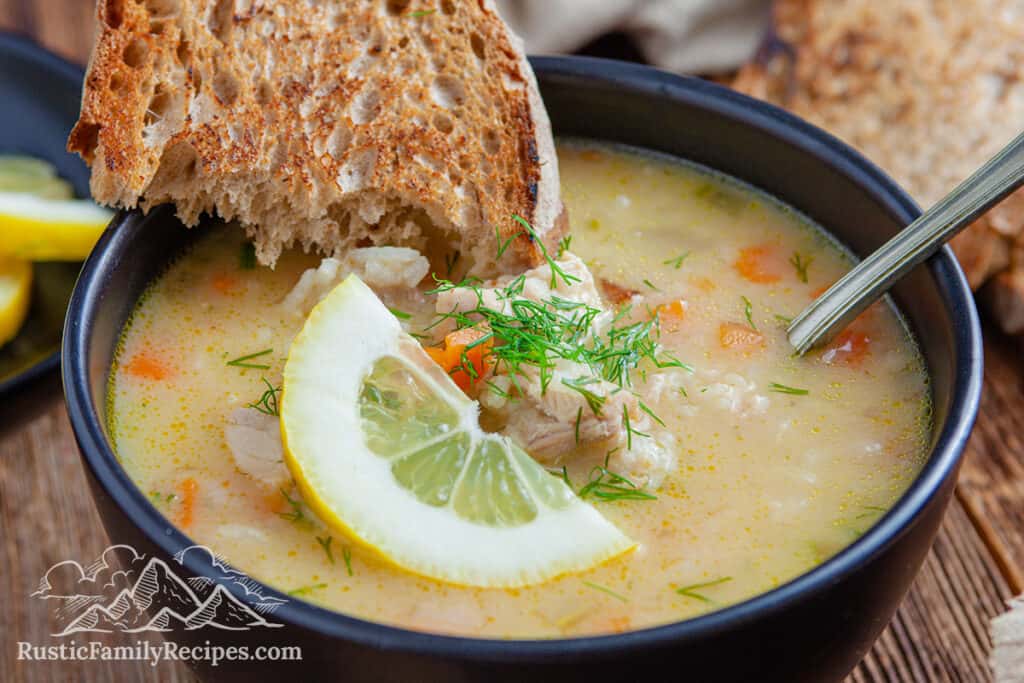 Tips for Success
While avgolemono soup is pretty simple, it never hurts to have a few tips:
After the tempered egg has been added, don't let the soup boil. Once you've added the egg mixture to the soup, make sure not to let it boil. Boiling can cause the eggs to curdle and the soup to separate.
Taste and adjust the seasonings. Taste the soup before serving and adjust the seasoning as needed. You can add more salt, pepper, or lemon juice to suit your preferences.
Serve hot. Avgolemono soup is best served hot, so make sure to reheat it before serving if needed. (See more on the best ways to reheat this soup below.)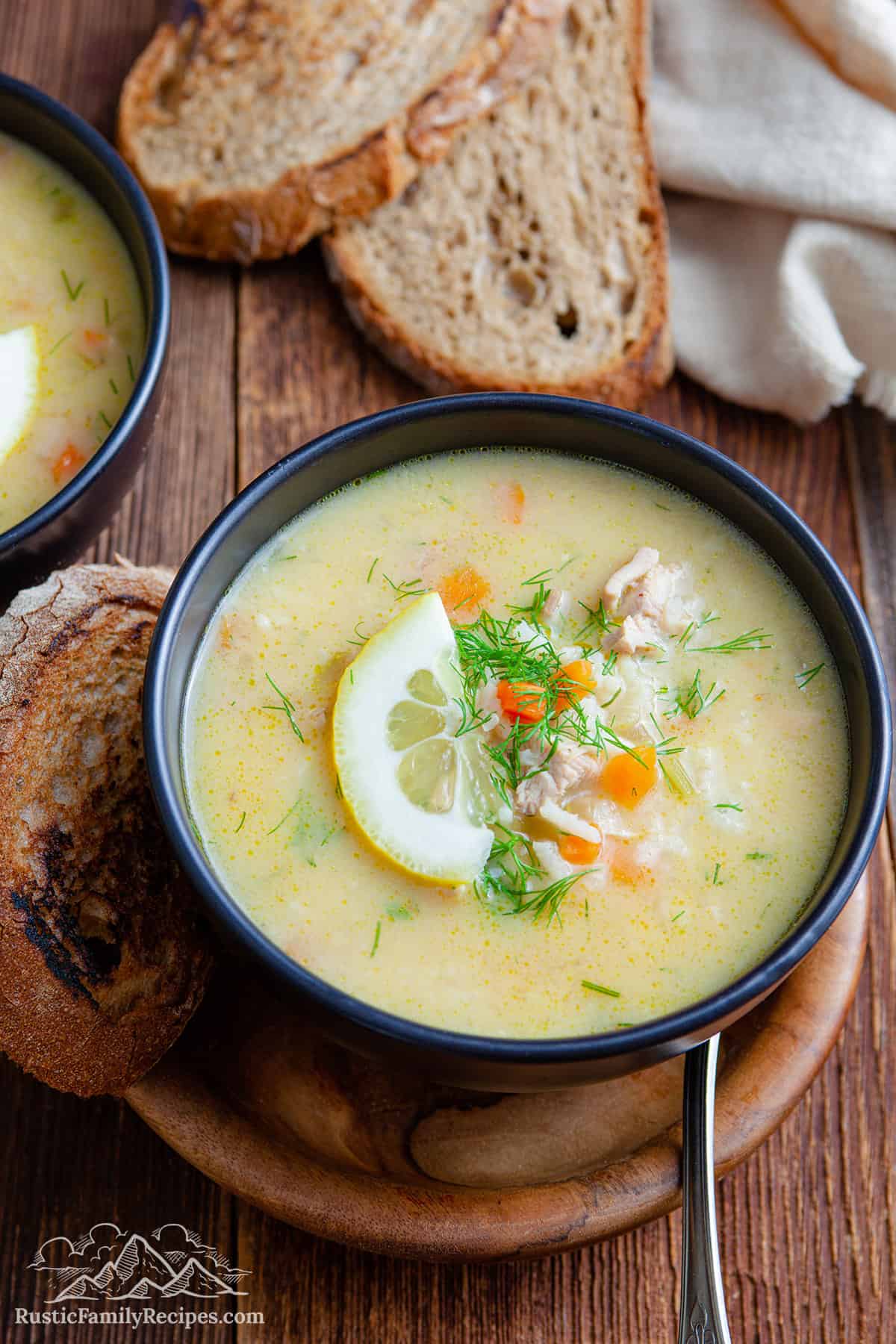 What Goes With Avgolemono Soup?
Here are a few suggestions for what you could serve with chicken lemon rice soup:
Salad: A simple side salad of mixed greens, tomatoes, and cucumbers is a great accompaniment to avgolemono soup. You can dress the salad with a light vinaigrette or a squeeze of lemon juice. We also love this soup with a spring mix salad made with apples and walnuts.
Bread: Crusty French bread or even a slice of homemade bread is a classic accompaniment to soup. You can slice the bread, lightly toast it, then serve it with butter or olive oil.
Cornbread: Want to add a distinctly American side? Serve it with a slice of old-fashioned cornbread or cornbread muffins. This buttermilk zucchini cornbread is also great with soup!
Grilled chicken or fish: If you're looking for a heartier meal, you can serve grilled chicken or fish alongside your avgolemono soup. The light and tangy flavor of the soup pairs well with the savory flavors of grilled meat or fish.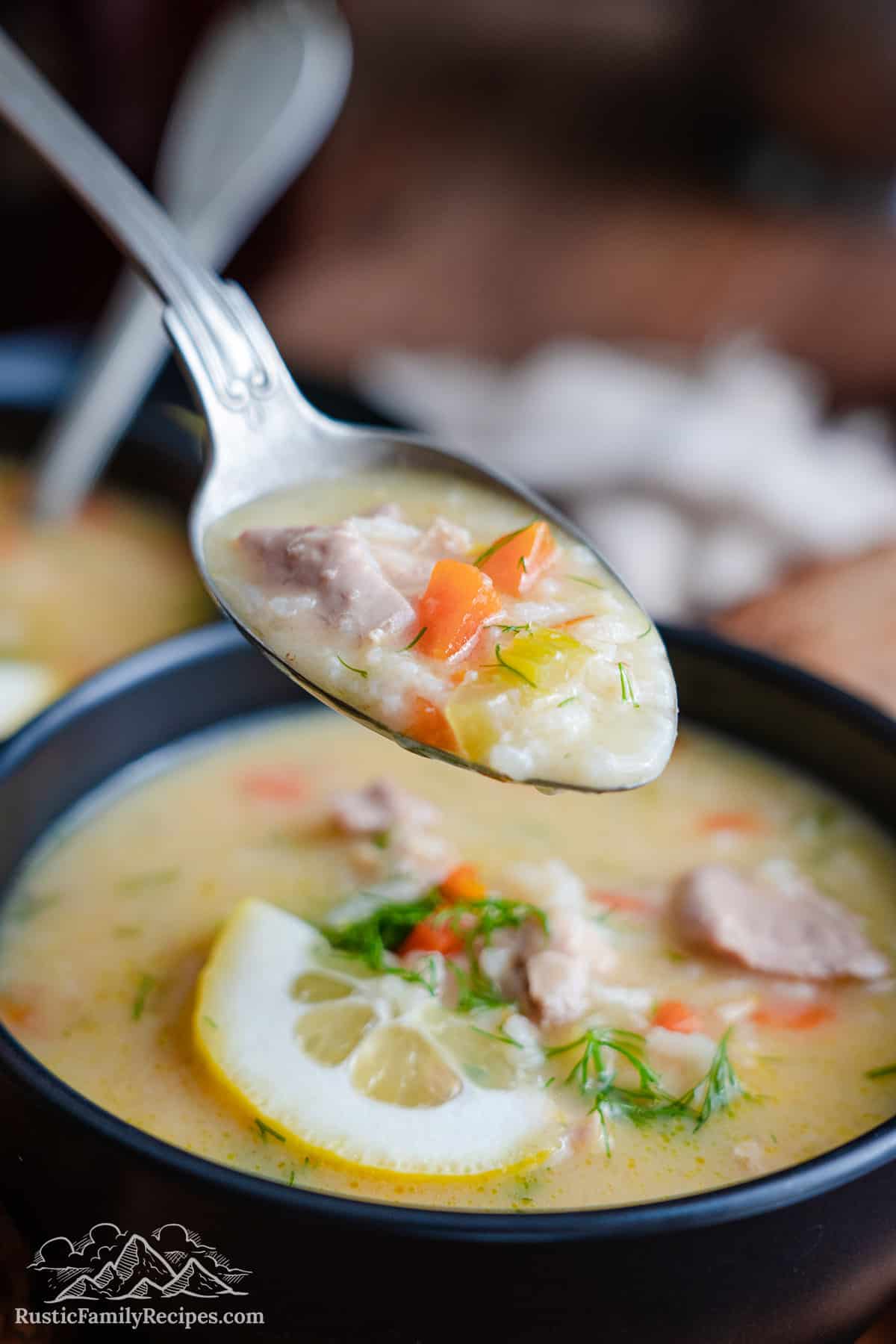 How to Store Extras
Fridge: Let the soup cool to room temperature, then transfer it to an airtight container and store it in the fridge for up to 4 days.
Freezer: Once your soup has cooled, transfer it to an airtight, freezer-safe container. Make sure you leave at least one inch of space at the top so that the soup has room to expand. Write the date on your container and then store it in the freezer for up to 3 months. Thaw the soup overnight in the fridge before reheating.
It's important to note that freezing can change the texture and consistency of the soup slightly, but it should still be tasty and enjoyable.
How to Reheat Avgolemono Soup
When you're ready to enjoy your leftover soup, reheat it on the stove over medium heat until it's heated through. Stir frequently and do not bring the soup to a boil, as this can cause the eggs to curdle and the soup to separate. For this reason, I recommend using your stove instead of the microwave. (This way you can more closely control the temperature.)
More Easy Soup Recipes to Try
Avgolemono Chicken and Rice Soup
This avgolemono soup recipe makes a creamy chicken and lemon rice soup that's perfect with a crusty slice of bread.
Ingredients
2

tablespoons

olive oil

,

divided

1

pound

boneless skinless chicken thighs

1

teaspoon

kosher salt

1

medium yellow onion

,

diced

2

medium carrots

,

finely diced

2

ribs of celery

,

finely diced

2

cloves

garlic

,

minced

2

cups

long-grained white rice

14

cups

chicken stock

2

bay leaves

3

egg yolks

⅓

cup

fresh lemon juice

3

tablespoons

chopped fresh dill

Kosher salt and ground black pepper to taste
Instructions
Warm some olive oil. In a large, heavy pot heat 1 tablespoon of olive oil over medium-high heat.

Sear the chicken. Add the chicken to the pot and sear for 2 minutes on one side. Flip and sear for 2 minutes on the other. Transfer the chicken to a plate and set aside

Cook the veggies. Add the rest of the olive oil to the pot followed by the onion, carrots, celery, and sea salt Sauté until the onions become translucent.

Add the garlic. Sauté until fragrant

Add the rice, chicken stock, bay leaves, and chicken. Bring the mixture to a boil. Reduce to a simmer and cook for 20 minutes or until the rice is done

Shred the chicken. Transfer the chicken to a cutting board and shred. Return it to the pot.

Temper the egg. Whisk the eggs in a mixing bowl and ladle about ½ cup of the broth into the bowl, whisking continuously. Repeat once before adding the egg mixture to the soup pot. Stir.

Add lemon and adjust seasoning. Stir in the lemon juice and fresh chopped dill and season with salt and ground black pepper

Serve. I like to serve this soup with a slice of crusty bread. 🙂
Last Step:
Please
share a rating and comment
if you enjoyed this recipe! Your feedback helps this little blog thrive and continue providing free, high-quality recipes for you.
Nutrition
Calories:
273
kcal
|
Carbohydrates:
15
g
|
Protein:
23
g
|
Fat:
13
g
|
Saturated Fat:
3
g
|
Polyunsaturated Fat:
2
g
|
Monounsaturated Fat:
7
g
|
Trans Fat:
0.01
g
|
Cholesterol:
139
mg
|
Sodium:
946
mg
|
Potassium:
593
mg
|
Fiber:
0.04
g
|
Sugar:
7
g
|
Vitamin A:
130
IU
|
Vitamin C:
1
mg
|
Calcium:
29
mg
|
Iron:
2
mg
Nutritional info is an estimate and provided as a courtesy. Values may vary according to the ingredients and tools used. Please use your preferred nutritional calculator for more detailed info.
Did you make this recipe?
💖 I love hearing how my recipes came out for others! If you tried this recipe, please share a comment. 💖
Filed Under:
This post may contain affiliate links. Please read our disclosure policy.