Turn fresh garden zucchini into crispy fried Arancini with Zucchini and Goat Cheese, just like Nonna makes! A family favorite recipe and the perfect summertime snack.
Summer is still with us, and my kitchen has been in a happy sort of frenzy as I've tried to keep up with my harvest from the garden. It's always rewarding to grow your own food, watching all that TLC literally come to life with an abundance of fresh, ripe fruit and veggies each season. This year, our zucchini patch is particularly strong. I can hardly keep up!
After using up as much zucchini as I could in favorites like zucchini parmesan, zucchini brownies, and my zucchini tart, I knew it was time to call in a professional. Enter: my Italian neighbor. With my latest haul of fresh zucchini slowly taking over my kitchen countertops, "Nonna" (as she likes to be called) came to the rescue with her classic arancini recipe. I love this recipe, so to say I was thrilled to finally have a tutorial is an understatement! Biting into these arancini is like taking a bite out of crispy, creamy appetizer heaven.
So, we made a day of it. Those are Nonna's hands in the photos! This is an easy family recipe for Italian rice balls filled with tender veggies and tangy goat's cheese, fried golden in a pan with oil. Gratefully, it put a dent in the zucchini pile.
What Are Arancini?
Arancini are a classic Sicilian appetizer. They're made from risotto rice balls that are stuffed, rolled in a breadcrumb coating, then deep fried until crispy.
Nonna's recipe includes fresh zucchini from the garden and a filling of rich and tangy goat's cheese. Meanwhile, you'll find other arancini recipes filled with mozzarella, ragu, tomato sauce, and sometimes green peas.
What does the Italian word arancini mean?
The direct translation of arancini is "little oranges" – fitting, don't you think? These small fried balls do look a lot like small golden oranges. Especially when the risotto is made the traditional way, with saffron, to give the balls a bright orange color.
Even though my recipe leaves out the saffron, sometimes I'll serve my arancini topped with a sprig of basil leaves. Then they really look like little freshly picked oranges!
Recipe Ingredients
These authentic zucchini and goat cheese arancini are a celebration of seasonal ingredients. Though I wouldn't expect less from my husband's family! In true Italian style, the ingredients are classic and non-fuss, and with a huge flavor trade-off. Below is an overview, with the full ingredient amounts available later on in the recipe card:
Zucchini – These arancini turned out incredible when made with crisp, fresh green zucchini straight from our yard. We're lucky! Your next best option for the freshest zucchini (if you can't grow it yourself) is to pay a visit to your local farmer's market.
Shallots and thyme – Shallot or another mild white onion, along with fresh thyme leaves flavor the zucchini while it sautés. Thyme is another ingredient I use from the garden, but you can find fresh thyme sprigs in the herb section of the produce aisle, too.
Risotto-quality rice – Arborio rice is the traditional rice used when making risotto since it's highly absorbent without becoming mushy. Other risotto-quality, high-starch, short-grain rice like Carnaroli, or Vialone Nano will also work.
White wine – As any Italian will tell you, risotto calls for a dry, crisp white wine. Choose a nice pinot grigio, unoaked chardonnay, or sauvignon blanc for flavoring the rice.
Vegetable broth – Instead of water, risotto rice is cooked in stock to really amp up the flavor! I recommend using a low-sodium broth or stock so that you can adjust the saltiness to taste.
Butter and parmesan cheese – Be sure to use freshly grated parmesan from a block, and not the pre-grated kind. The grated cheese is stirred into the warm risotto along with butter to get it extra creamy and flavorful.
Goat cheese – Fresh goat cheese for filling the rice balls.
Egg – A single whisked egg helps the breadcrumbs coat the arancini.
Flour and breadcrumbs – Nonna's recipe uses plain, unseasoned breadcrumbs and jazzes them up with freshly grated Parmigiano cheese. You'll also need to roll your arancini in a light layer of all-purpose flour first before coating them in the egg and breadcrumbs.
Parmigiano cheese – Again, freshly grated, to give flavor to the breadcrumbs.
Salt and pepper
Oil – For frying. You can use olive oil, though I usually just use vegetable oil as it's less expensive and works perfectly well.
How to Make Arancini with Zucchini and Goat Cheese
Once all of our ingredients were chopped, diced, and ready to go, Nonna walked me through the recipe. Making arancini from scratch is surprisingly easy! Not to mention, it's a wonderful crash course in making a simple and delicious risotto. Here's how to make the perfect batch of homemade arancini: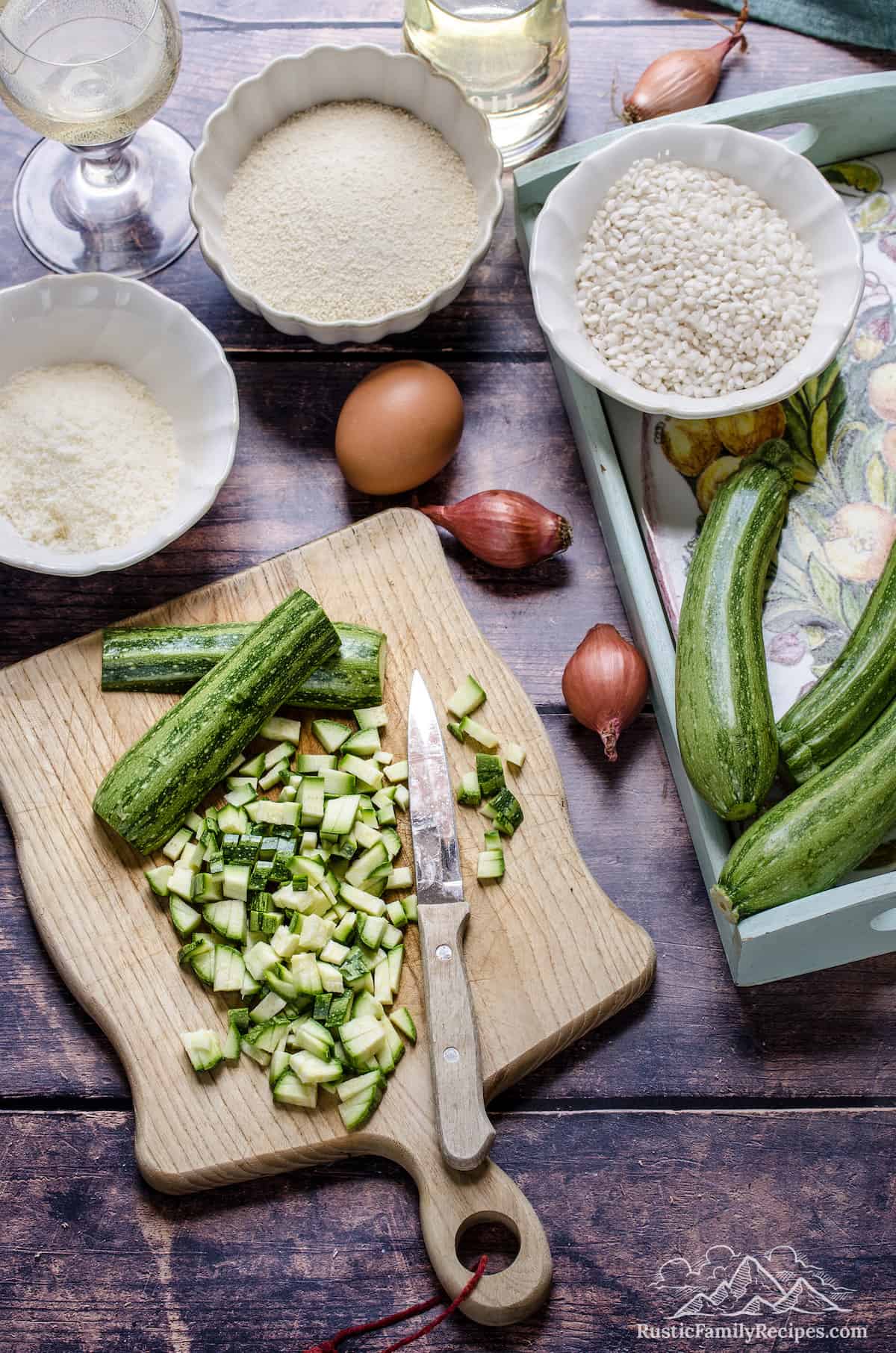 Sauté the veggies. First, you'll sauté the zucchini with shallots and fresh thyme to get the veggies lightly browned and fragrant. Season with salt and pepper to taste, then transfer half of the zucchini to a bowl to set aside for now.
Prepare the risotto. Stir the rice into the remaining zucchini. Lightly toast the rice before pouring in the white wine, stirring gently while it evaporates from the pan. Next, you'll begin gradually stirring in the vegetable broth a little at a time. Wait until the first of the liquid is nearly fully absorbed, then add more. Repeat with the remaining broth until the rice is cooked soft and tender. To finish your risotto, remove the pan from the heat and then stir in the butter and parmesan. Season to taste, then add in the rest of the zucchini that was set aside earlier.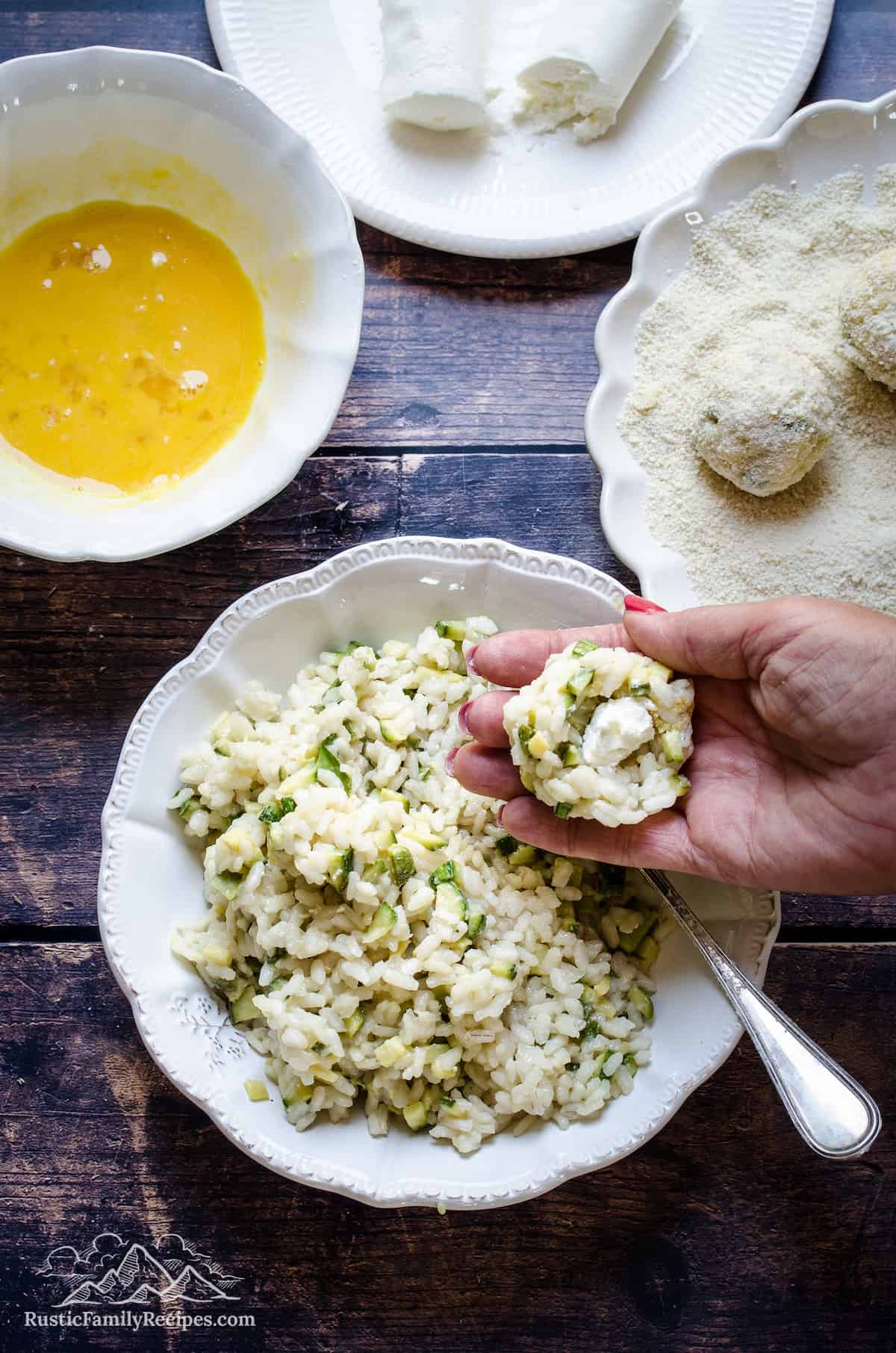 Fill and shape the rice balls. Give the risotto about 15 minutes to cool off, so that it's comfortable to handle. This recipe makes enough rice for 12 arancini. Portion out the rice and then use your hands to flatten the balls, placing a piece of goat's cheese in the center. Carefully fold the rice around the cheese and shape/roll it into a ball. Next, repeat with the remaining risotto.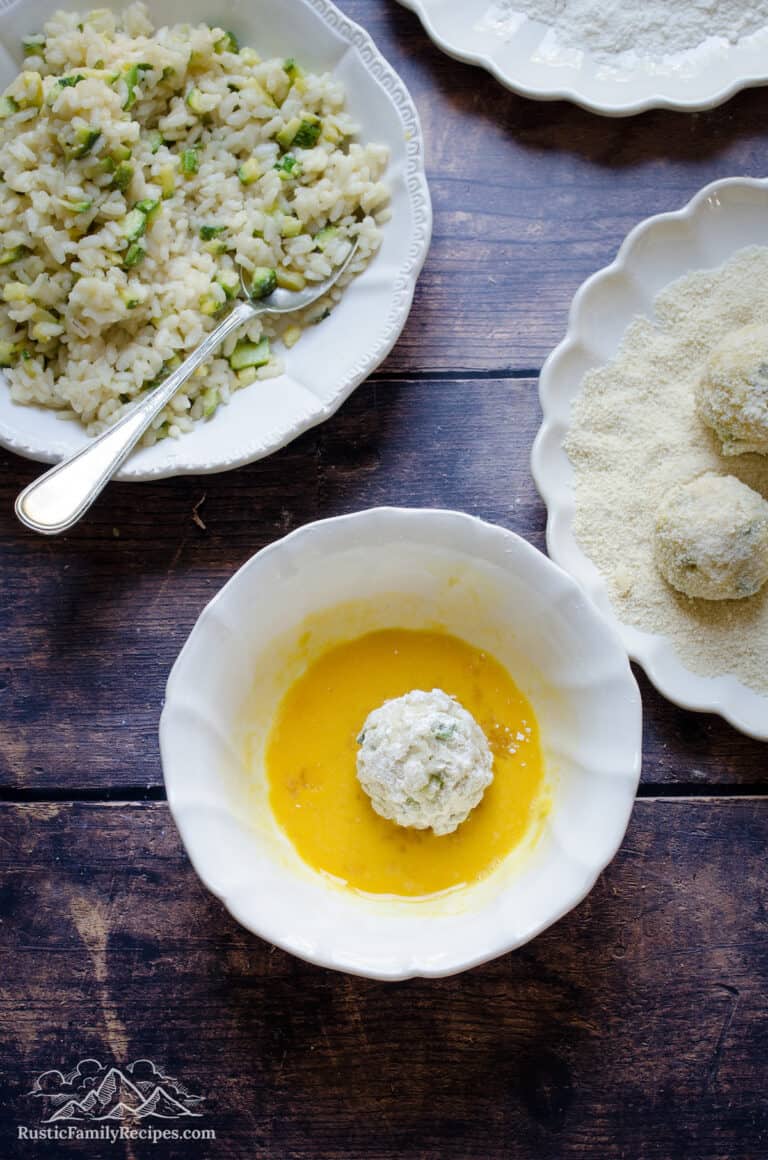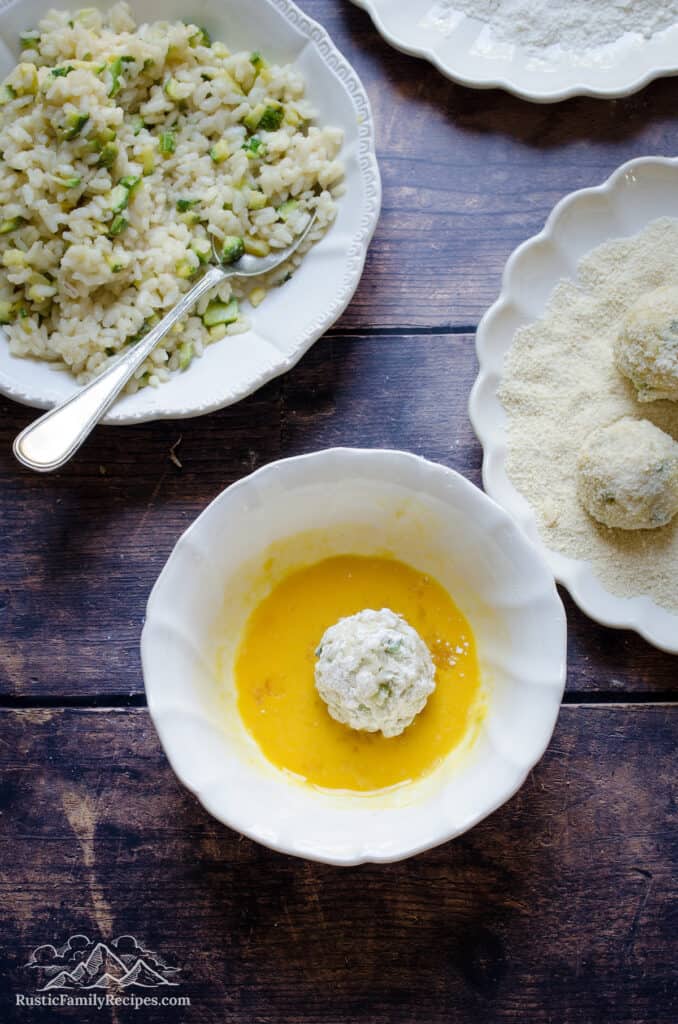 Coat the rice balls. Place the flour in one bowl, whisk the egg in a second bowl, and finally combine the breadcrumbs and Parmigiano in a third, separate bowl. One at a time, dip the risotto balls first into the flour, followed by the egg, and lastly into the breadcrumb mixture to evenly coat. Place the finished arancini on a tray for now.
Frying the Arancini
To fry your arancini, get out a good-sized, heavy-based saucepan and fill it about halfway with oil. You'll need to preheat the oil – a good way to tell when it's ready is to slowly drop a piece of bread into the hot oil. If the bread turns brown within 45 seconds, the oil is hot enough to cook your arancini.
Working in batches, carefully lower the arancini balls into the hot oil. Don't drop them in from high over the pan, as this can cause the hot oil to splash! After about 8-10 minutes in the pan, your arancini should be a glorious, crispy golden brown. Remove the arancini from the oil using a slotted metal spoon, and transfer them to a tray lined with paper towels to drain.
Once they're ready, serve your arancini warm, with a side salad. See below for even more serving suggestions!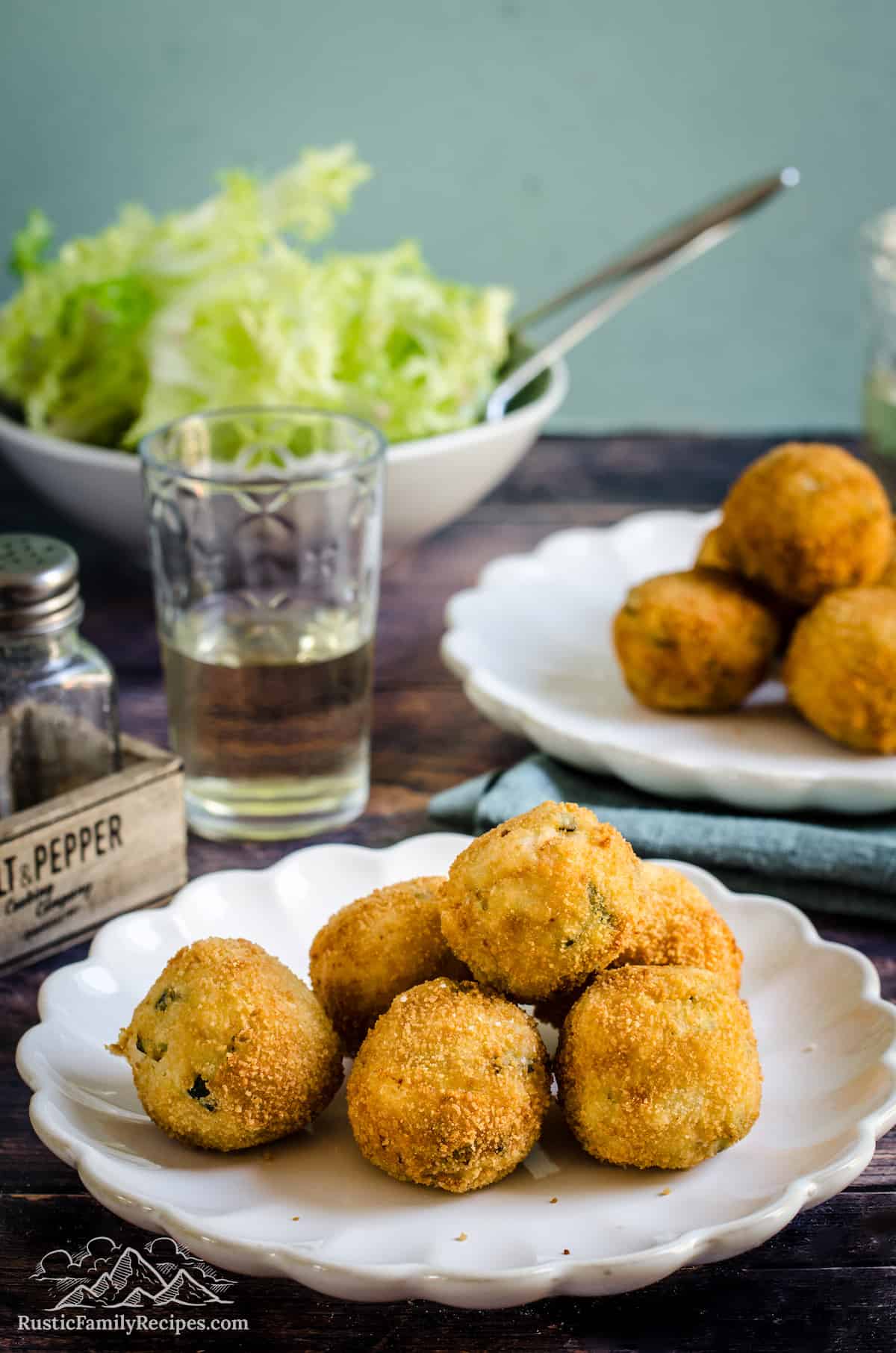 Tips & Variation Ideas
Here are some extra tips for making the best arancini:
Pay attention while frying. Very important! For safety purposes, hot oil calls for your undivided attention. Make sure to not leave the hot oil unattended, and keep children and pets out of the kitchen while you're working.
What size should these be? Arancini are classically on the larger size, however antipasti versions can be smaller. For 12 arancini, I suggest portioning out the rice in this recipe equally, to shape it into balls about the size of a small tangerine. They are meant to resemble little oranges, after all!
Use leftover risotto. Arancini is one of the best ways to use up second-day risotto! If you already have a batch already made from last night's dinner, feel free to stir in the sautéed zucchini, thyme, and onions and use this as the rice mixture for this arancini recipe.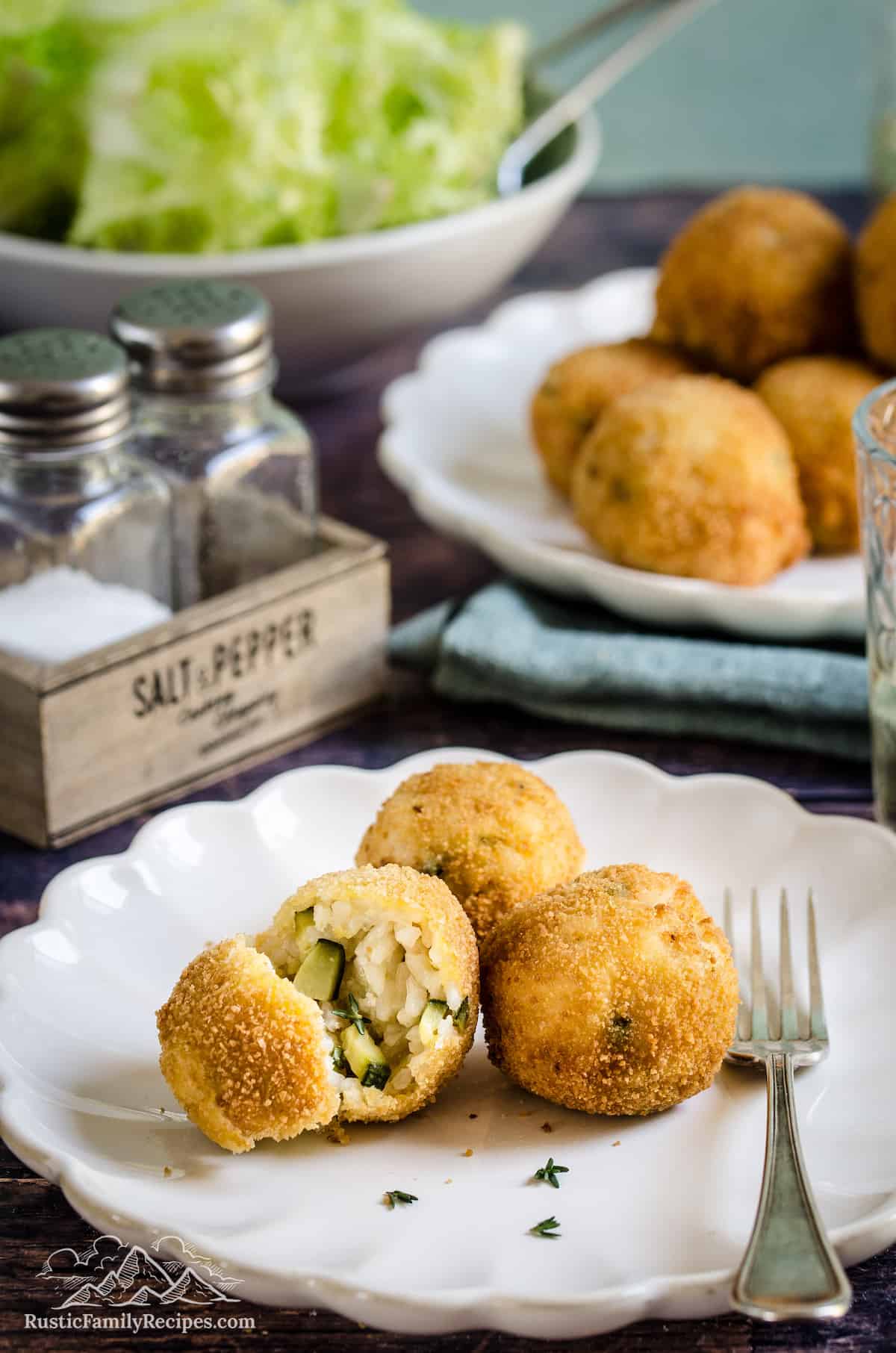 How Do You Eat Arancini?
So many ways! If you ask Nonna, these zucchini arancini paired with a fresh green salad is peak Italian summertime fare.
However, you can really serve them with any Italian dish of your choosing. We love them as a warmup to a meal of easy spaghetti pasta carbonara, spinach pesto alla Genovese, or homemade pizza made from classic sourdough pizza crust.
For a casual al fresco dinner on the patio, I'll serve a batch of arancini alongside fried green tomatoes, a light spinach mushroom quiche or tomato galette made with ripe garden tomatoes. Enjoyed with a classic Italian negroni, of course.
These are one of my family's favorite vegetarian appetizers, and while they're loaded with flavor on their own, arancini are also great for dipping! Homemade pasta sauce is perfect to either serve in a bowl next to these arancini or drizzle over top. Otherwise, a simple dipping sauce of mayo mixed with lemon juice and Italian herbs is just as fresh and delicious.
Can You Eat Arancini Cold?
Arancini are best enjoyed warm when the cheese in the center is melty, and the flavors and textures are at their prime. I wouldn't recommend eating them cold. The good news is that leftover arancini are easy to reheat, and they taste almost as good as when they were first fried! See the next section for details.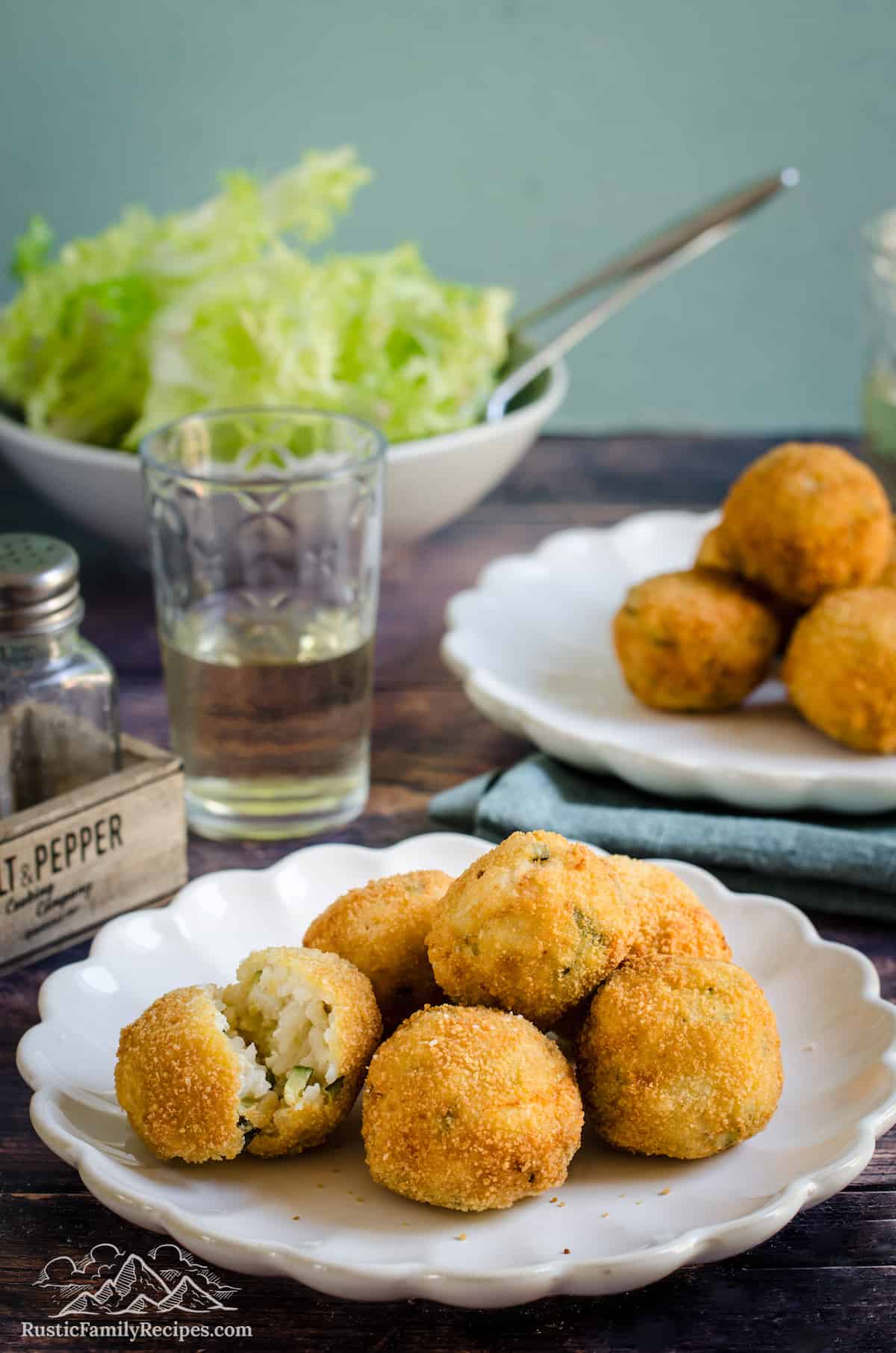 How to Store and Reheat Extras
If you happen to end up with arancini leftover, simply store the rice balls airtight in the fridge until the following day. I highly recommend reheating arancini in the oven, as this gets the outside re-crisped while they warm through. Microwaving arancini can lead to the balls exploding open. Non bene.
To reheat, lay your arancini out on a baking sheet and place them into the oven at 350ºF for about 15 minutes.
Some arancini recipes will say that you can freeze them. However, Nonna insists that freezing the rice will make it mushy, and I have to agree! Luckily, we never have any problem polishing off a full dozen arancini in this family.
Print
Arancini with Zucchini and Goat Cheese
Enjoy crispy homemade arancini with zucchini and goat cheese, just like Nonna makes! An easy family recipe for Italian risotto balls filled with tender veggies and tangy goat's cheese, fried golden in a pan with oil.
Author: Rustic Family Recipes
Prep Time:

1 hour

Cook Time:

20 minutes

Total Time:

1 hour 20 minutes

Yield:

4 servings (12 arancini)

Category:

Appetizer

Method:

Stovetop

Cuisine:

Italian
2

medium zucchini, finely diced

2

shallots, finely diced

1 teaspoon

fresh thyme leaves

1 cup

rice (Arborio, or risotto quality)

¼ cup

white wine

2 ¼ cups

vegetable broth

1 tbsp

butter

½ cup

freshly grated parmesan cheese

½ cup

fresh goat cheese

1

large egg

1 cup

breadcrumbs

1 cup

flour

⅓ cup

grated Parmigiano cheese
Salt and pepper
Olive oil, or vegetable oil for frying
Instructions
Sauté the veggies. Heat oil in a medium high-sided pan. Add the finely chopped shallots, finely diced zucchini, and fresh thyme. Cook for 2 to 3 minutes until slightly browned and fragrant. Add salt and pepper to taste. Remove half of the zucchini from the pan and set it aside.
Add the risotto rice. Add more oil to the pan if necessary. Add the rice and stir over heat for about 1 to 2 minutes. Pour in white wine and cook until mostly evaporated, about 2 minutes.
Add broth and cook. Start adding broth and stir gently while keeping the heat at about medium-high. When the liquid is almost fully absorbed, add more broth. Continue adding broth until the rice is mostly soft. You can add a bit more water and cook longer if needed to get it completely soft.
Finish the risotto and cool. Remove the pan from the heat. Add butter and grated parmesan cheese, then salt and pepper to taste. Add the rest of the zucchini and stir. Allow the risotto to cool for about 15 minutes, or until cool enough to handle.
Portion and fill the risotto balls. Scoop the cooled risotto into 12 equal portions. Flatten a risotto ball in your hand and put a piece of goat cheese in the center, then fold the rice around the cheese and roll it into a ball. Repeat with the remaining risotto balls.
Make the breadcrumb mixture. In a medium bowl combine the breadcrumbs and grated Parmigiano cheese.
Coat the risotto balls. Put the flour and eggs into two separate bowls. Dip each prepared risotto ball into the flour, followed by the eggs, and finally, the breadcrumb mixture. Transfer the coated balls to a tray and set aside.
Preheat the oil. Half-fill a large, heavy-based saucepan with vegetable oil and heat over medium heat, until a piece of bread placed in the oil turns golden brown within 45 seconds.
Fry and serve. Lower the risotto balls into the oil in batches and cook for 8-10 mins, or until golden brown. Remove the balls from the oil and transfer them to a tray lined with a paper towel. Eat the arancini warm, and serve with a fresh green salad.
Last Step:
Please
share a rating and comment
if you enjoyed this recipe! Your feedback helps this little blog thrive and continue providing free, high-quality recipes for you.
Keywords: arancini balls, risotto balls, italian rice balls
Filed Under:
More Zucchini Recipes to Try
This post may contain affiliate links. Please read our disclosure policy.