About Me: I have more than 20 years of cooking experience & share my favorite recipes on this blog.
Have a question? Please post a comment, I'm happy to help. 🙂
These irresistible Apricot Brie Bites are made with golden puff pastry, melty brie cheese, and apricot jam. A sprinkle of chopped walnuts and a pinch of sea salt on top adds crunch and a lovely salty-sweet dimension!
There is something truly magical about the way food brings people together. Throwing a cocktail party with some delicious hors d'oeuvres can be a wonderful way to achieve that magic. If you're planning a get-together for Christmas, New Years, or any other occasion I suggest adding these apricot brie bites to the mix!
These appetizers are super simple to make, look incredibly elegant, and are compulsively munchable. In fact, they're so good you don't need a special reason to make them – these golden snacks often make an appearance at movie night at my house. Made with golden puff pastry, warm brie cheese, apricot jam, and crunch walnuts, this easy hors d'oeuvre offers a delightful mixture of flavors and textures. A pinch of salt on top finishes it all off with a salty-sweet combo.
This recipe only requires 5 simple ingredients and just 15-20 minutes of hands-on prep. Give them a try next time you have the gang over.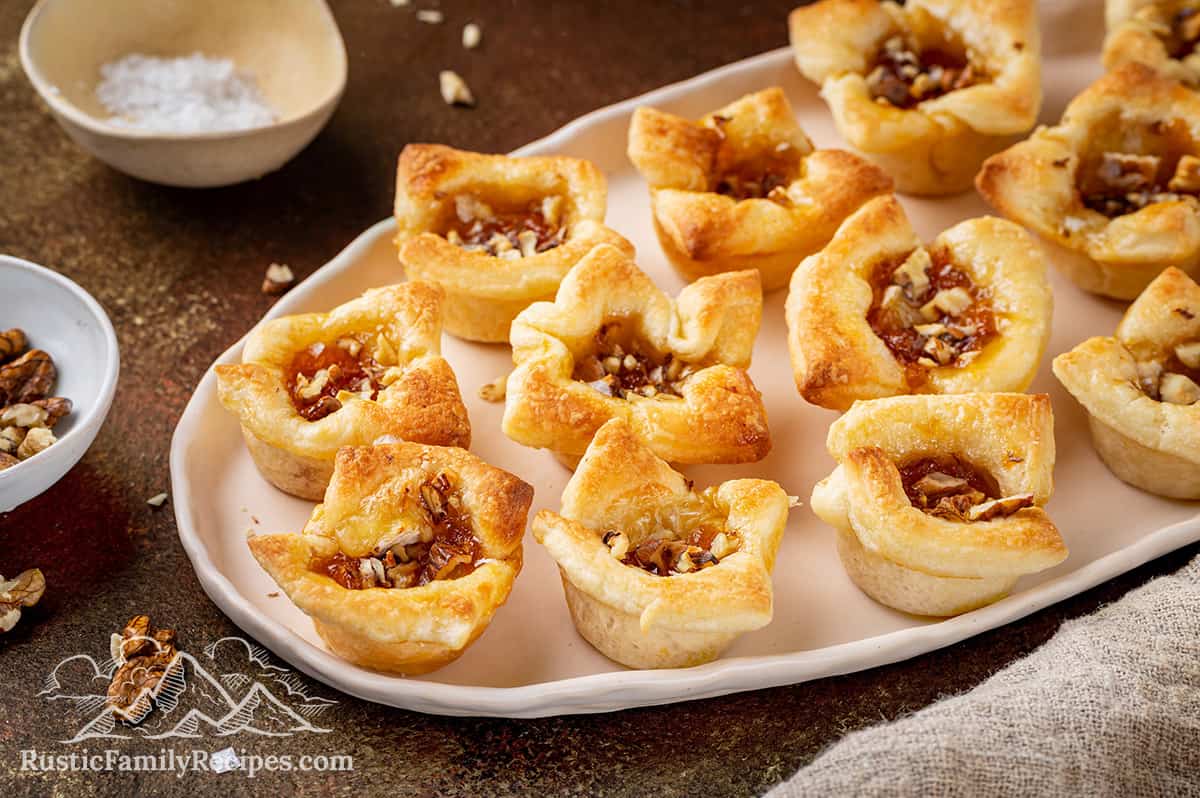 Why You'll Love These Brie Bites
Honestly, who doesn't love sweet and savory, melty finger food? These cheesy morsels hit all the right spots on your taste buds, but their yumminess is only one reason to love them.
Quick and easy. These Apricot Brie Bites are so quick and easy that anyone can make them.
Simple ingredients. This recipe requires only a few simple ingredients that you might already have in your house!
They travel well. Not hosting the party but still wanting to contribute? Make these goodies the day before, pack them in an airtight container, and bring them to a friend's house. (See below for info on how to warm them up.)
Versatile. This recipe can be easily adapted to fit a variety of taste preferences. Apricot jam not your thing? Try using cranberry sauce instead (see notes below). Not big on brie? Consider goat cheese. Life is too short not to play with your food.
Recipe Ingredients
Here is a quick rundown of what you will need to make these tasty hors d'oeuvres. Make sure to scroll to the bottom of the page for the full recipe.
Frozen puff pastry – It is important that you thaw your puff pastry overnight in the refrigerator. When it comes to selecting a product, I suggest Pepperidge Farm Puff Pastry Sheets or Dufour Puff Pasty Dough.
Brie cheese – Make sure it's chilled. Feeling adventurous? Consider using an herbed brie. If you are looking for an extra gooey bite, reach for a double or triple cream brie.
Apricot jam – Aim for a natural product, preferably with minimal added sugars. You can also use a variety of other jams and/or fruit spreads. Try cranberry sauce around the holidays or strawberry jam in the summer.
Sea salt – Flakey sea salt is prettier and more palatable, but feel free to experiment with coarse sea salt if you are looking for a little bite. I do not recommend using table salt. It will do the job of giving your bites a little salt kick, but it won't be nearly as visually appealing.
Walnuts – Finely chopped. You can also use shelled and chopped pistachios.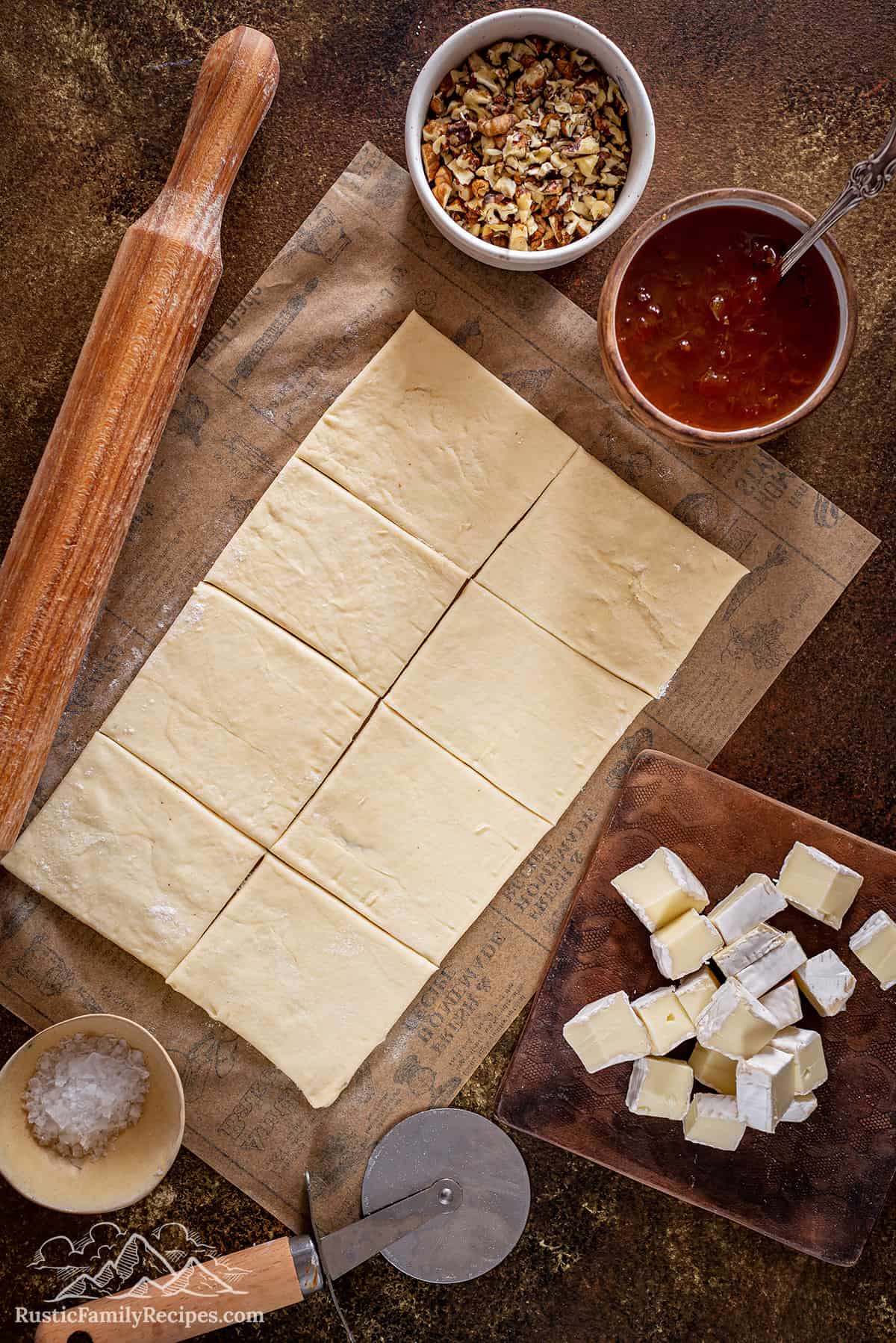 How to Make Apricot Brie Bites
Fancy hors d'oeuvres? Sounds intimidating, right? Think again! if you are nervous about making these little morsels, fret no more. They seriously are so easy to make! Here's how:
Thaw the puff pastry dough. The evening before making Apricot Brie Bites, move the puff pastry dough from the freezer to the refrigerator to give it a chance to thaw overnight.
Grease the mini muffin tins. I like PAM cooking spray, but other products such as coconut oil cooking will work as well.
Gather all of your ingredients. Place them on a clean work surface.
Cut the puff pastry dough. Roll the thawed puff pastry sheets out on a well-floured surface and cut each sheet into 12 pieces, for a total of 24 pieces.
Cube the brie cheese. Aim for even cubes.
Chop the walnuts.
Slide the cut puff pastry squares into pre-greased mini muffin tins.
Fill the pastry cups. Place a cube of brie, a dollop of apricot jam and a sprinkle of walnuts in each puff pastry cup. Finish with a pinch of sea salt.
Let the oven do the rest. Pop the Apricot Brie Bites in the oven at 375 F for 15-18 minutes.
It's as simple as that. The brie bites are done when they are a light golden brown.
Can I Make These Into Cranberry Brie Bites?
Yes! I love using homemade cranberry sauce to make these into cranberry brie bites around the holidays. Instead of apricot jam, simply use the same amount of cranberry sauce. Voila! You have a delicious, festive hors d'oeuvre.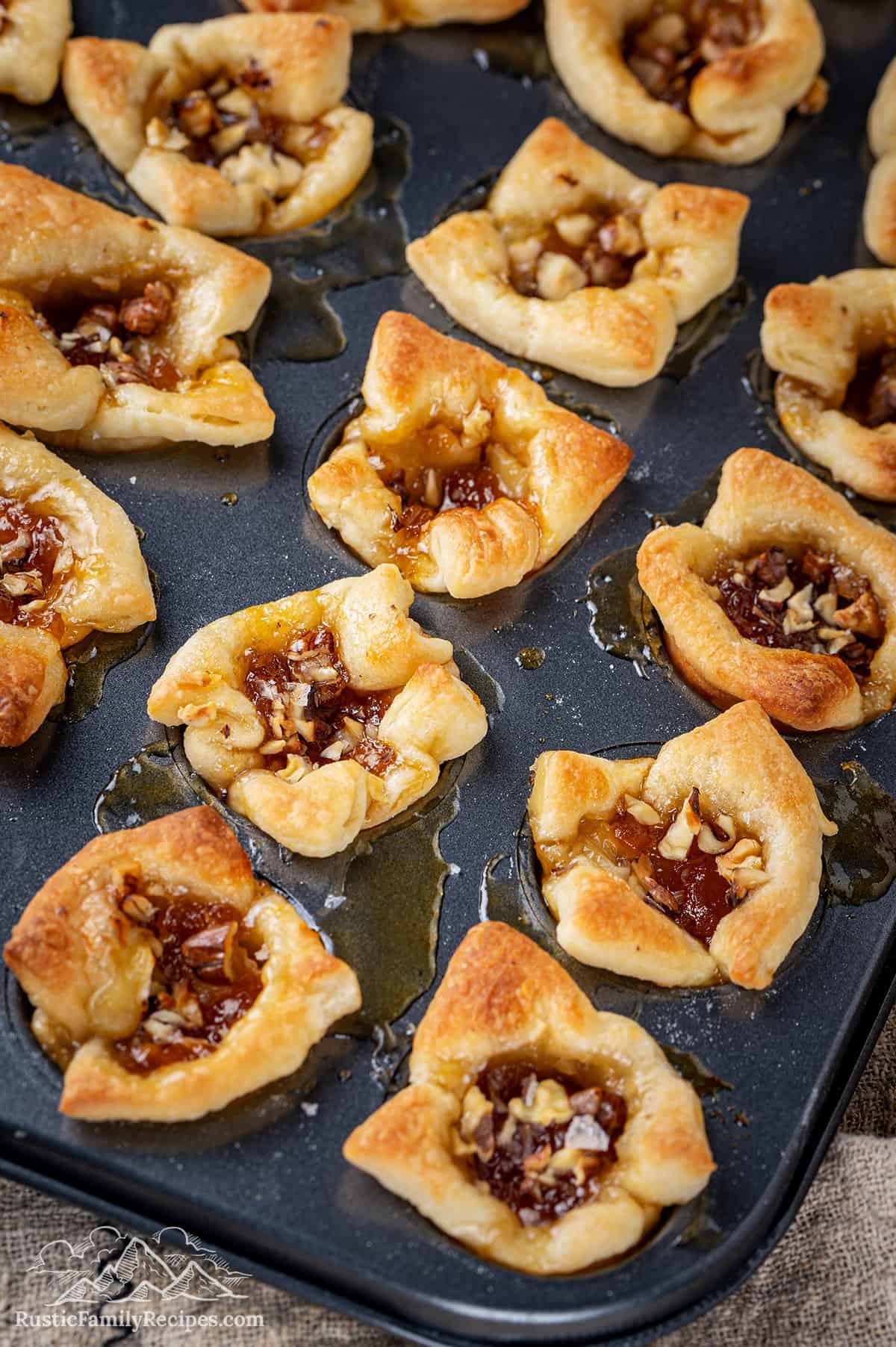 Tips for Success
As with any recipe, no matter how delightful the concept and ingredients, there are a few tips and tricks you can follow that will get you the best finished product possible. Here they come:
Thaw the pastry dough. If the dough is still frozen it will be difficult to roll out and work with.
Use quality ingredients. I recommend choosing a good quality jam and brie. I love Président brand brie and Bonne Maman jams. You can also use homemade jam if you have some from summer canning.
Don't overdo it on the jam. If you add too much it will make the brie bites soggy.
Chill your brie. This will make it easier to slice.
Grease your mini muffin tins. Otherwise, the brie bites will stick in the pan.
Use equal amounts of brie and apricot jam. Make sure you use the same amount of brie and jam in each bit so that everything cooks in the same amount of time.
What Goes with Apricot Brie Bites?
These Apricot Brie Bites are an awesome choice if you are throwing a cocktail party. Try pairing them with a tasty adult beverage. Here are some of my suggestions:
How to Reheat
If you have extras or want to make these in advance here's how to do it:
Storage: Let the baked brie bites cool, then store them in an airtight container in the fridge. They will keep for up to 4 days.
Reheating: When you are ready to reheat them, preheat your oven to 325F. Place the brie bites on a baking tray lined with parchment paper, then warm them for about 5-8 minutes until they are heated through and the cheese is melty again. Keep an eye on them! If you let them go for too long the tops will start to brown again.
Holiday/entertaining tip: If I'm making these to take to someone else's house I store extras in an aluminum foil baking pan. This way I can just pop the whole thing into the oven when I get where I'm going. No need to fuss with pans or parchment at someone else's house.
More Hors d'oeuvres Ideas
Picture your next cocktail party. Now imagine those Apricot Brie Bites. They need friends, right? No party is complete with only one hors d'oeuvre. Consider preparing some (or all) of these delightful appetizer ideas.
Print
Apricot Brie Bites
These irresistible Apricot Brie Bites are made with golden puff pastry, melty brie cheese, and apricot jam. A sprinkle of chopped walnuts and a pinch of sea salt on top adds crunch and a lovely salty-sweet dimension!
Author: Rustic Family Recipes
Prep Time:

15 minutes

Cook Time:

15 minutes

Total Time:

30 minutes

Yield:

12

Category:

Appetizer

Method:

Bake

Cuisine:

American
2

sheets frozen puff pastry, thawed overnight in the fridge

1

round of Brie cheese (

8 oz

)

3/4 cup

Apricot jam

1 teaspoon

flaky sea salt

1/2 cup

finely chopped walnuts
Instructions
Prep your tools. Heat the oven to 375F. Place the brie in the freezer to firm up. Grease a mini muffin tin with PAM, greasing both the insides of the cups and around them to prevent the puff pastry or cheese from sticking to the pan.
Roll out the dough. On a lightly floured surface, roll out each sheet of puff pastry. Roll each sheet into a rough square shape, then cut each sheet into 12 pieces.
Chop the walnuts and cut the brie. Finely chop the walnuts, set aside. Remove the brie from the freezer and cut into 24 pieces about the same size. Set aside.
Assemble the brie bites. Place one square of dough into each mini muffin cup, gently pressing the dough into the corners of the cup. It is ok if some dough hangs over, we are going to fold that in a bit. Prick the bottoms of the dough with the tines of a fork. Add 1 piece of brie to each cup, then top with about 1 1/2 teaspoon of apricot jam. Sprinkle the chopped walnuts on top of the jam, then add a pinch of sea salt on top of the nuts. If you have dough hanging out of the cup, you can gently fold it over. You don't need to seal the brie bite, just fold the dough in a bit.
Bake. Place the muffin tin in your preheated oven and bake at 375F for 15-18 minutes, until the puff pastry is golden brown and the cheese is melty.
Cool. Let the brie bites cool for at least 5 minutes, then carefully remove from the muffin tin and serve.
Last Step:
Please
share a rating and comment
if you enjoyed this recipe! Your feedback helps this little blog thrive and continue providing free, high-quality recipes for you.
Keywords: brie bites, appetizer ideas, hors d'oeuvres ideas
Filed Under: