This Apple Harvest Bread is truly a sight to behold. A beautiful golden loaf of sweet, pillowy bread tucked with cinnamon-spiced apples, this is the kind of recipe that is sure to become a fall tradition.
In case you couldn't tell, I'm on quite the fall baking kick. If you've made my Pumpkin Apple Apricot Bread and thought to yourself, "I need to make more yeasty fall bread recipes, ASAP!" then Apple Harvest Bread should be next on your list. Like Pumpkin Apple Apricot Bread, the bread has the cloud-like texture of a brioche, but it's also packed with apples. So many apples!
Although two apples may not sound like much, once you've diced them and added them to the bread, you'll see that it's a lot. This is a good thing! The apple-to-bread ratio in this Apple Harvest Bread recipe is what makes it so unique. I feel pretty confident saying you've never had anything like it; it's a bit like a German-style strudel, with a soft, vanilla-scented brioche replacing the thin, flaky pastry traditionally used.
Is your mouth watering yet?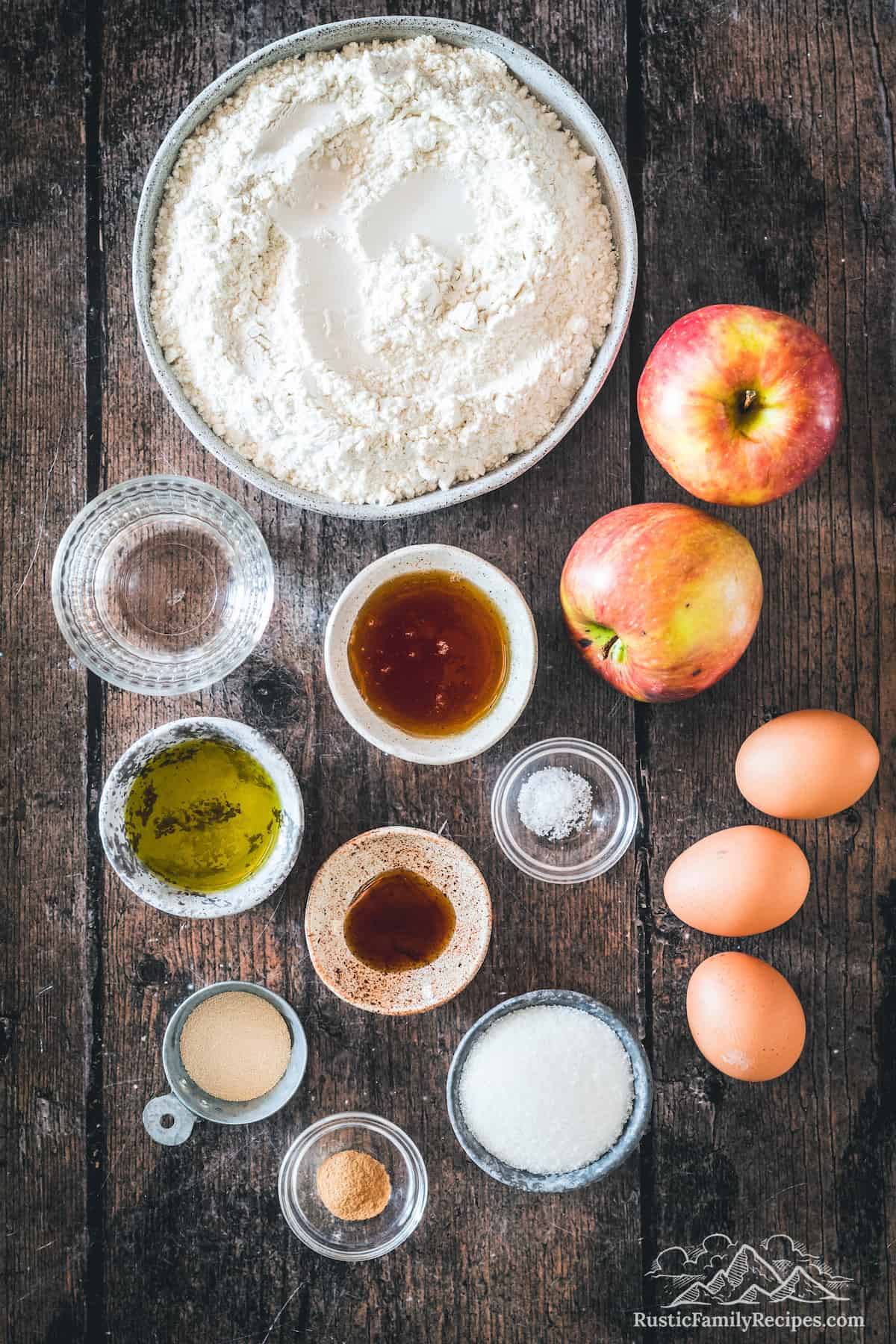 What You'll Need
The apples are the star of the show in Apple Harvest Bread, so get some good ones. This recipe is ideal for making right after you've hit up the apple orchard and filled a bushel (or several) with freshly-picked apples. Here's a rundown of all the ingredients you'll need for this recipe:
For the dough:
Active dry yeast
Warm water
Agave nectar – Agave nectar is also sold as agave syrup. They're the same thing, so they can be used interchangeably.
Salt
Eggs
Vanilla extract – Use the real stuff, not imitation.
Olive oil
All-purpose flour
For the filling:
Apples – Pink Lady, Honeycrisp, Winesap, Braeburn, and Jonagold are all excellent for baking.
Ground cinnamon
Granulated sugar
Ingredient Variations
Baking is a science, so keep the dough recipe as-is. There's room to play around with the filling, though:
Add some raisins or dried currants to the apples.
Toasted walnuts make a nice addition to the filling, too.
Substitute apple pie spice for the cinnamon.
Swap apples for Asian pears to try something different.
For a truly over-the-top bread loaf, add cream cheese frosting or serve with a dollop of maple whipped cream.
How to Make Apple Harvest Bread
This Apple Harvest Bread recipe is a good weekend project. It's not necessarily difficult, but it does take some time since it's made with yeast. Here's how to make it:
Proof the yeast. Combine the yeast and warm water in a large bowl (or the bowl of your stand mixer) and let it rest for about five minutes.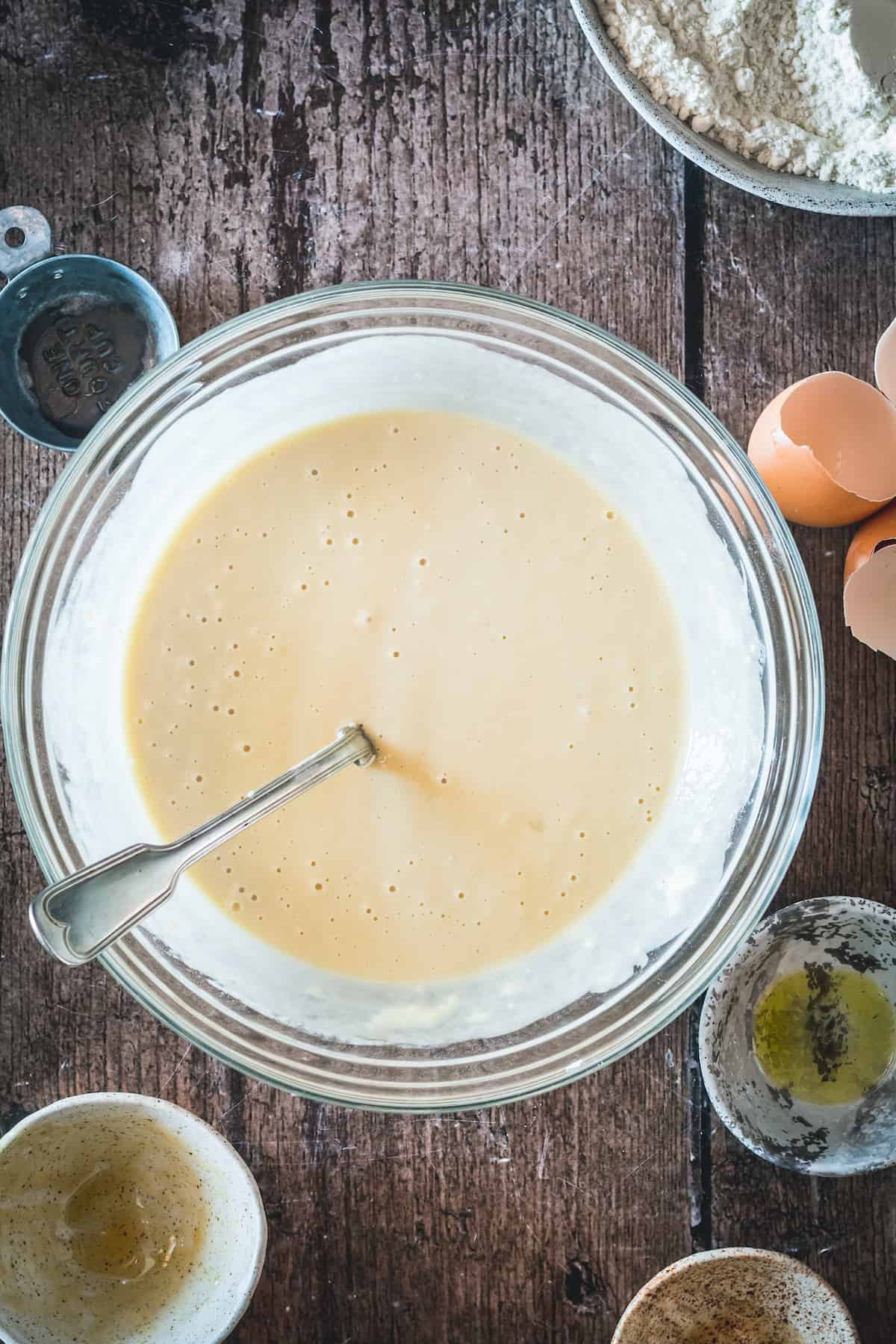 Make the dough. Add the agave, salt, two eggs, vanilla, and 1/4 cup of olive oil. Use a wooden spoon or the paddle attachment of your mixer to stir in a cup of flour. Keep adding flour a half cup at a time and continue mixing until the dough becomes too stiff to stir.
Knead the dough. Turn out the dough onto a lightly floured work surface and knead it until it's soft and springy; smooth with some small air bubbles just under the surface, about four minutes. (Alternatively, you can use the dough hook in your stand mixer to do the kneading.) If you find that the dough is sticky, dust it with flour.
Let the dough rise. Grease a large bowl or Dutch oven with a teaspoon of olive oil, then place the dough inside, turning once to coat it in the oil. Cover the bowl with plastic wrap and place it in a warm location, away from drafts. Let the dough rise until it's doubled in size, which should take between 1 1/2 to 2 hours.
Return the dough to the work surface. Line a baking sheet with parchment paper or coat it with non-stick cooking spray. Deflate the dough by pressing your fingers into it, then turn it out onto the work surface again.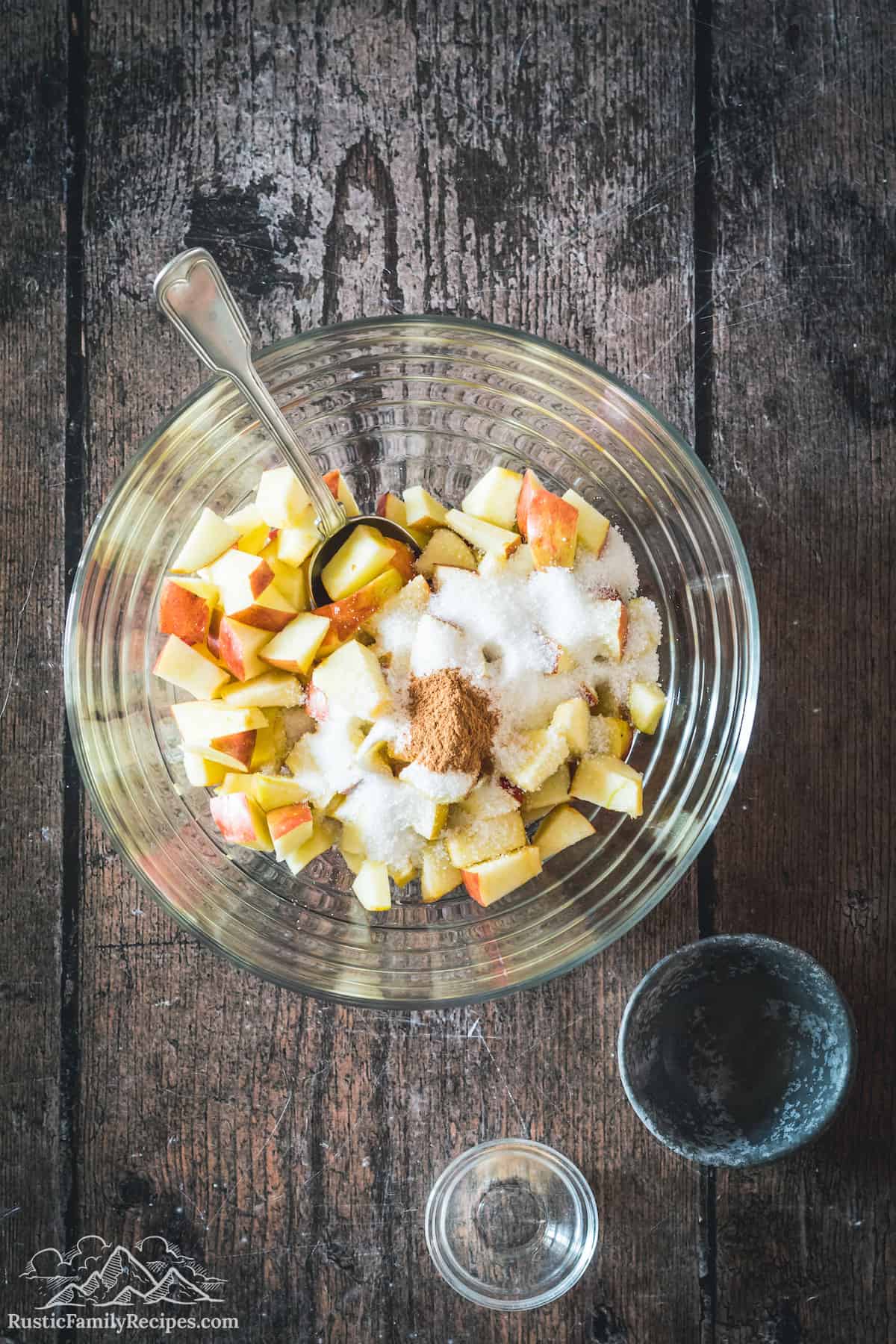 Prepare the apples. Toss the diced apples with cinnamon sugar in a bowl.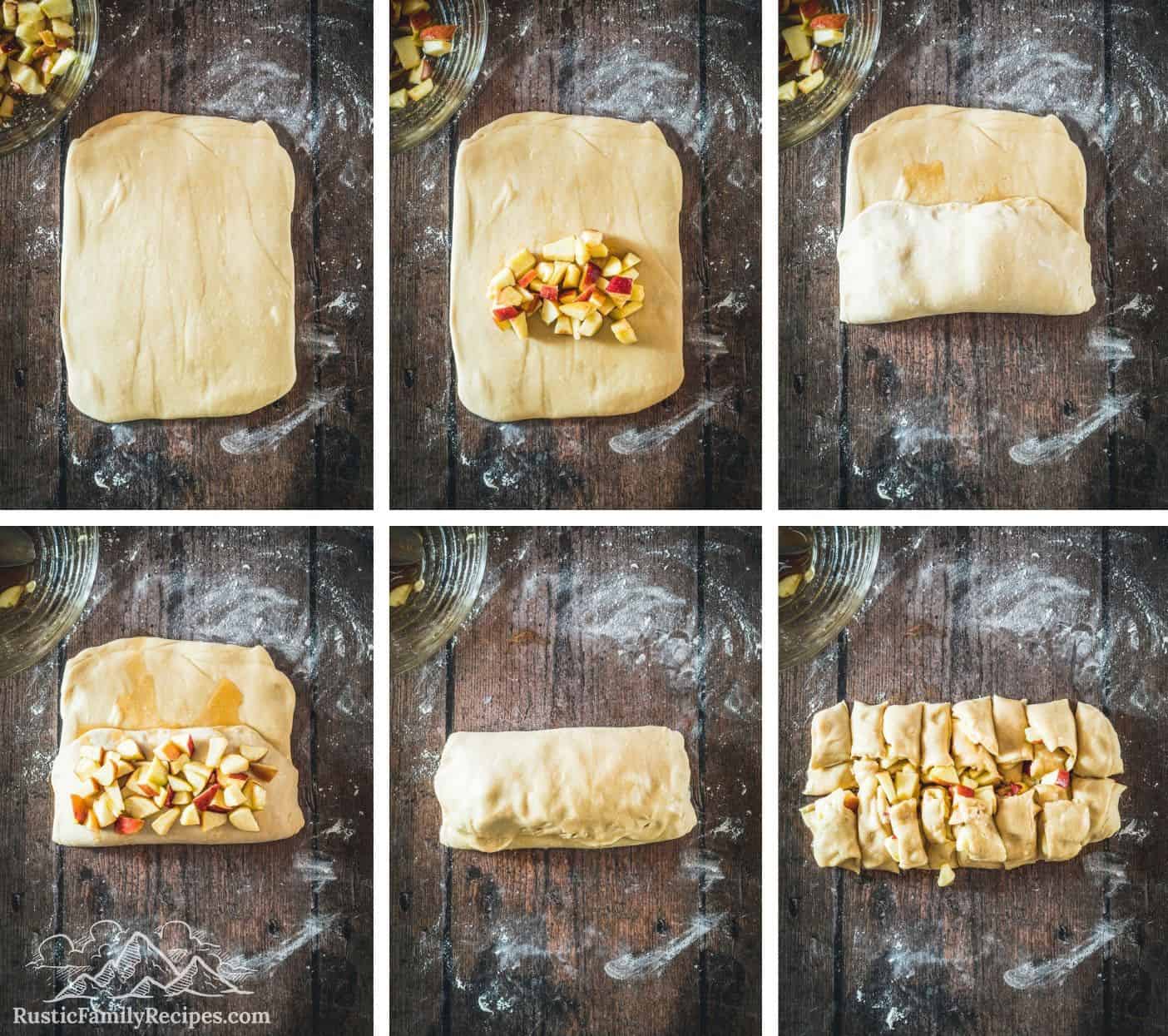 Assemble the bread. Grease a springform pan with non-stick cooking spray. Roll out the dough and assemble, then let the bread double in bulk again for about an hour.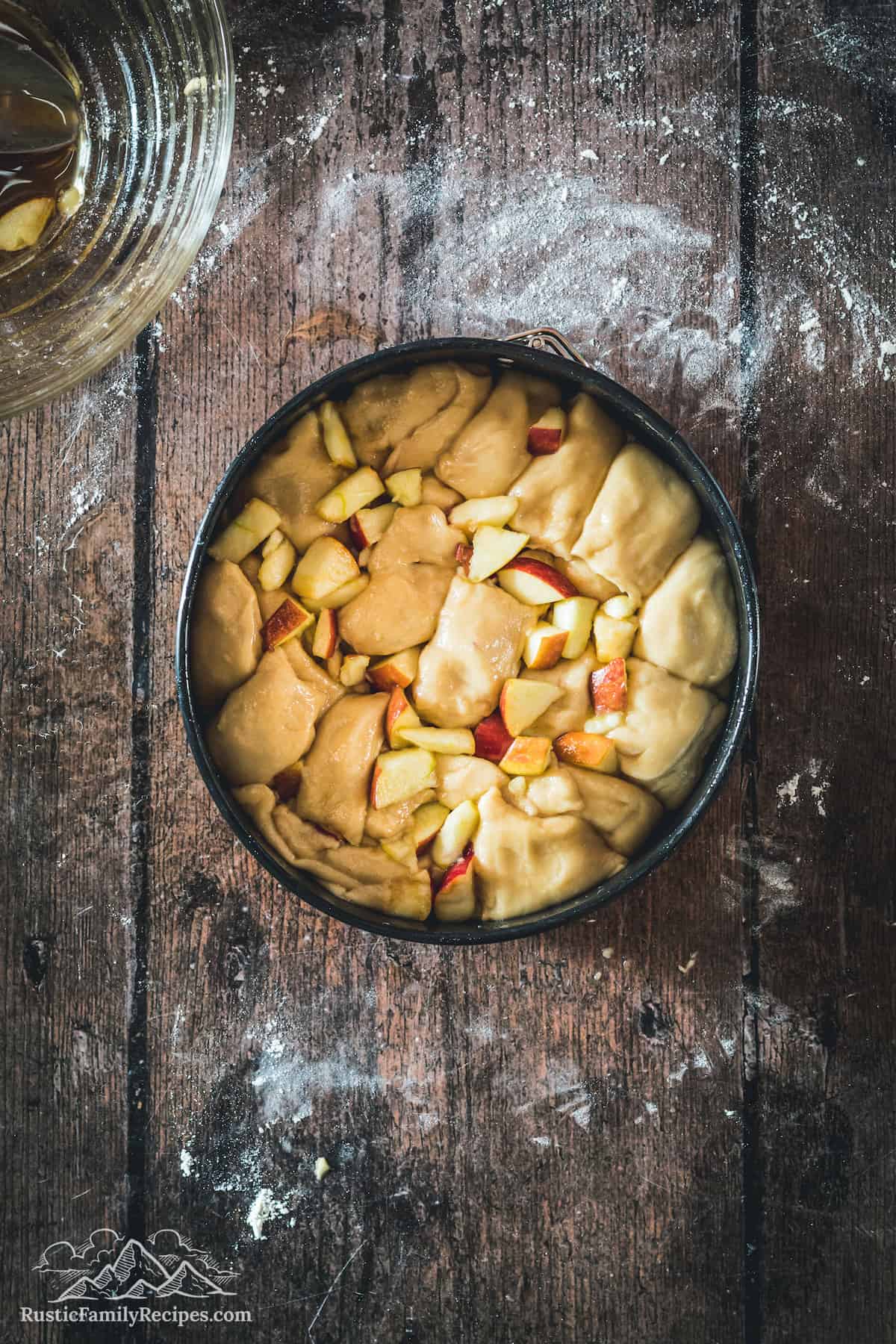 Get ready to bake. Preheat the oven to 325ºF and whisk one egg with a teaspoon of water. Brush the top of the dough with the egg wash.
Bake the bread. Place the springform pan in the oven and bake the bread for 55 to 70 minutes, or until it's baked through in the middle and a deep, golden brown on top. If you notice the bread is browning too quickly, you can tent it with aluminum foil.
Cool and serve. Let the bread cool on a baking rack for at least 20 minutes, then loosen the loaf by sliding a butter knife along the edges. Remove the springform sizes or invert the bread onto a large plate; place a second plate on the bottom of the bread and invert it again to turn the bread right-side-up.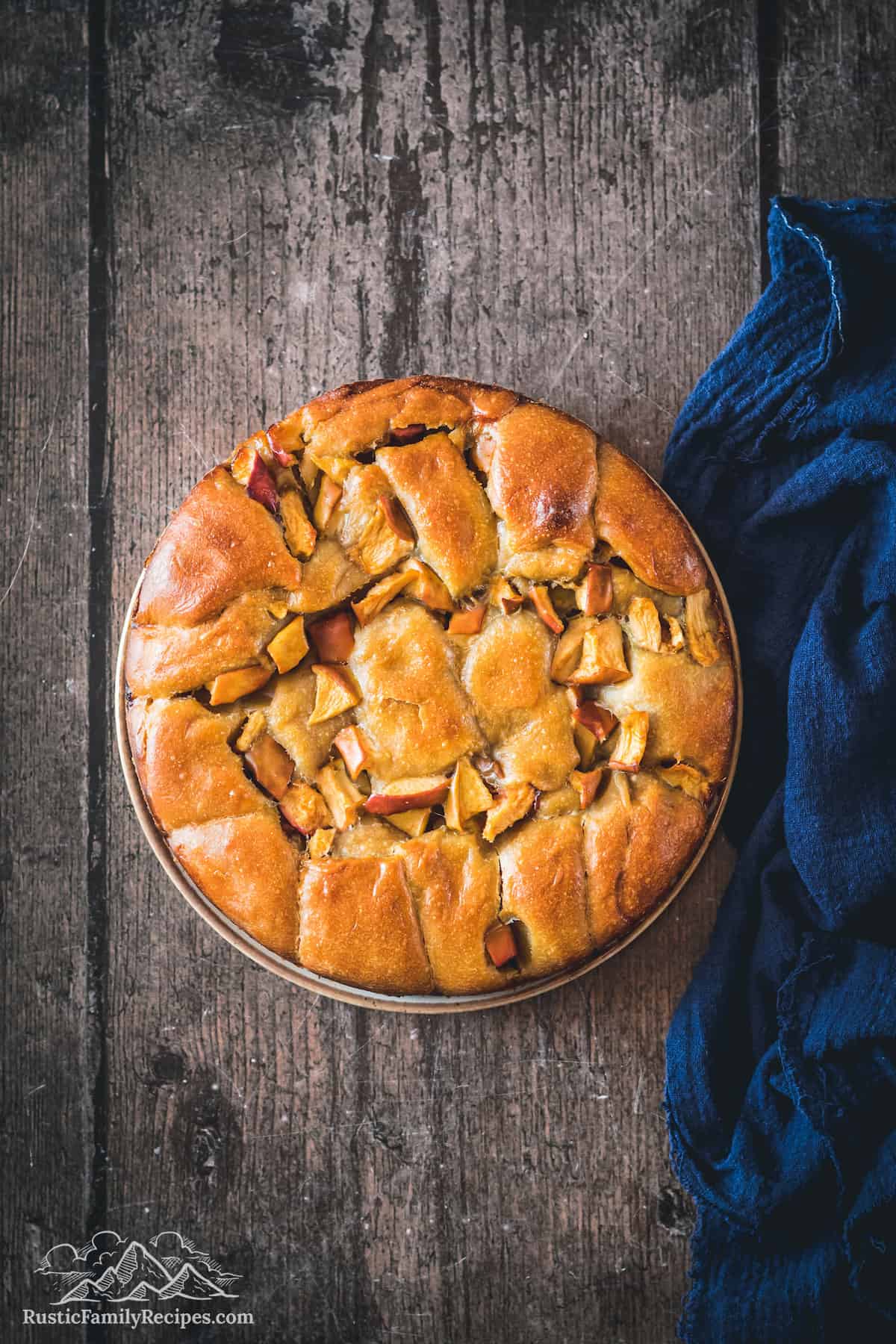 Tips for Success
Your Apple Harvest Bread will turn out perfect when you follow these suggestions:
Use active dry yeast. Instant yeast isn't the same thing as active dry yeast and it won't give you the same results.
Don't kill your yeast. Another tip for using yeast! In order to activate it, you need warm water. Anything more than warm will kill your yeast and your bread won't turn out. I like to think of the water temperature like a baby's bottle. If the water is too warm to give to a baby, then it's too warm for the yeast!
Use that oven light! You need to keep an eye on bread as it's baking. Don't open the door to the oven, but instead, turn on the oven light and take a peak every so often. Is one side more browned than the other? Turn the pan. Is the top browning faster than expected? Tent it with foil.
How to Store Apple Harvest Bread
This Apple Harvest Bread recipe is similar to any other bread in that it will keep for 3 to 4 days when wrapped tightly and stored at room temperature—but it's always better a day or two after baking.
Can You Freeze This Recipe?
Yes! You can freeze Apple Harvest Bread by wrapping it tightly with plastic wrap, then a layer of foil. (I always like doubling up to prevent freezer burn.) Pop the loaf in the freezer and use it within a month or two. When you're ready to serve the bread, let it thaw at room temperature.
Print
Apple Harvest Bread
This Apple Harvest Bread is one part brioche, one part strudel, and two parts amazing.
Author: Rustic Family Recipes
Prep Time:

3 hours 30 minutes

Cook Time:

1 hour 10 minutes

Total Time:

4 hours 40 minutes

Yield:

1 loaf

Category:

Bread

Method:

Oven

Cuisine:

American
For the dough:
½ tablespoon

active dry yeast

1 cup

of warm water

¼ cups

agave nectar

1 teaspoon

salt

2

eggs +

1

for the glaze

1 teaspoon

pure vanilla extract

4 tablespoons

of olive oil +

1 teaspoon

for greasing the bowl and another for the glaze

4

to

4½

cups all-purpose flour
For the filling:
2

medium-to-large apples, NOT peeled; cored and diced in ¾" chunks

½ teaspoon

ground cinnamon

⅓ cup

granulated sugar
Instructions
In a large bowl or in the bowl of a stand mixer, combine the yeast and warm water. Let it rest for about 4-5 minutes so the yeast has time to proof.
Add the agave, salt, 2 eggs, vanilla and 4 tablespoons of olive oil. Add 1 cup of flour, then mix with a wooden spoon or with the paddle attachment until the mixture is smooth.
Add the remaining flour, ½ cup at a time. Continue mixing the dough until it is too stiff to stir, then turn out onto a lightly floured surface if working by hand. Knead until soft and springy, about 4 minutes. If using a stand mixer, switch to the dough hook and knead about 3 minutes until soft and springy. If the dough is sticky, dust with flour 1 tablespoon at a time – just enough to prevent it from sticking. The dough is done when it's smooth and small air bubbles show under the skin. If you press your thumb into it the impression should bounce back. This is a slightly firm dough.
Place the dough in a deep container greased with 1 tsp of olive oil. Turn the dough once to coat the top and cover with plastic wrap. Allow it to rise at room temperature until doubled in bulk, about 1½ to 2 hours.
Line a baking sheet with parchment paper or lightly grease it with non-stick spray. Gently deflate the dough by pressing your fingers into it, then turn it out onto a lightly floured surface.
To assemble the bread:
Grease a spring-form pan with baking spray and set aside. In a medium bowl, toss the diced apple with the cinnamon and sugar.
After the first rise is complete, roll out the dough and assemble according to the instructions found on the King Arthur Flour website here. (See Step 5). Let the assembled bread rise until doubled in bulk, about 1 hour.
About 20 minutes before the second rise is over, preheat your oven to 325 degrees F.
To bake the bread:
Whisk together 1 egg and 1 teaspoon of water, this is going to be the glaze for your bread. Gently brush the dough with a thick layer of it.
Place the dough in the oven and bake for 55 minutes to 1 hour 10 minutes, or until the bread is a deep golden brown and cooked in the middle. If the bread browns too quickly, tent with aluminum foil. I tested the bread for doneness by inserting a small knife into the center of the bread and checking to see if the dough was baked through. The small, resulting hole was easily concealed with a stray diced apple from the bread topping. 😉
Transfer to a baking rack to cool, at least 20 minutes. Run a butter knife around the edges of the bread then either remove the spring-form sides or invert onto a large plate. Place another plate on the bottom of the bread and invert once more to have a right-side up loaf.
Notes
TIP: Place a cookie sheet lined with aluminum foil on the oven rack below your bread to catch any apple juice/sugar drippings if they escape from the pan.
Last Step:
Please
share a rating and comment
if you enjoyed this recipe! Your feedback helps this little blog thrive and continue providing free, high-quality recipes for you.
Keywords: apple bread, apple cinnamon bread
Filed Under:
This post may contain affiliate links. Please read our disclosure policy.