This easy apple fritters recipe makes compulsively munchable fritters topped with a maple glaze. Diced apples are fried in a simple batter, making tender, fluffy fritters that are a true delight!
Every year we go apple picking and despite having a small family, we go all out. I love making applesauce and apple butter for the winter months, but I always use some of the apples to make goodies too. That's half fun after all! This year, I made a recipe for apple pie cinnamon rolls that was so popular with friends and family I had to make them no less than four times in the span of a week. Folks couldn't get enough.
As homemade donut fans, we also love making apple fritters! Diced or sliced apples are added to a simple batter spiced with cinnamon and nutmeg, then everything is fried in minutes. The last step is dipping the fritters in a maple glaze, then giving the glaze a bit to firm up before you dig in. The end result is so good!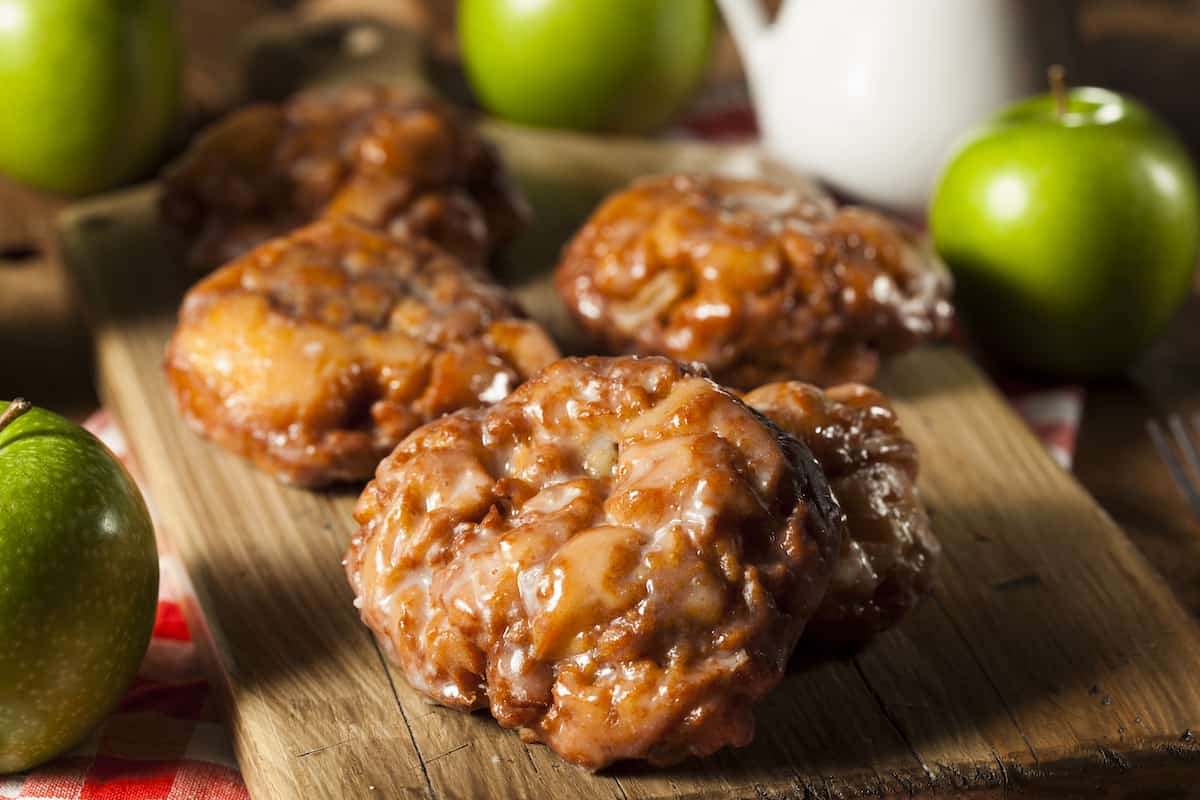 What Are Fritters?
Fritters are a kind of fried food consisting of a batter mixed with small pieces of vegetables or fruit. During the summer months, we love making Zucchini Corn Griddle Cakes, which could also technically be dubbed fritters. You can use a simple batter leavened with baking powder or a yeasted dough for fritters.
Why are they called fritters? Well to get a bit nerdy on you, the word "fritter" is derived from the Latin word "frictura," which means fried. Therefore, any food that is an ingredient dipped in batter and fried could be called a fritter.
Donuts and fritters are very similar. The only real difference has to do with the way donuts are filled. Usually, you will pipe a filling into cooked donuts vs. fritters, where you fry everything together and the "filling" is mixed in throughout the batter.
What Kind of Apples to Use
You can use any kind of firm apple for fritters. Granny Smith is commonly used in desserts because this variety has firm flesh and is a bit tart. I used Honeycrisp apples for this recipe, which also have crisp, firm flesh but are sweeter than Granny Smith. But really you can use any kind of apple.
Can I Use Vanilla Instead of Maple?
Yes, if you would prefer to add a vanilla glaze to your fritters you can simple use an equal amount of vanilla extract instead of maple syrup.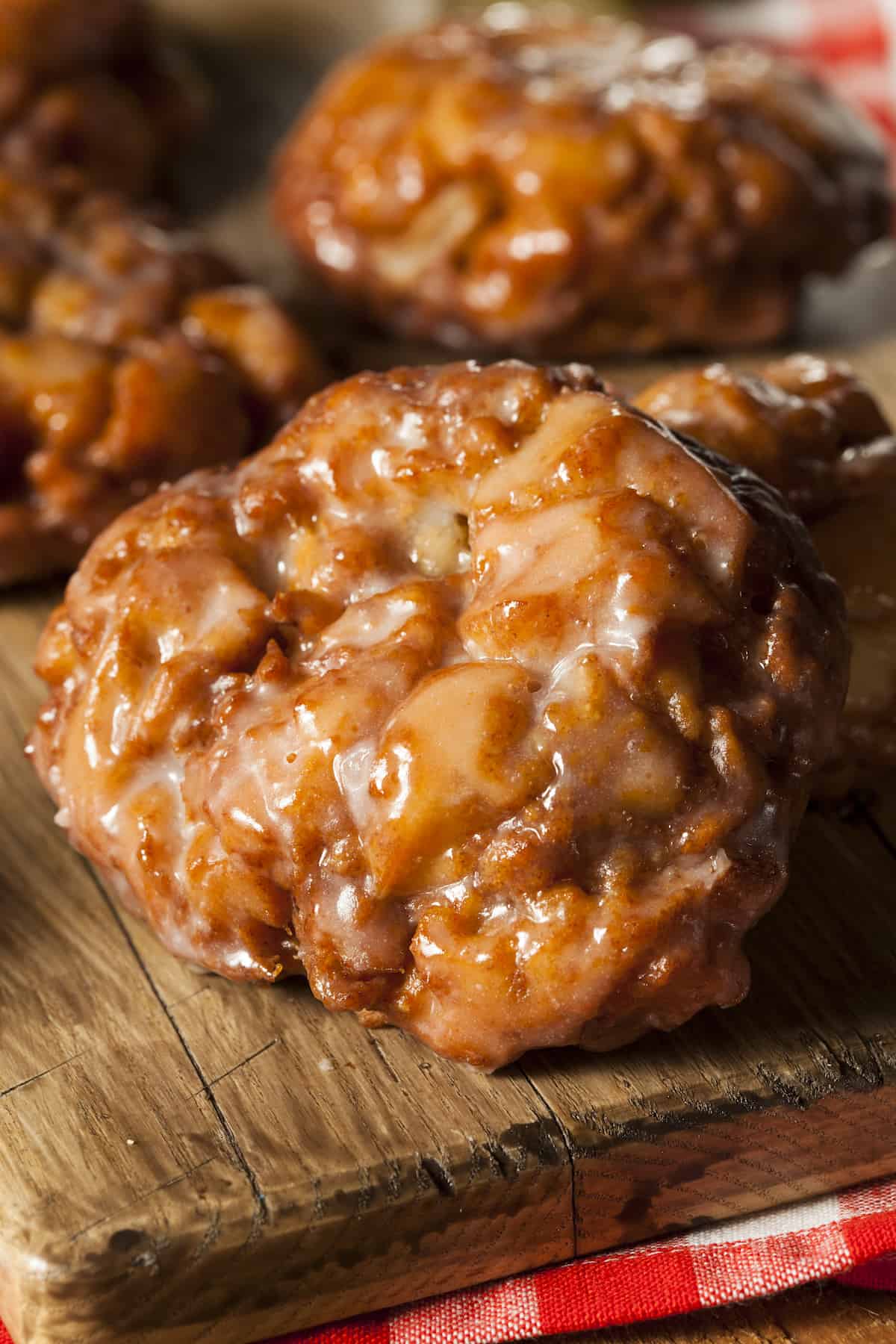 Tips for Success
Dice or slice. You can dice the peeled apples, or slice them. Either way works. The key is to make sure that apple slices are thin enough to cook through during the brief frying time. Similarly, if you dice the apples it should be a small dice so that the apples can become tender during frying.
Use a deep pot and a candy thermometer. I recommend using a deep pot and a thermometer to monitor the oil temperature. The thermometer will usually have a clip where you can attach it to the side of the pot. If the temperature drops too low, give the oil time to heat back up. If it is too high, lower the heat and let it cool down.
Drain the fritters. It's important to drain the fritters on paper towel immediately after they are fried. This way you won't have greasy fritters and the glaze will stick to them more easily.
How to Store Extras
Fritters are best enjoyed the day they are made, however, you can store extras if needed. Let the fritters cool to room temperature, then store them in an airtight container in the fridge. They will keep for up to 2 days. The reason they need to be kept in the fridge is because the glaze will get sticky if they are stored on the counter.
Print
Apple Fritters
This easy apple fritters recipe makes compulsively eatable fritters topped with a maple glaze. Apples are fried in a simple batter, making tender, fluffy fritters that are a true delight!
Author: Rustic Family Recipes
Prep Time:

20 minutes

Cook Time:

20 minutes

Total Time:

40 minutes

Yield:

6-8 fritters

Category:

Dessert

Method:

Fry

Cuisine:

American
For the Apple Fritters
1 1/2 cups

all purpose flour

1/4 cup

granulated sugar

2 teaspoons

baking powder

1/2 teaspoon

kosher salt

1 teaspoon

ground cinnamon

1/2 teaspoon

freshly grated nutmeg

1/3 cup

milk

2

eggs

2 tablespoons

olive oil, or melted butter

2

large apples, peeled and thinly sliced, or diced
For the glaze:
1 1/2 cups

confectioners sugar

1/2 teaspoon

pure maple syrup

3

–

4

tablespoons milk
Instructions
Heat your oil. The ideal temperature for frying is between 345F and 350F. Use a large deep pot to heat the oil and affix a candy thermometer to the side to monitor the temperature.
Line a large plate or a cutting board with paper towel. We will use this to let the fritters drain after they are fried.
Mix the dry ingredients. In a large bowl, combine the flour, baking powder, salt, cinnamon, and nutmeg. Set aside.
Prep the apples. Peel the apples, then cut them into thin slices or dice them. Either way works, it just depends on how big you want your pieces of apple to be in the fritters. The slices should be thin or the dice should be small though, this way the apples will cook through during the brief frying time.
Add wet ingredients. Make a well in the center of your dry ingredients and add the milk, eggs and olive oil. Stir briefly to combine, just until there are no dry bits of batter left.
Add the apples. Add the apples to the batter and mix well, until the apples are well incorporated into the batter.
Fry. Use a spoon to scoop about 1/4 cup of batter per fritter, then carefully drop it into the oil. Cook for about 2 minutes per side, until golden. Use a metal slotted spoon to remove the fritters from the oil. Place the cooked fritters on the paper towel lined plate or cutting board to drain. Cook 2 fritters at a time so that the oil temperature doesn't drop too low.
Make the glaze. In a medium bowl, whisk the confectioners' sugar, maple syrup, and milk until you have a thick but pourable glaze.
Glaze the fritters. Once the fritters are cool enough to handle, dip each fritter into the glaze. Place on a clean cutting board or plate to cool a bit longer and let the glaze harden. This will take about 30 minutes.
Dig in! You can eat fritters with your hands the same way you would glazed donuts.
Last Step:
Please
share a rating and comment
if you enjoyed this recipe! Your feedback helps this little blog thrive and continue providing free, high-quality recipes for you.
Keywords: apple fritters recipe, apple donuts
Filed Under:
More Donut & Fried Dough Recipes
This post may contain affiliate links. Please read our disclosure policy.