This Alaska roll is the perfect quick-bite when you're craving something light for lunch or dinner. Easily dressed up with a variety of sauces, it's anything but boring with its combination of raw salmon, soft crab, crunchy cucumber, and creamy avocado.
Easy Alaska Roll Sushi Recipe
The Alaska roll is a fine representation of international cuisine. It's neither 100% Japanese nor American. Drawing on traditional sushi-making techniques and using conventional ingredients but giving them an exciting twist, this sushi roll was born.
Every piece is a party of flavors. The rice is slightly sweet and vinegary. The cucumber is crunchy and refreshing. The avocado is silky and earthy. Meanwhile, the creamy shredded crab provides a lovely contrast against the rest of the ingredients and buttery-tasting fresh salmon.
Admiring every slice is a sight for sore eyes with its colorful layers of ingredients wrapped inside a delicate and lightly salted nori keeping it all together. Although soy sauce is the perfect accompaniment, wasabi, Sriracha mayo, and eel sauce can easily dress it up in seconds to make this Alaska roll extra exciting. Best of all, it comes together in 15 minutes!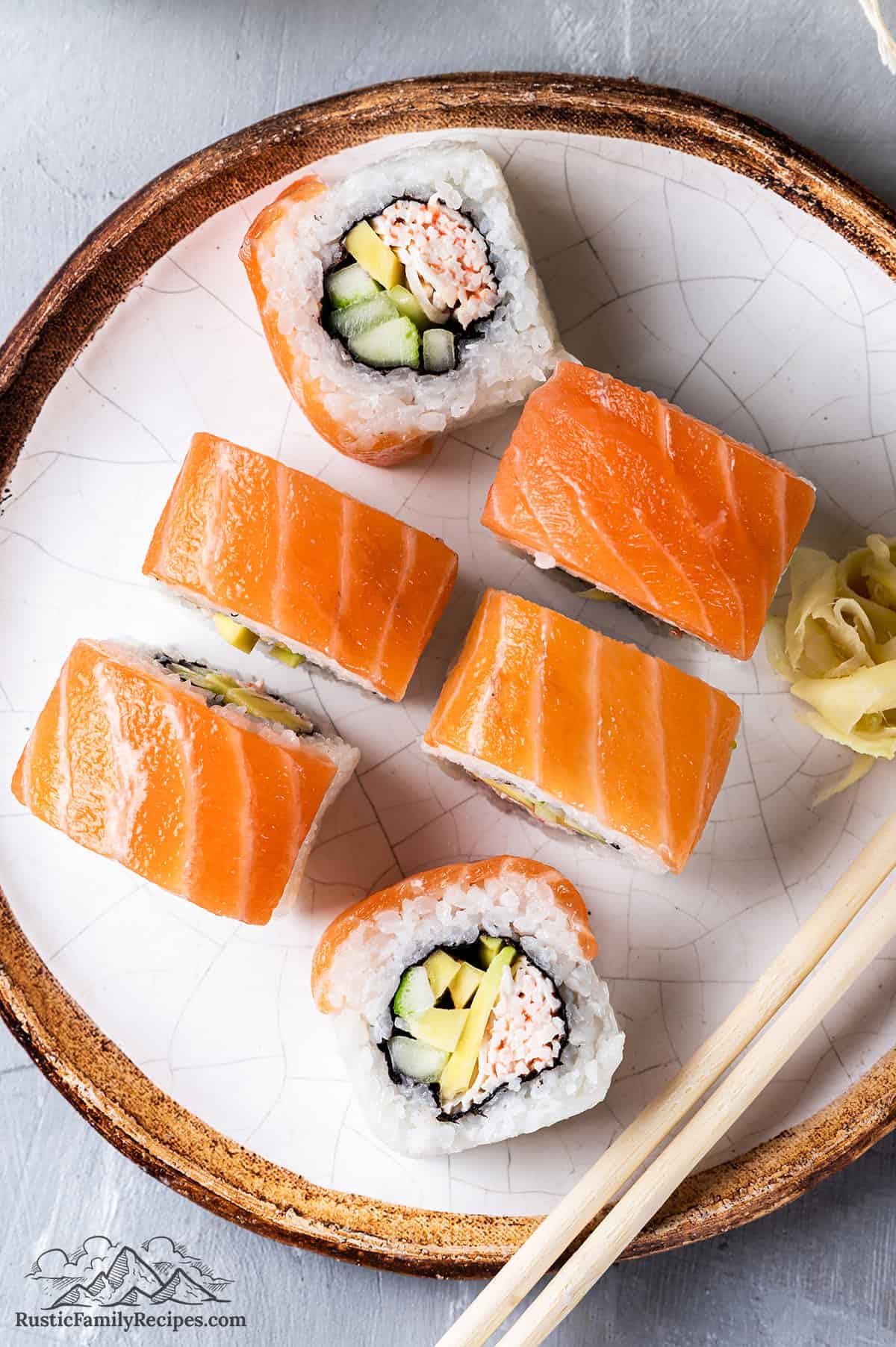 What Is An Alaska Roll?
The Alaska roll is a maki, or a sushi roll, where the rice is on the outside and nori on the inside. The filling has three components: shredded crab meat combined with full-fat mayo, seeded cucumber slices, and ripened avocado. When rolled, they create clean layers of each ingredient, allowing you to appreciate their combination of textures in every bite.
The fillings are enclosed in nori, which is wrapped with Japanese short-grain rice that's been seasoned with white wine vinegar, rice vinegar, sugar, and salt- a.k.a. sushi rice. The roll is then covered in thin sheets of fresh salmon before slicing and serving.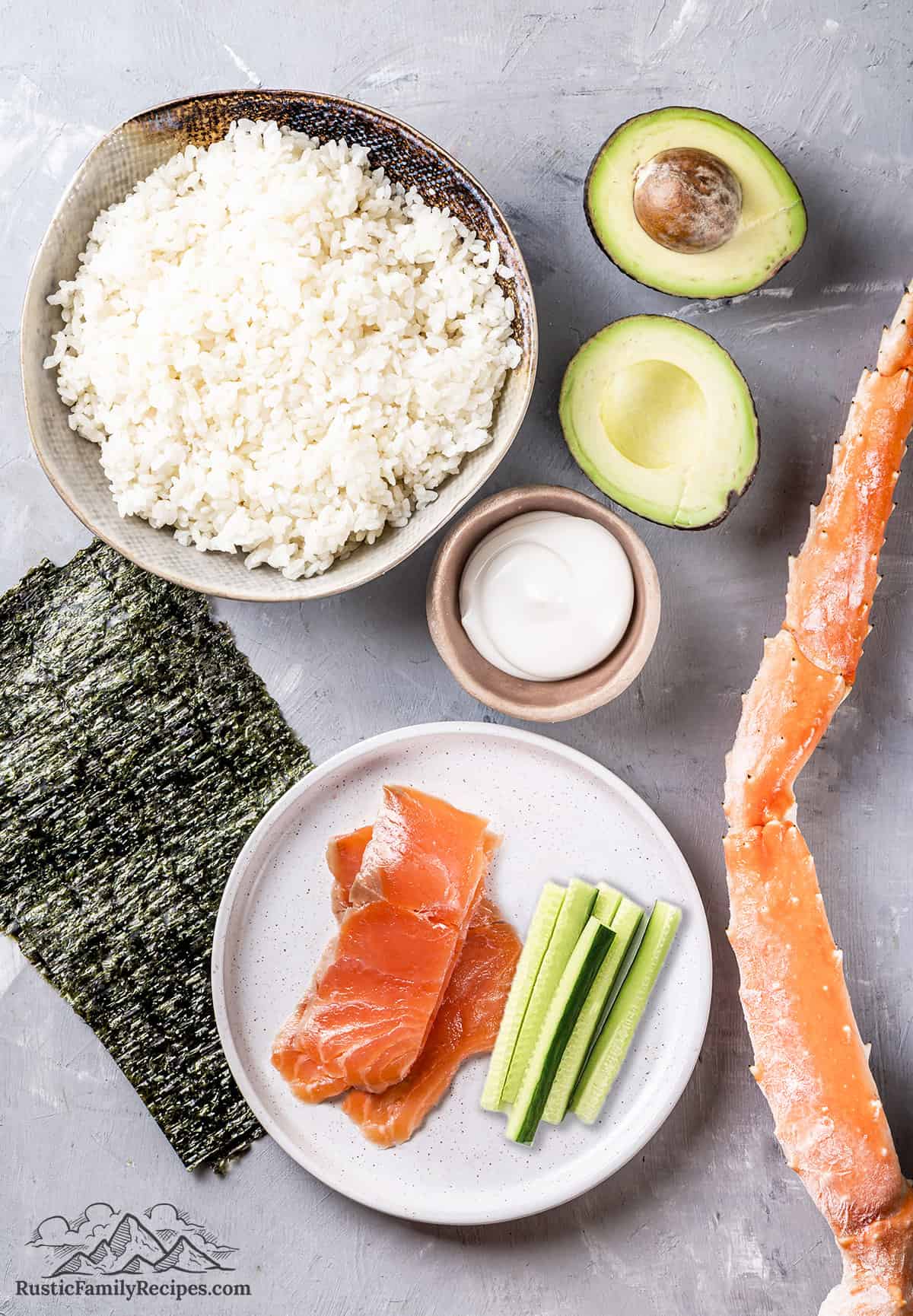 Ingredients
With sushi, it's all about the freshness and quality of your ingredients. They don't have to break-the-bank but make sure they're the best you can get a hold of. Here's everything you need:
Sheet nori – Don't mistake them for the snack-sized ones. Get the large nori sheets that are usually 8×7″ (20×18 cm).
Sushi rice – No substitutes. Sushi rice has a shorter grain and is slightly sticky, perfect for pressing it into the nori. My Instant Pot sushi rice is a quick and easy way to cut down on prep time.
Crab meat – Alaskan crab meat and imitation-crab will both work.
Mayonnaise – Japanese mayonnaise is richer in flavor, so I prefer it over other kinds. Kewpie mayo is my favorite brand. If you can't get a hold of it, use regular full-fat or low-fat mayo instead.
Salmon – Fresh salmon is my favorite kind for sushi rolls, just make sure it's sushi-grade to decrease the risk of food poisoning. Smoked salmon will also work.
Cucumber – Remove the pulp and seeds otherwise your roll could become very soggy.
Avocado – Use ripened avocado. In the worst of cases, you can swap it out for unseasoned guacamole and spread it over the rice.
Pickled ginger – I love its spiciness, but you don't have to include it. Pickled ginger is only served on the side as a palate cleanser.
How to Make an Alaska Roll
Sushi-making at home is easier than it seems. It's the same process for most types, including the Alaska roll. Once you get a hang of using the bamboo mat, it'll be a breeze!
Prepare the crab. Use a fork or your hands to shred the crab meat. Add the mayonnaise and mix until well combined. Set it aside.
Prepare the sushi mat. Cover the bamboo mat with plastic wrap and then place half of a nori sheet on the mat.
Spread the rice. Moisten your hands with a bit of water or even lightly grease them with cooking spray. Evenly spread 1 cup of cooked rice over the nori.
Flip it over. Carefully flip the nori sheet over so that the rice is facing down.
Arrange the fillings. Leave a 2″ edge of nori around the side closest to you. Then place 2 tablespoons of the mayo-crab mix, avocado, and julienned cucumber lengthwise across the rice.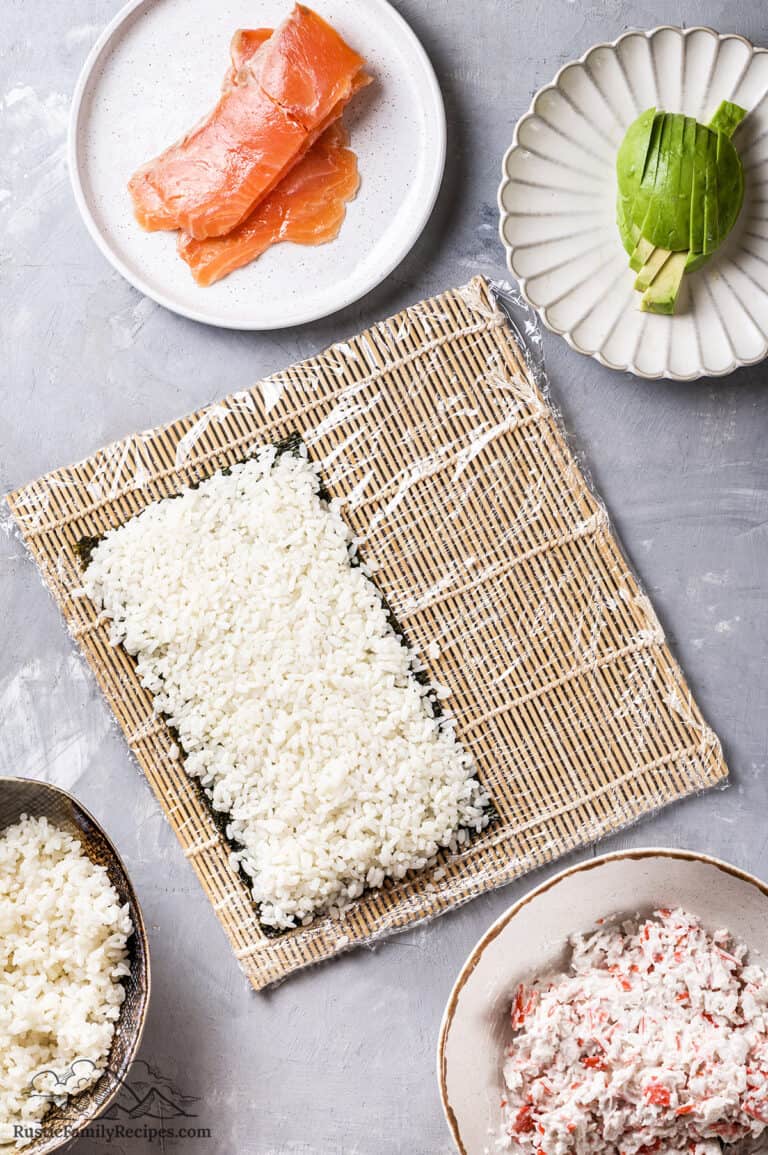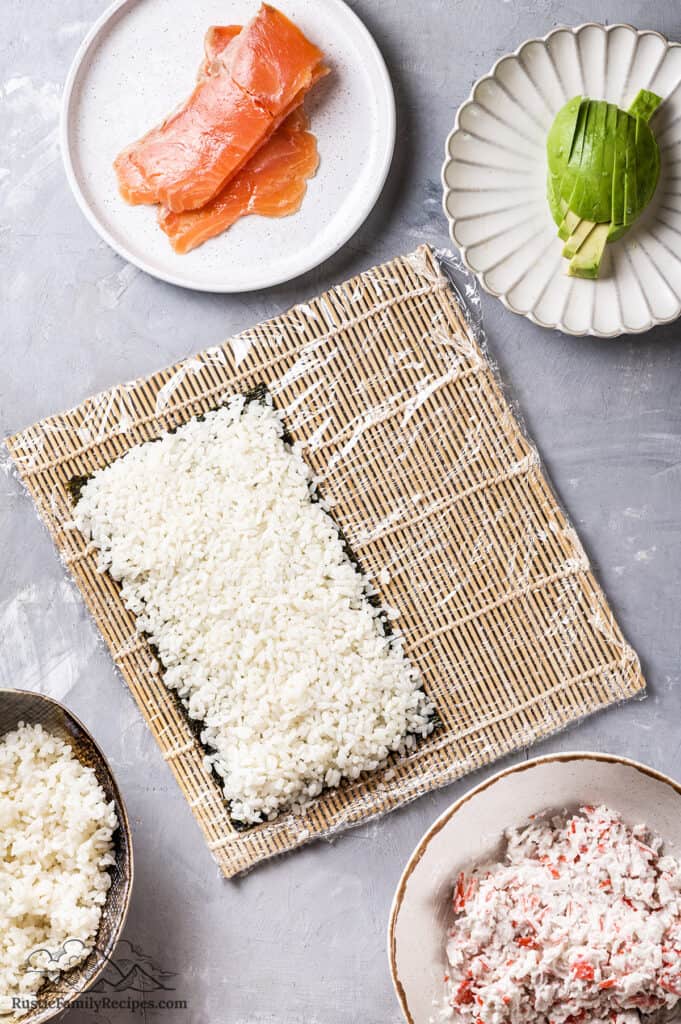 Fold the edge over. Use the bamboo mat to carefully lift and press the 2″ edge of nori over the filling. Use your hands to help you keep the filling in place as needed.
Shape the roll. Use the bamboo mat to continue rolling the sushi. Tightly squeeze the roll so it doesn't lose its shape later. Carefully unroll the bamboo mat, leaving the rice-covered roll in the center.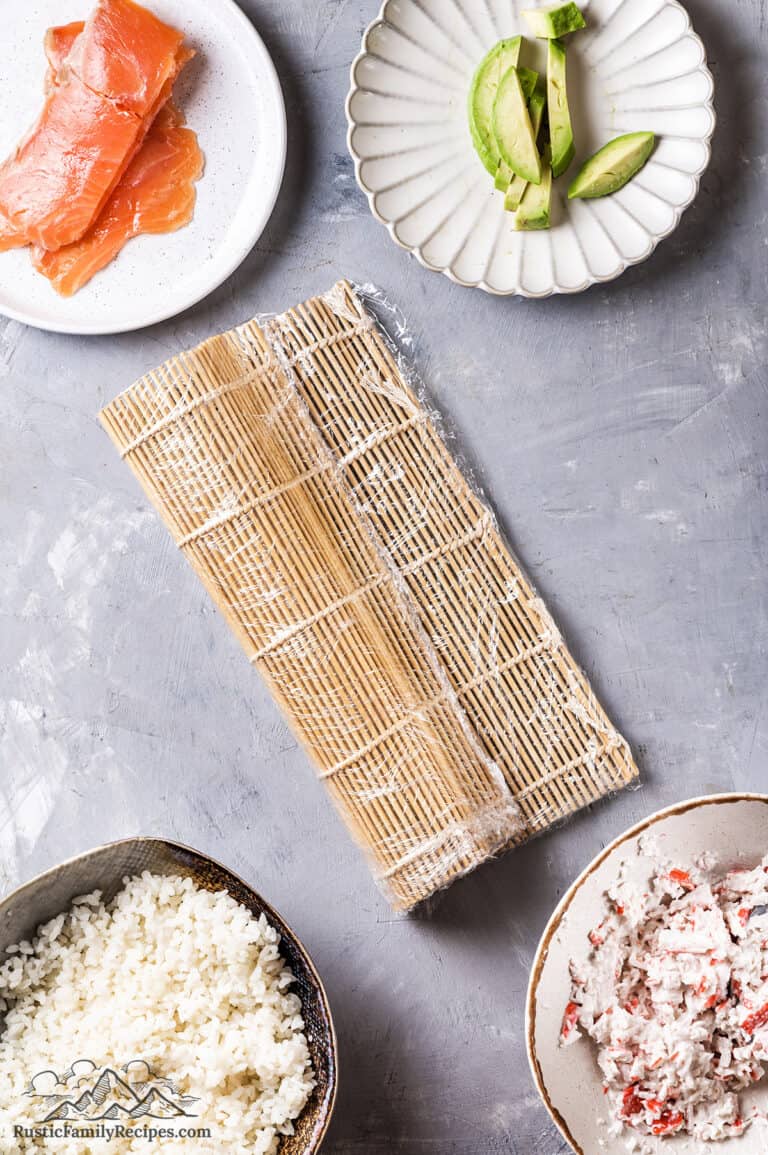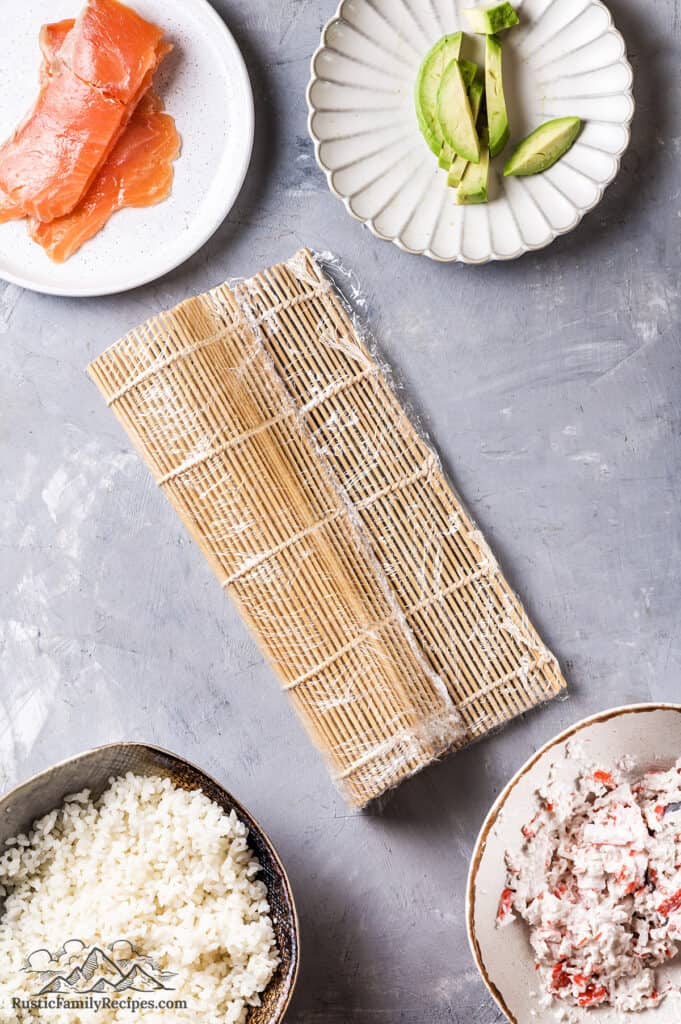 Cover it in salmon. Arrange salmon slices on top until the roll is completely covered. Use the bamboo mat again to help you lightly press down on it so that the salmon sticks to the rice.
Slice the roll and serve. Before every cut, dip the blade in water so that the sushi doesn't stick to it and lose its shape. Slice the roll into 8-9 pieces and serve with a side of pickled ginger.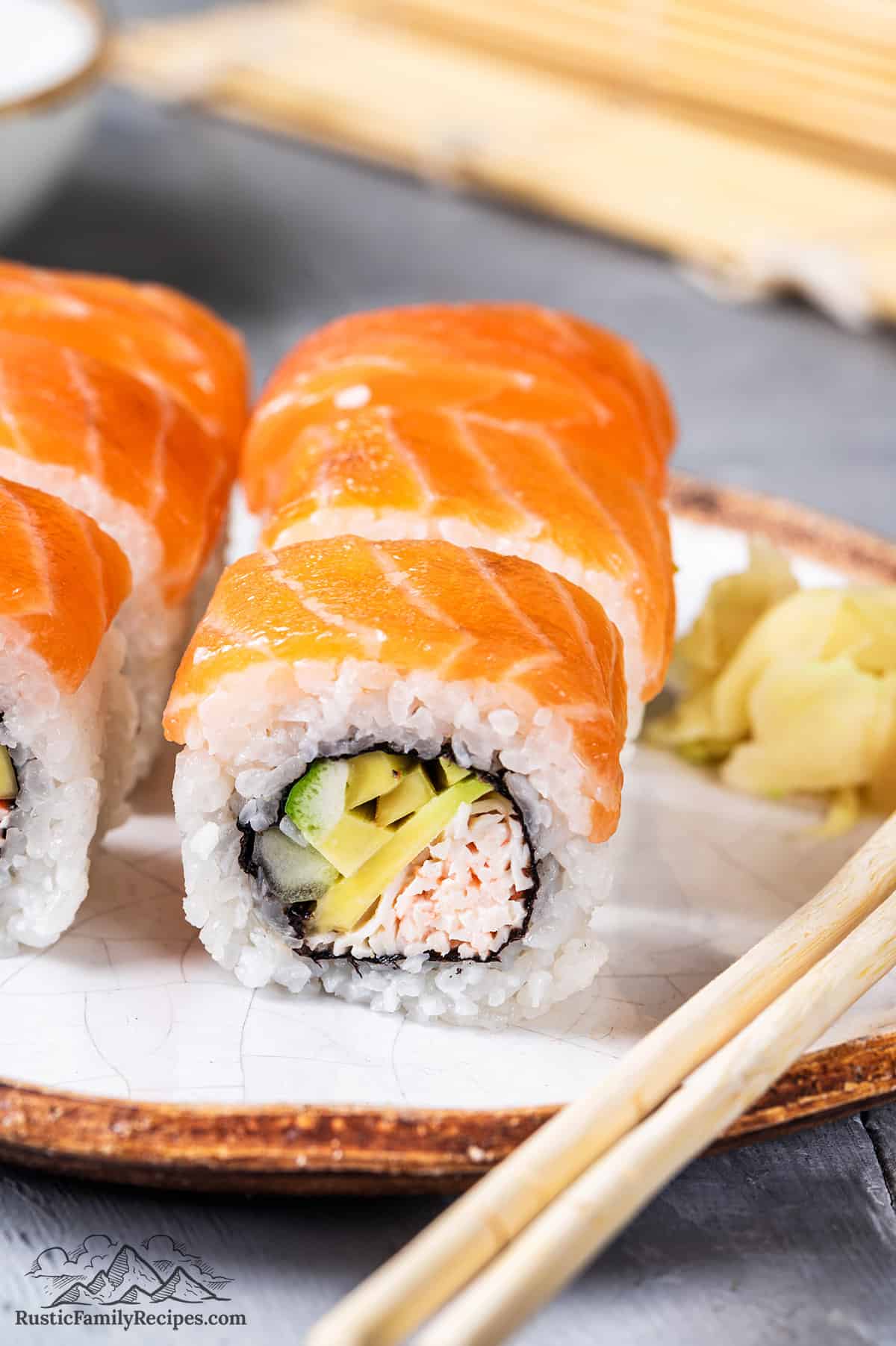 Tips for the Best Homemade Alaska Roll
With a little guidance, you won't need to be an Itamae, or Japanese sushi-master, to prepare this Alaska roll. Follow these tips to take the recipe to the next level:
Use the Instant Pot. Making the sushi rice in an Instant Pot can save you lots of time.
Use lemon juice. Keep the avocado from browning by tossing it in a little bit of lemon juice before assembling the roll.
Lightly grease your hands. Although water works fine, sometimes the rice is stickier than usual. Lightly grease your hands with a bit of cooking spray to avoid it from sticking on your hands.
Make it spicy. Add Sriracha to taste to the mayo-crab mixture to make the roll spicy!
Make it extra creamy. Adding thin slices of cream cheese to the filling will add some nice richness.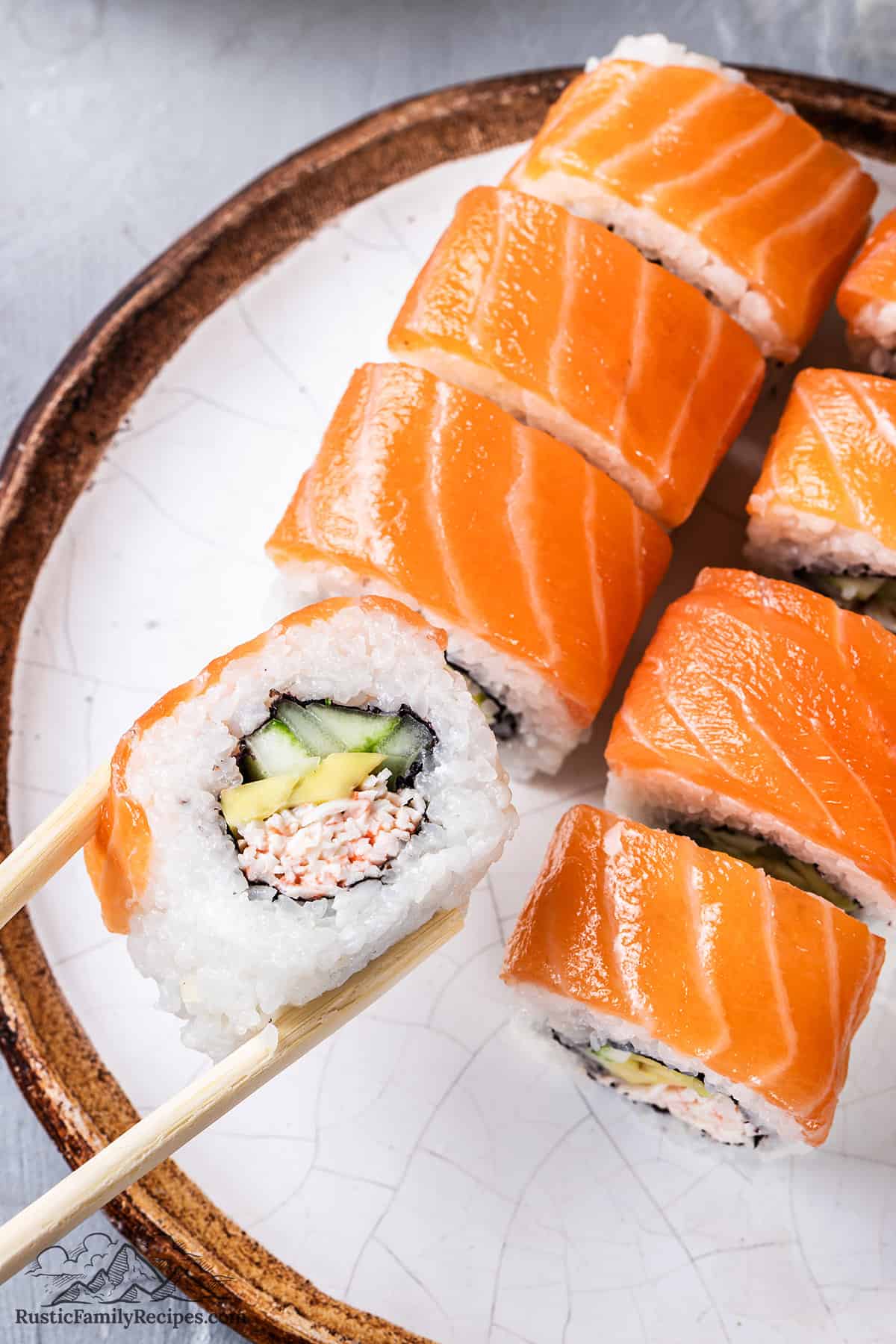 Topping Ideas
With such a delicious roll on your plate, the toppings and sauces should be no less exciting. Soy sauce is fine, but why not make things more interesting? Here are my favorite ways to spice up this Alaska roll:
Wasabi. Mix a little bit of wasabi into some soy sauce to give your dipping sauce a spicy, gingery kick.
Ponzu/teriyaki sauce. These sauces keep the roll light, just like soy sauce, but have more complex flavor profiles. Ponzu is slightly citrusy while teriyaki sauce is sweet and tangy.
Sriracha mayo. Combine three parts mayo to one part Sriracha until well combined. Drizzle the spicy mayo over the sushi roll.
Unagi eel sauce. It brings depth and a hint of sweetness to an otherwise savory roll, so drizzle it over to taste.
Sesame seeds. Adding a sprinkle of white or black sesame seeds will pack a lovely crunch and subtle nutty bitterness.
FAQs
Is an Alaska roll raw?
Yes and no. It contains both raw and cooked ingredients. However, only the fresh salmon and crab are raw. Everything else like the rice, cucumber, and avocado, is safe.
Is Alaska roll sushi healthy?
Absolutely! The Alaska roll is packed with protein, omega-3 fatty acids, vitamins, and minerals, from the salmon, crab, avocado, and cucumber. Swapping the mayo for a low-fat one will make it even healthier!
How to Store an Alaska Roll
Storing sushi is simple. To avoid the transfer of odors with other foods and reduce the risk of food poisoning, make sure to store it in an airtight container. Since it contains raw fish and crab, it will only last 1-2 days in the fridge.
Print
Alaska Roll Sushi
Crunchy cucumber, creamy mayo-crab, silky avocado, and fresh salmon make this Alaska roll a delicious and easy week-day lunch that's ready in 15 minutes.
Author: Rustic Family Recipes
Prep Time:

10 minutes

Cook Time:

5 minutes

Total Time:

15 minutes

Yield:

2 sushi rolls

Category:

Lunch, Dinner

Method:

Assemble

Cuisine:

Japanese
1

sheet nori cut in half

2 cups

cooked sushi rice

1/2 cup

Alaskan crab meat or imitation crab meat

1 tablespoon

Japanese mayonnaise

8

thin slices of Salmon

1/2

cucumber cut into strips

1

avocado cut into strips
Pickled ginger for serving
Instructions
Prepare the crab. Shred crab meat and mix with mayonnaise.
Prepare the bamboo mat. Cover a bamboo sushi rolling mat with plastic wrap. Place half of the sheet of nori on the mat.
Moisten your hands. Use water to help avoid the rice from sticking to your hands.
Spread the rice. Evenly spread out 1 cup cooked rice across the nori.
Flip the nori. Flip over the nori sheet with the rice on it. The rice should now be facing downward.
Arrange the fillings. Place 2 tablespoon crab mix, avocado and cucumber strips lengthwise across the rice, at the bottom end of the nori sheet closest to you.
Roll. Use bamboo mat to lift edges up and over filling. Help with your fingers to keep the filling in place.
Shape and tighten the roll. Place the bamboo mat over the top and tightly squeeze the roll.
Cover with salmon. Place the salmon slices on top of the roll, squeeze again with the mat on top to hep it stick to the rice.
Slice and serve. Cut the roll into 8-9 pieces with the sharp knife. Moisten the blade with water before every cut.
Notes
Japanese mayonnaise can be substituted for full-fat or low-fat mayo.
Feel free to use smoked salmon instead.
Last Step:
Please
share a rating and comment
if you enjoyed this recipe! Your feedback helps this little blog thrive and continue providing free, high-quality recipes for you.
Keywords: alaska roll, alaska roll sushi, alaskan roll
Filed Under:
This post may contain affiliate links. Please read our disclosure policy.